Once you start trading, investing in a certain asset, profit is a prerequisite that you aim for. In the crypto space, if you choose for yourself an unsuitable exchange, your profits will be significantly reduced.
An exchange that does not charge VND deposit and coin deposit fees, extremely low transaction fees, fast withdrawals… will be the most preferred choice.
What is Bitmoon?
Bitmoon exchange is an exchange that supports users to buy Bitcoin, Ethereum, XRP, Dogecoin, … and 300 other cryptocurrencies in VND.
Usually, when you want to buy and sell a coin, you will need to go through an intermediary process. You use VND to buy BTC, ETH, USDT coins, then transfer to the exchange to buy the coins you want. However, with Bitmoon, you can use VND to buy those coins immediately (DOGE, BAT, BTT, …). This will save you time as well as transaction fees.
So other than that, what difference does Bitmoon have?
Is the only exchange in Vietnam that supports buying and selling 300 types of coins in VND. After more than 2 years of operation, currently Bitmoon is still the only exchange in Vietnam that can do this.
Completely free coin deposit fee.
Coin withdrawal fees are among the lowest in the market.
Support coin wallet for users.
Extremely low transaction fees. For basic users, no KYC transaction fee is only 0.25%. After performing simple KYC steps, the transaction fee is only 0.1%. Most other exchanges, the average fee is 0.5%.
There are two ways to trade: quick buy and sell and bid buy and sell. Maximum support for both beginner and professional investors.
Special: support payment of all domestic banks in Vietnam 24/7.
Those are the features that make Bitmoon exchange completely different from most current VND-supporting exchanges. In addition, Bitmoon is also associated with international exchanges such as Binance, Huobi, etc., so users are completely assured of the liquidity of the exchange.
* CZ – CEO of Binance once tweeted about the 0 VND BNB trading program at Bitmoon.
https://twitter.com/cz_binance/status/1113857865968578560
Instructions for account registration, KYC and security activation Bitmoon exchange
Instructions to register for a Bitmoon account
To register an account, you can go to this link or click the button Register on the homepage.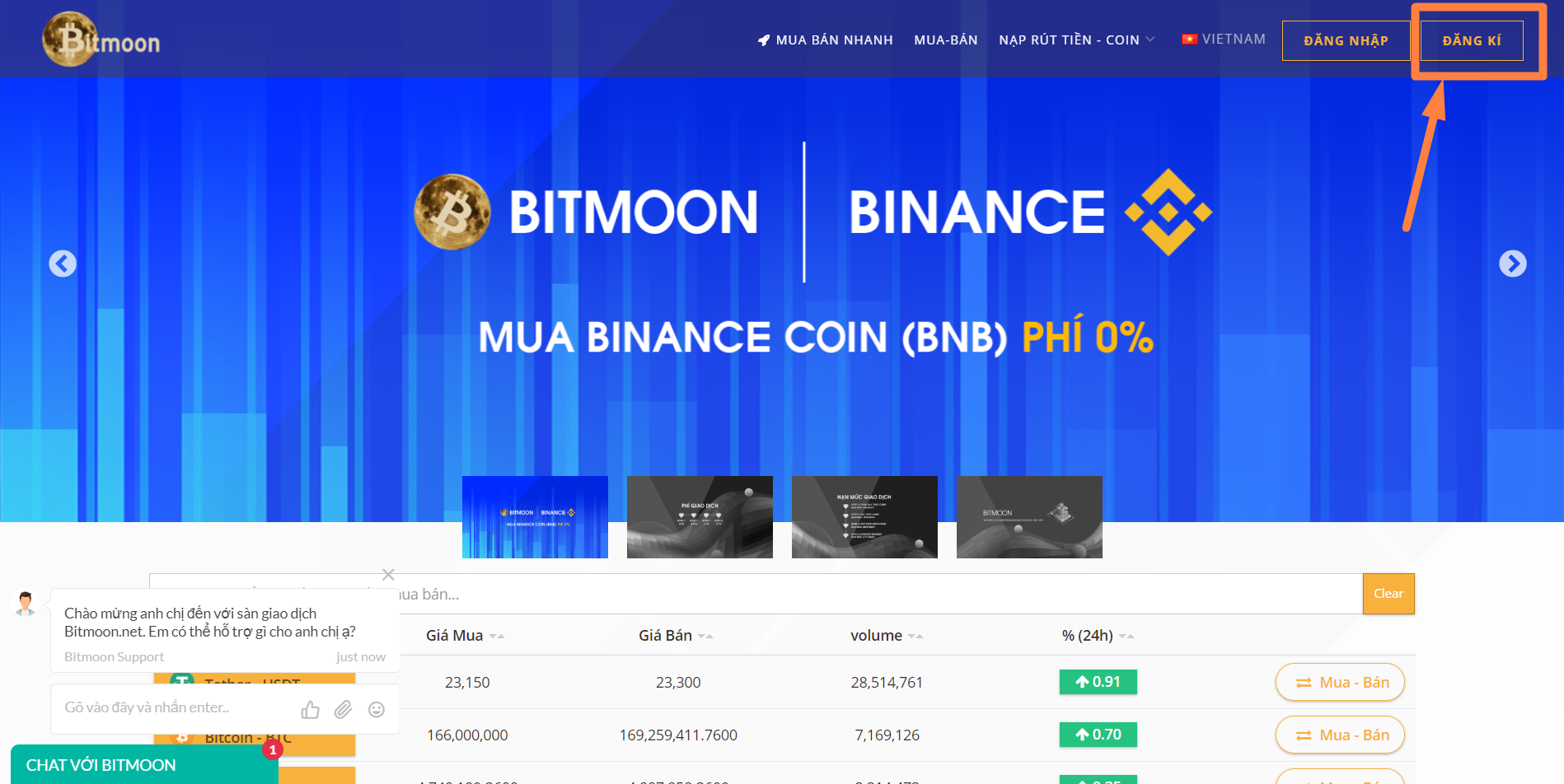 Next you need to fill in the information such as full name, email, password.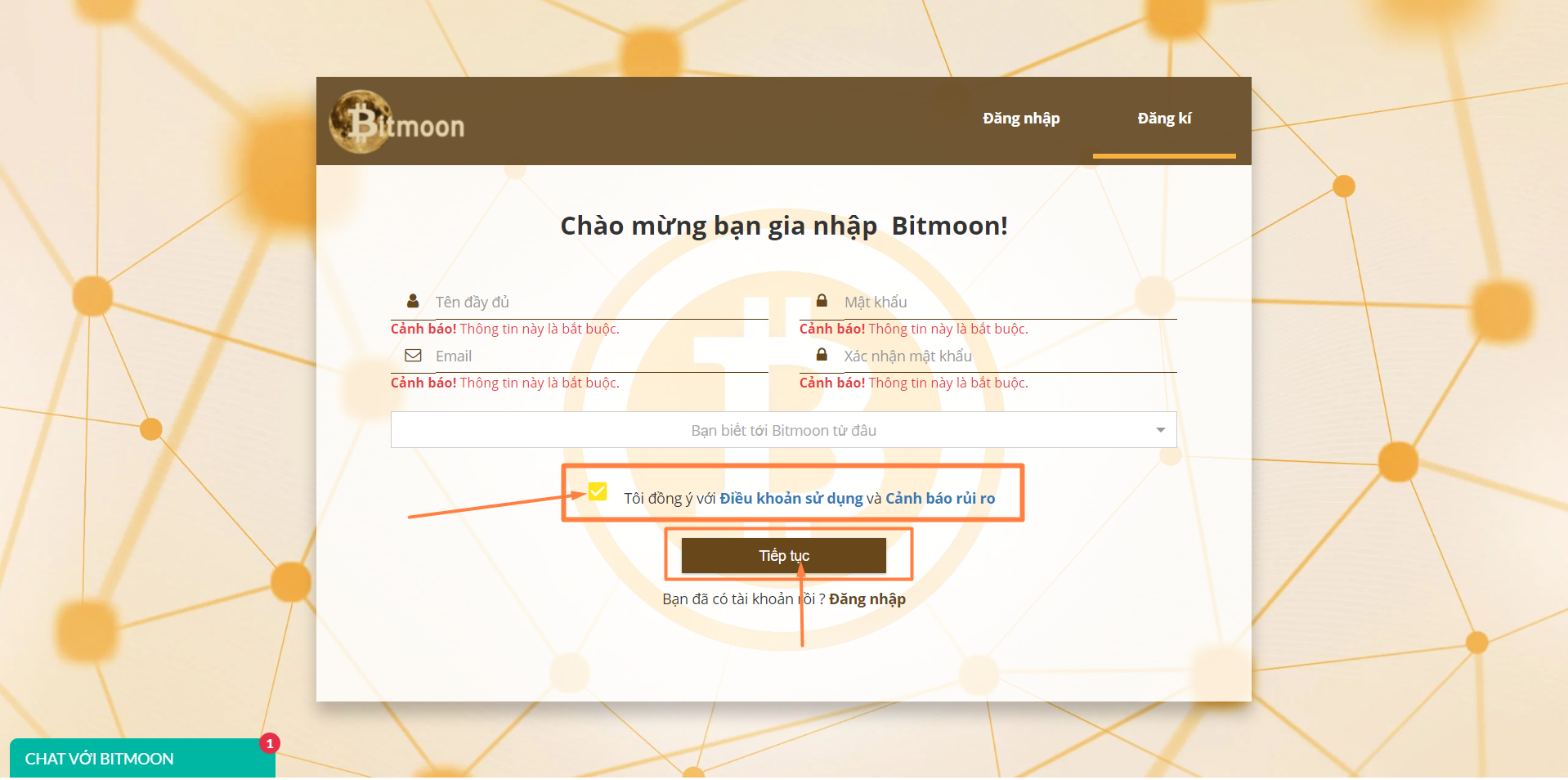 After filling in the form below, check the box "I agree to the terms of use and risk warning" -> Click "Continue"
The notice requires you to open your email inbox to confirm your account registration.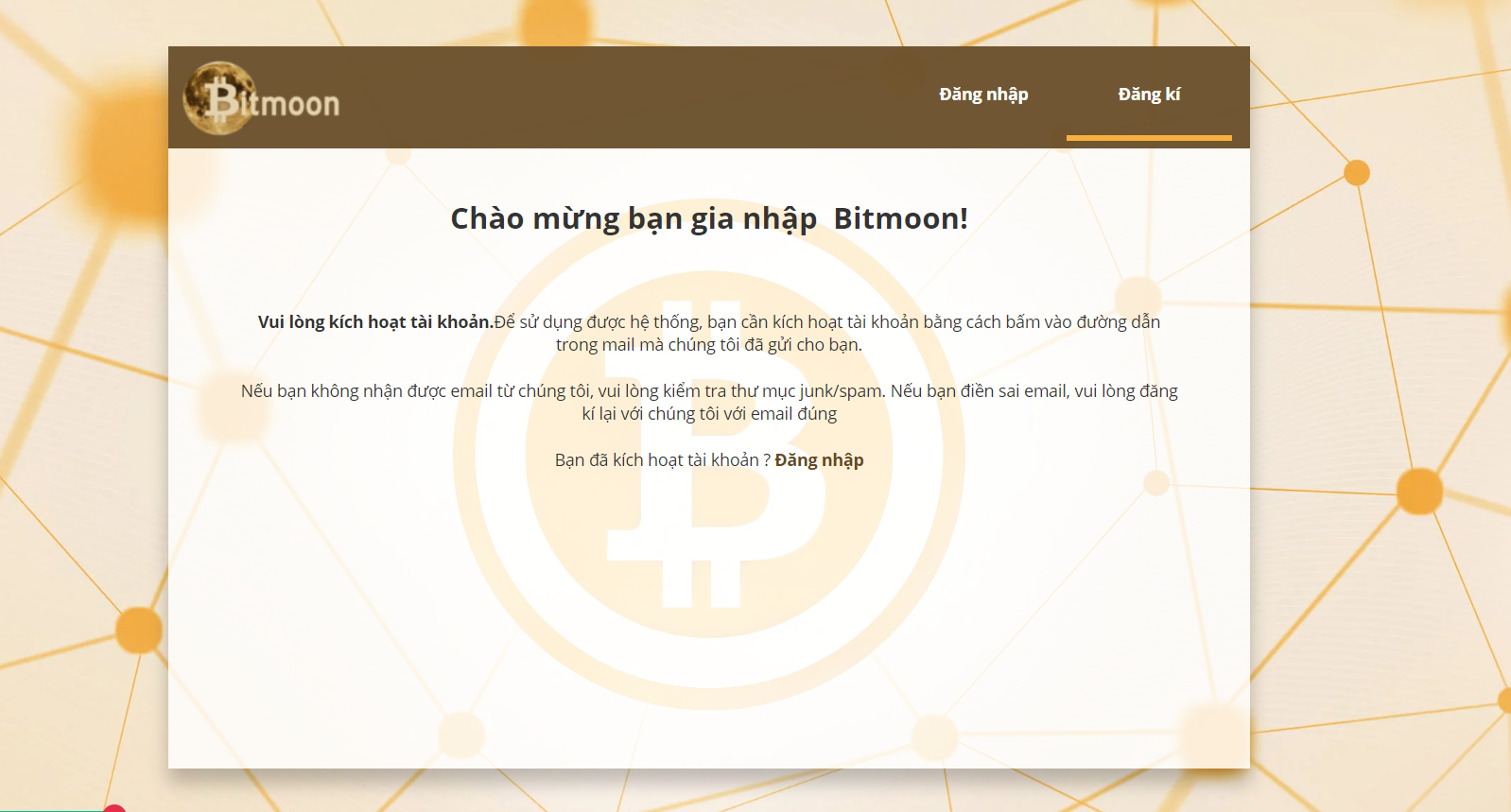 Next you need to go to your email, find the registration confirmation email (look carefully in the spam folder) there will be a confirmation link. Click on that link to complete the registration process.

You will see a successful account creation message as below. Click the word "Login" to login.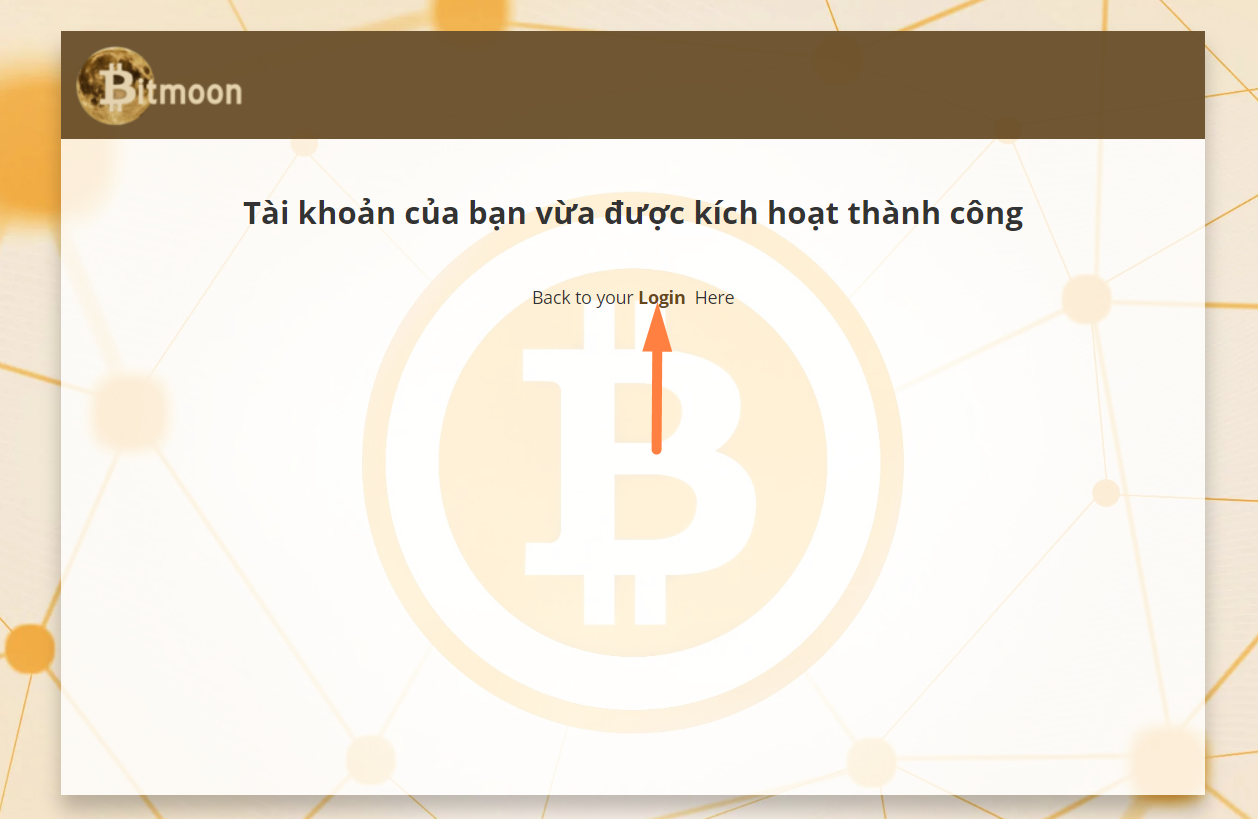 Enter the email and password you created above to log in.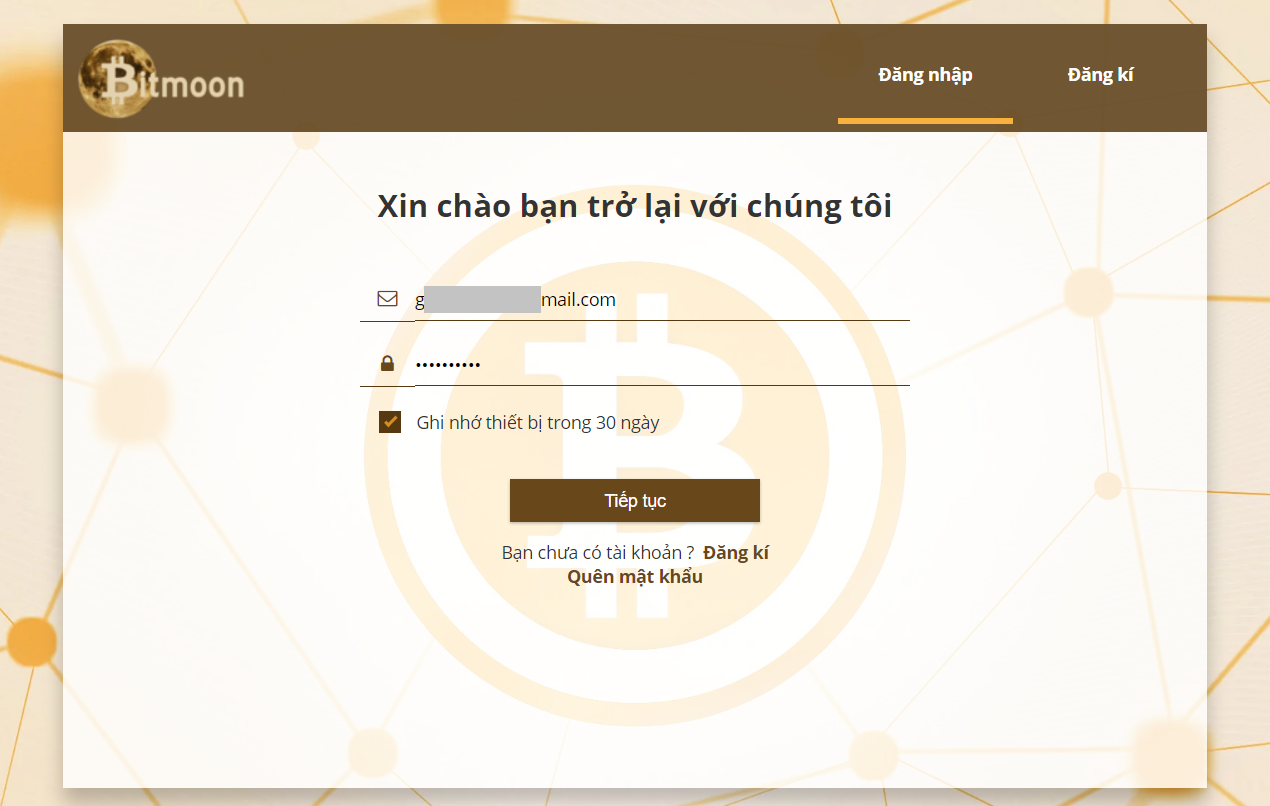 You will then be redirected to the account update page. Please take a moment to enter all of your personal information. Note: You can only change your account information this time, please fill in your information correctly to match your ID card.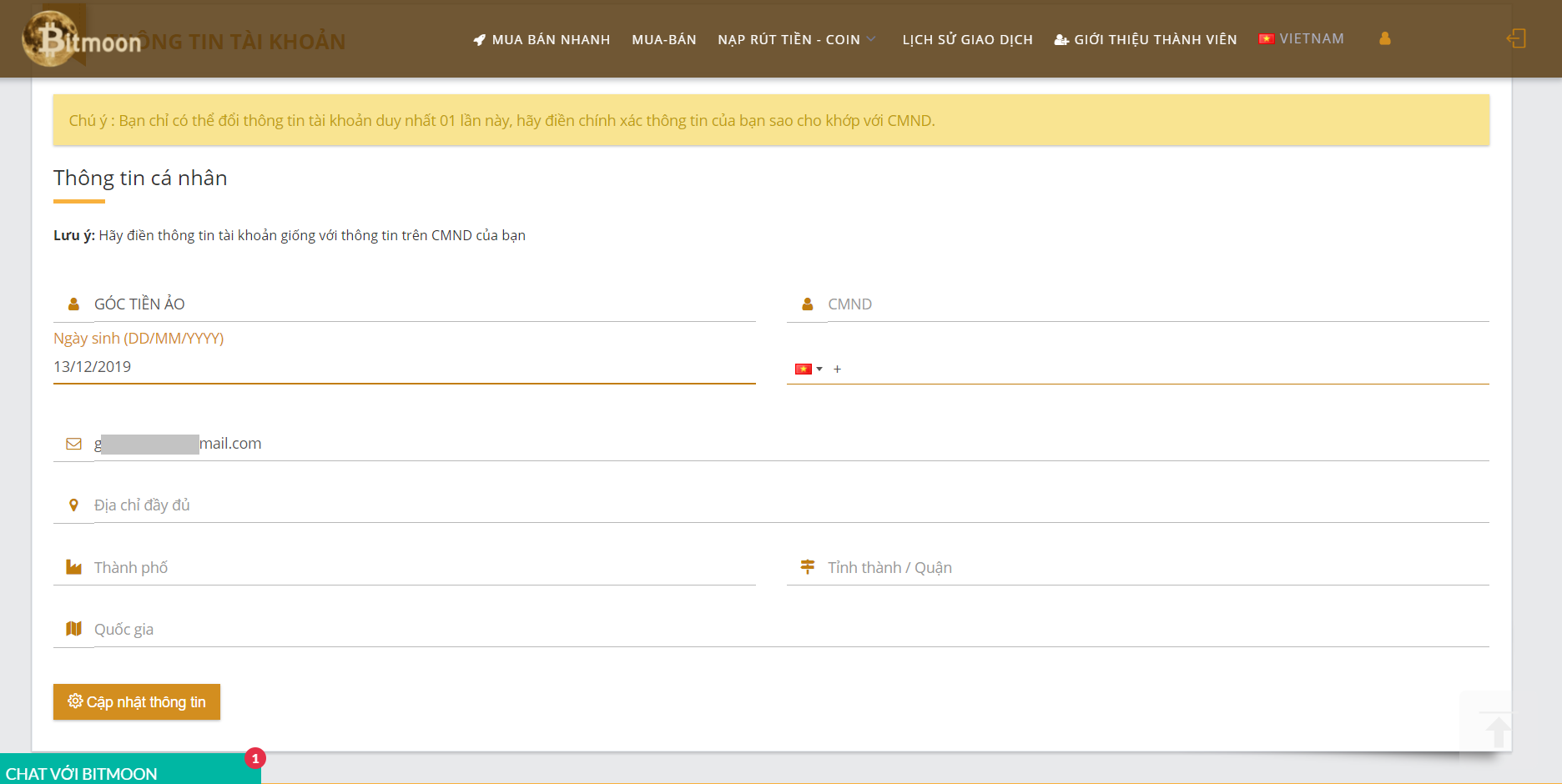 How to verify (KYC) Bitmoon exchange
Personal identity verification on exchanges is essential. It helps you to increase the deposit/withdrawal limit of coins/VND in 24 hours. It also reduces transaction fees. At Bitmoon exchange, when you successfully upgrade your authentication level, you will receive a reduced transaction fee.
In addition, verifying your personal identity also makes your account more secure, and will be protected if there is a dispute during the transaction later.
Bitmoon exchange verification is relatively simple. You can use your ID or Passport.
To verify your personal identity on Bitmoon, you need to prepare Photo of front and back of ID card or Passport and a photo of you holding your ID/Passport + a piece of paper that says "Bitmoon.net May Day". Please write down the date and time you took the photo.
Upload a photo of the front ID card. Press "Continue"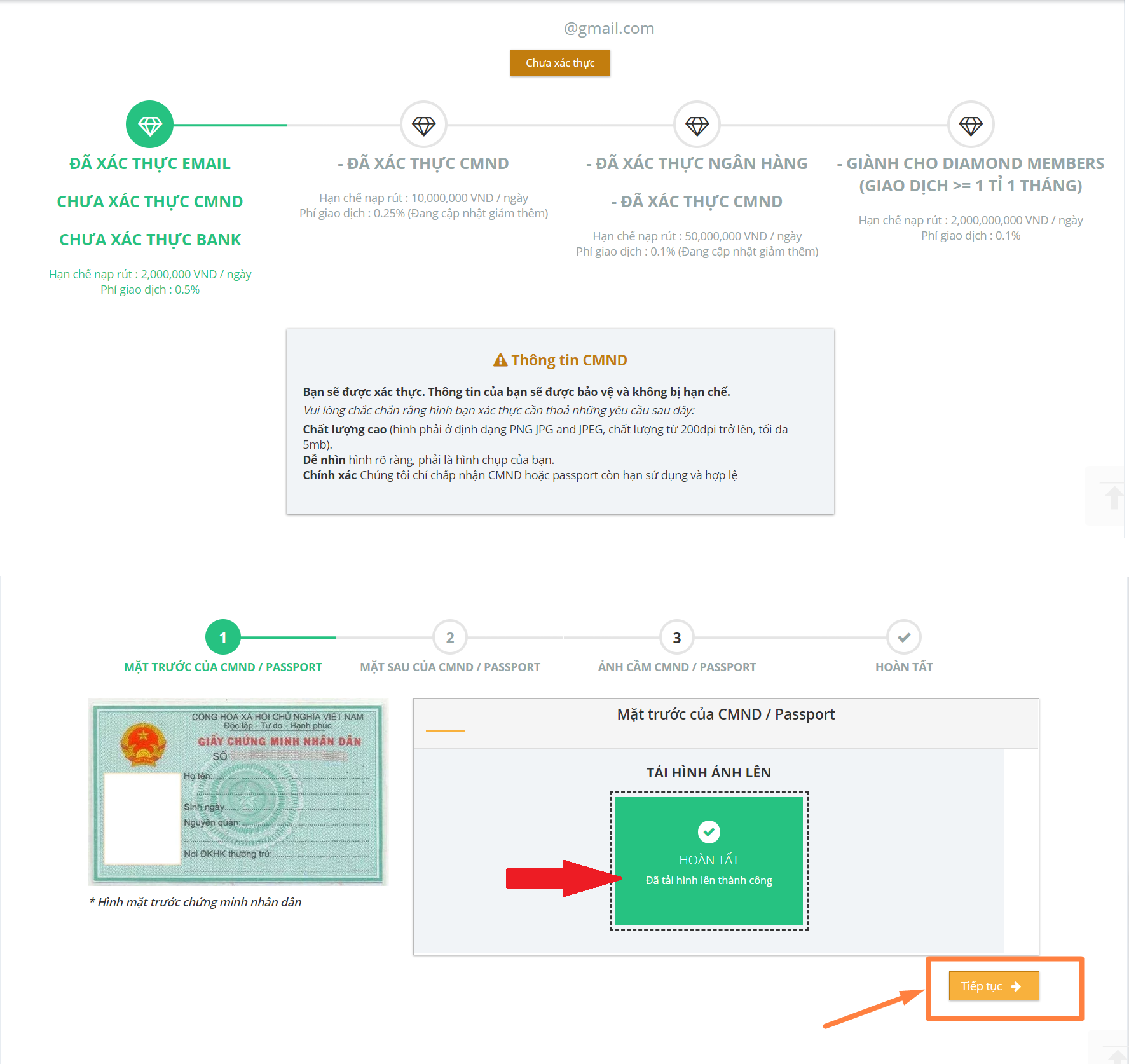 Continue to upload the image of the back of the ID card.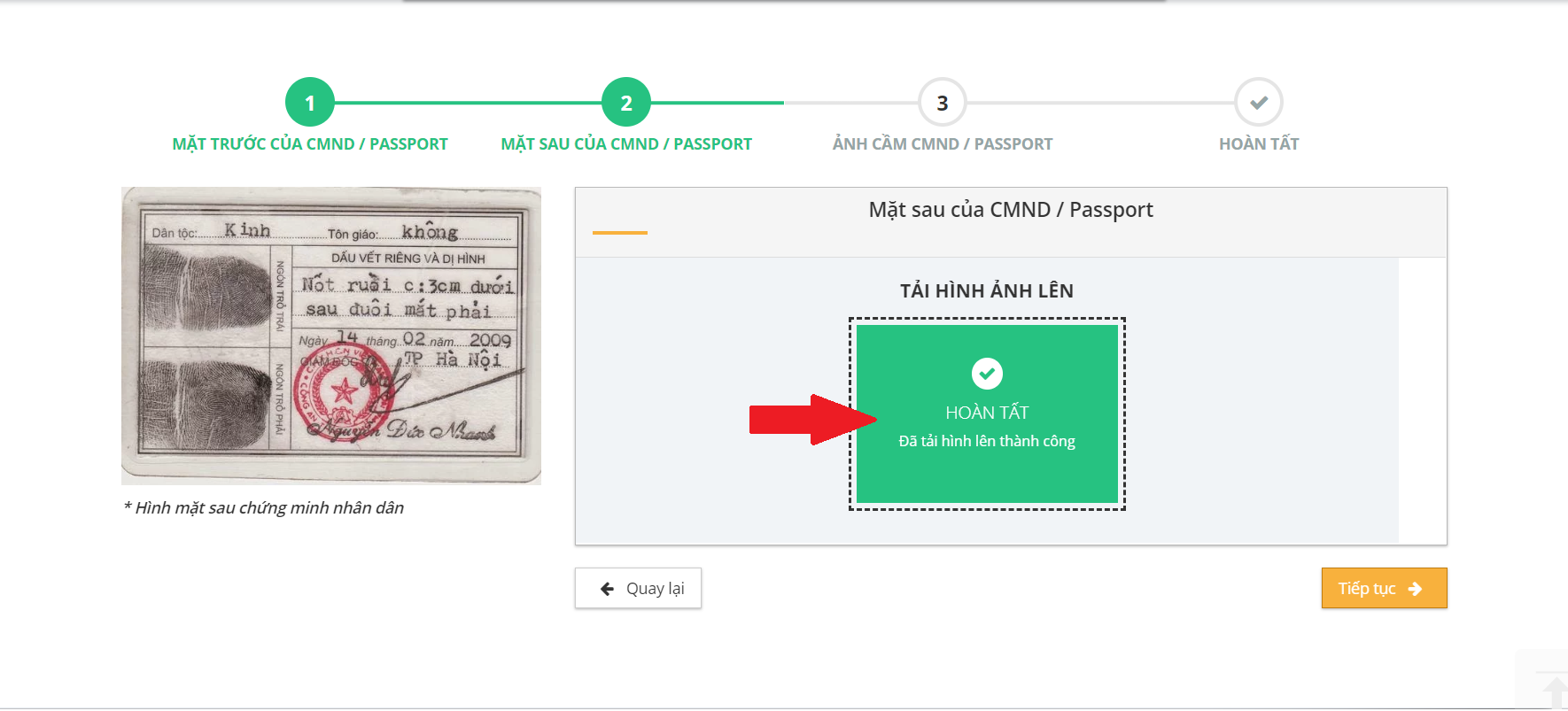 Upload a photo of you holding your ID/Passport + a piece of paper with the date of Bitmoon.net as a sample.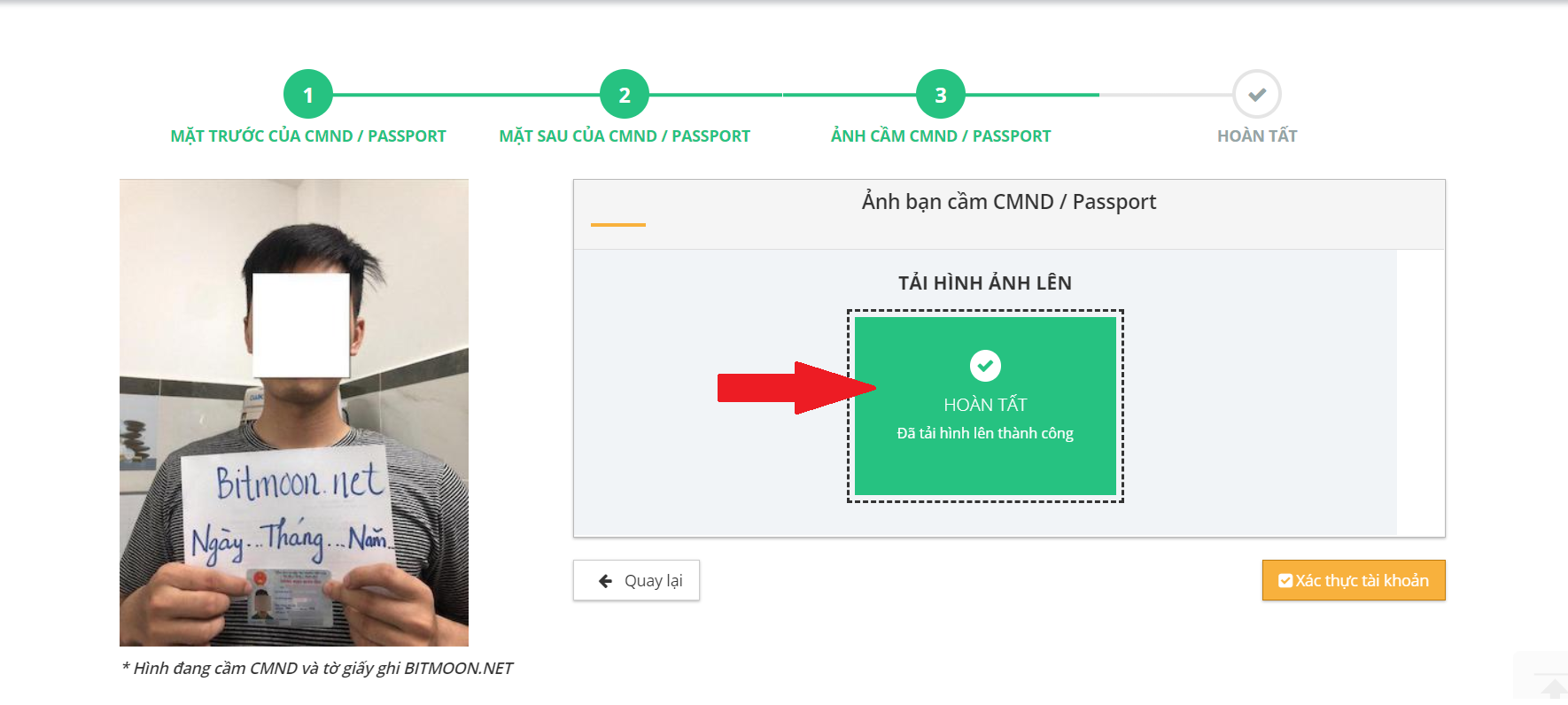 After uploading the image, click Account Verification to send an authentication request.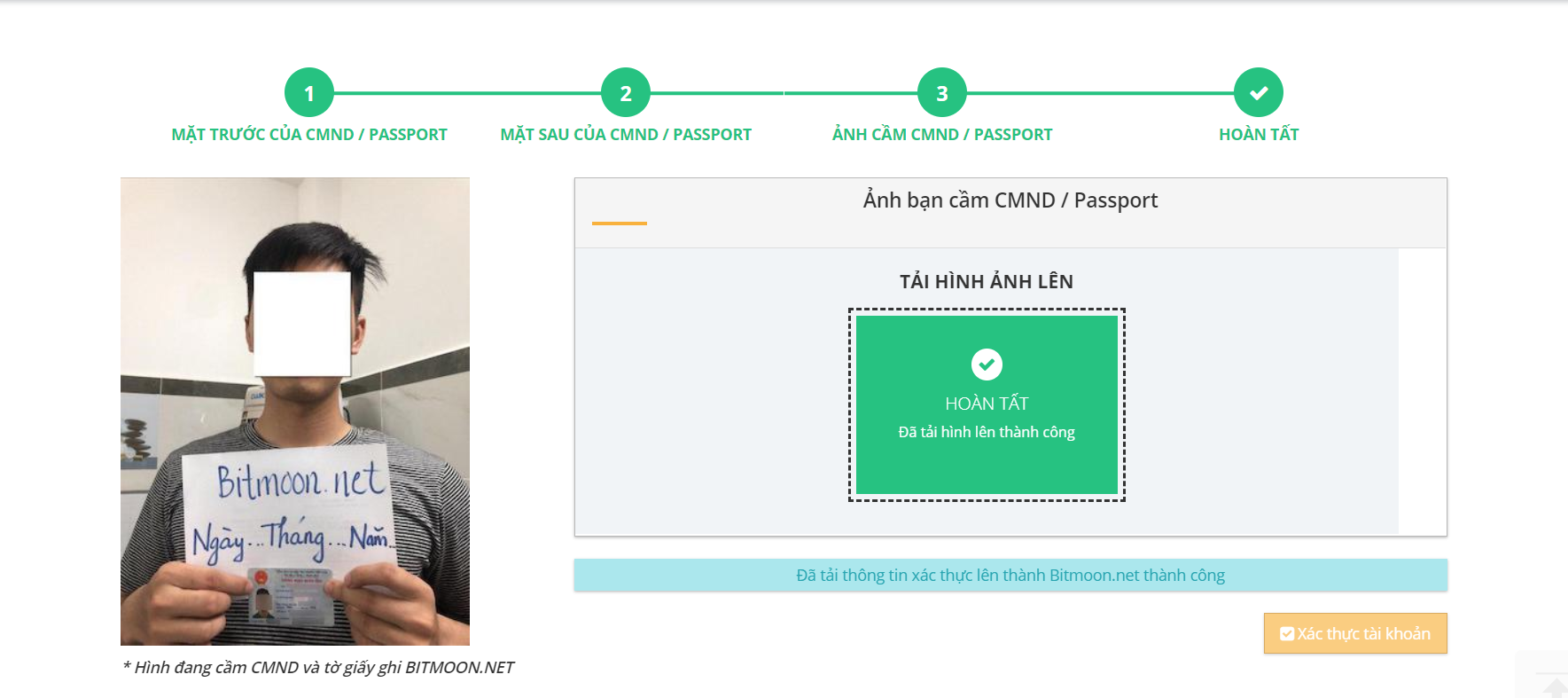 Normally, KYC will be approved within a few hours. If you want to be faster, you can contact the online chat right on the homepage, support will assist you with instant verification.
Instructions for activating 2FA security
First, click on your account icon in the right corner and select Secure with Google 2FA. Or you can go through the link: https://bitmoon.net/security to access the 2FA security activation page.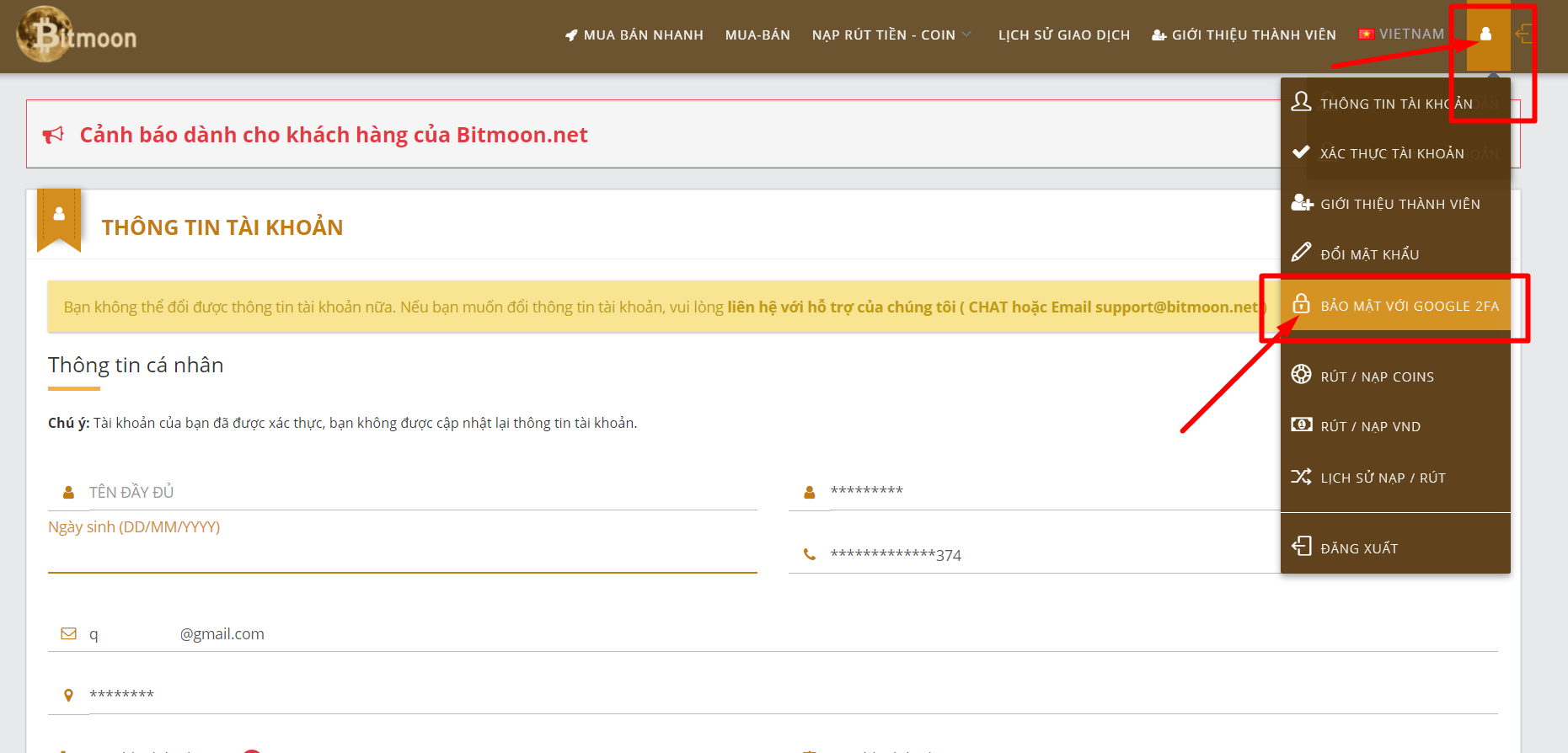 Click the button "Click here to enable account 2 layer security"

Next you need:
Step 1: Take out your phone and download the Google Authenticator app
Step 2: Launch the app, then scan the QR code.
If you do not know how to use the Google Authenticator application, you can refer to the article: What is Google Authenticator? Instructions for using 2FA security activation.
***Note: You should also save the backup code so that you can restore it later if you lose your phone or reinstall the app.
Click the button "Click here to use"

Enter the 6-digit code on the Google Authenticator app and then press "Continue"

So you have completed the 2FA security activation of your Bimoon account. From now on, when you log in, withdraw coins/VND, the system will ask you to enter a 6-digit code (2FA code).
Instructions for depositing/withdrawing VND to Bitmoon account
Deposit VND on Bitmoon exchange
To buy coins on Bitmoon, you need a VND balance in your VND wallet at Bitmoon. So you need to deposit VND first.
In the top menu bar select "Deposit – coin" -> "Withdraw/Deposit VND"

Then you choose the bank you want to transfer money to. In the article, I will choose Vietcombank (VCB).
You need to fill in all required information.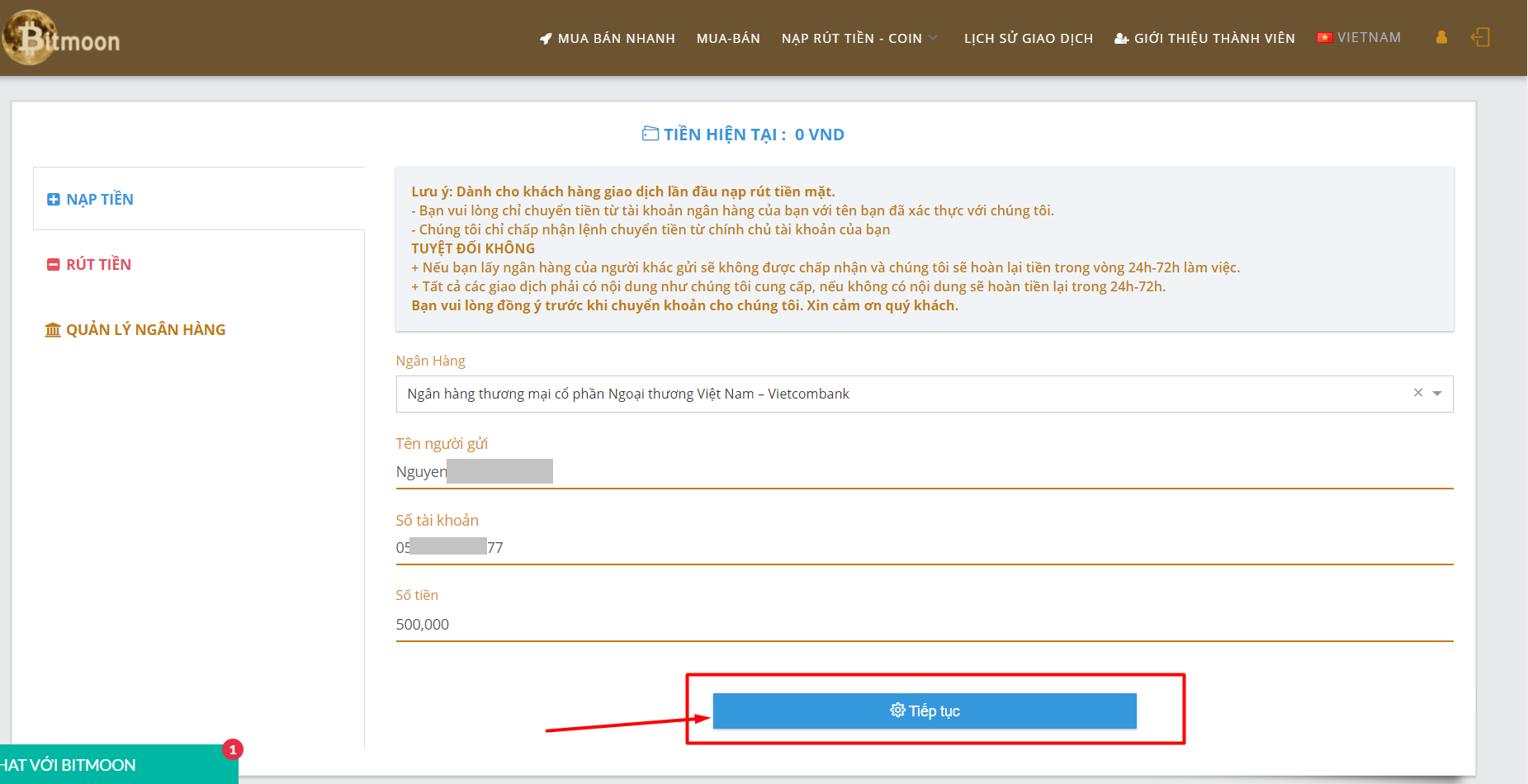 Sender's name (must be the name of the account holder you use to transfer VND. Requires the same name as the ID you used to KYC).
The account number that you use to transfer money.
Number of advances you want to load.
Immediately after clicking continue, Bitmoon will provide you with information to transfer.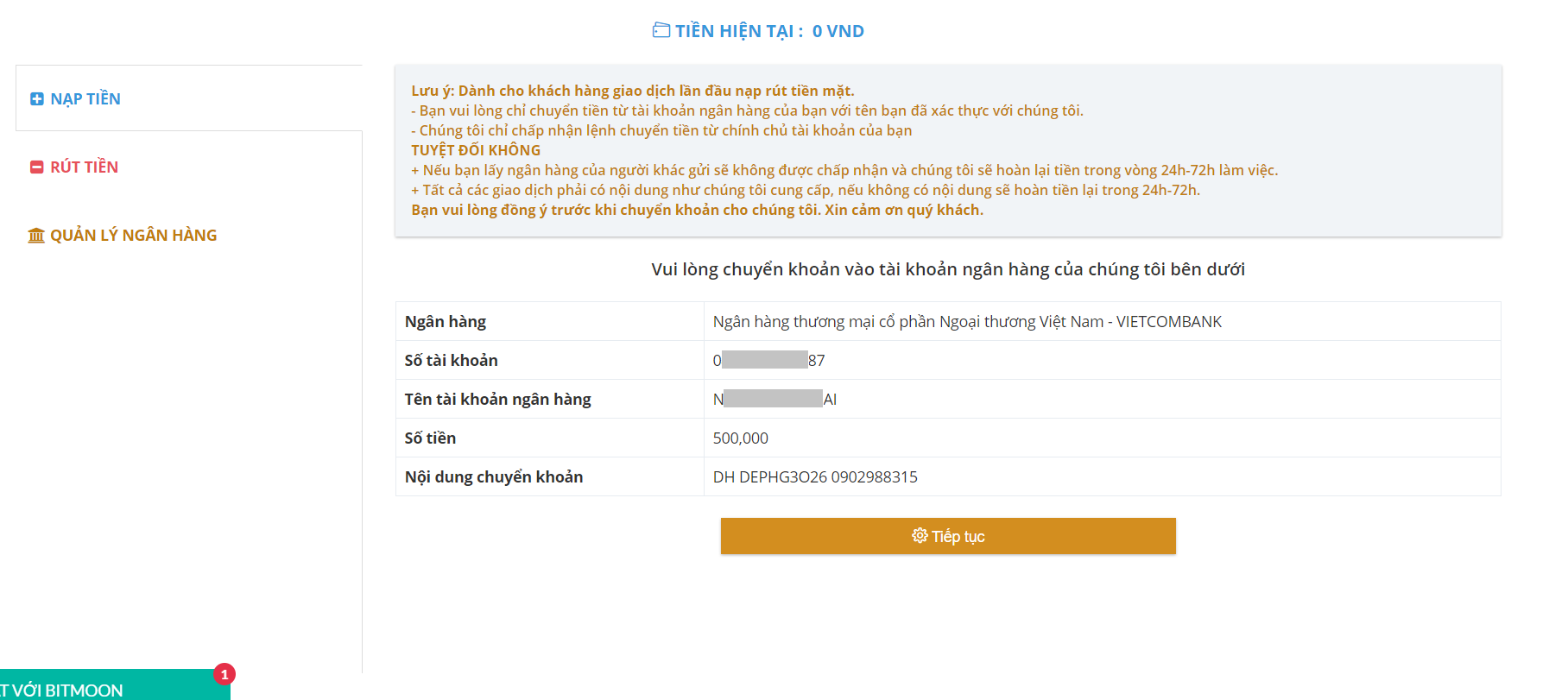 At this step, you need to access your Vietcombank account, transfer the VND you ordered to the correct account number, and fill in the transfer content as shown in the deposit order.
***Note: The amount you transfer and the content of the transfer need to be correct. You should copy this content to paste in the transfer section. The account you use to transfer money must be the "owner".
You access Vietcombank and make VND transfer.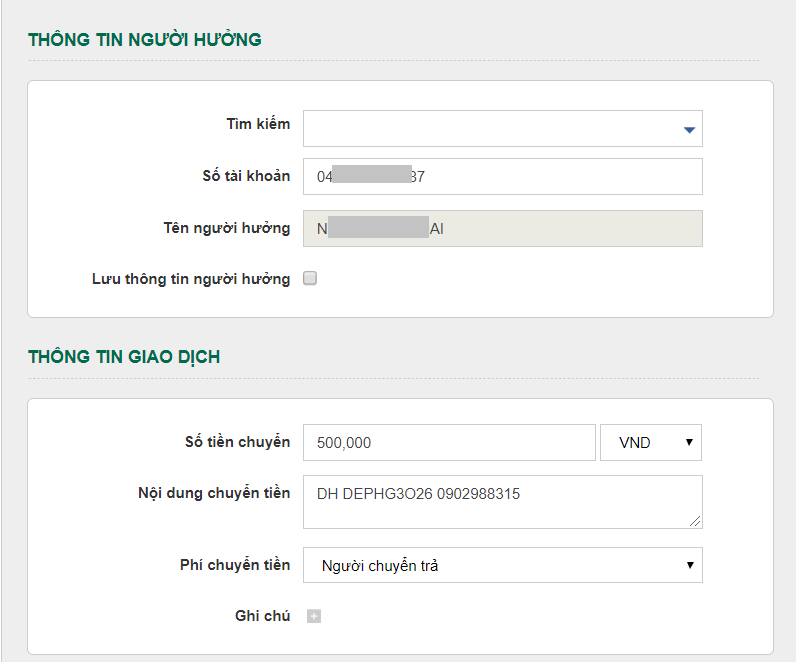 Make the transfer as usual. After the transfer is successful, it will take 1-2 minutes to go back to the Bitmoon page to see your VND wallet in Bitmoon with the amount you just loaded.
So you can buy coins at Bitmoon exchange.
Withdraw VND at Bitmoon
Similar to top up VND, you need to go to "Deposit – coin" -> "Withdraw/Deposit VND". However, at the VND deposit/withdrawal interface you choose Withdraw money red on the left hand side of the screen.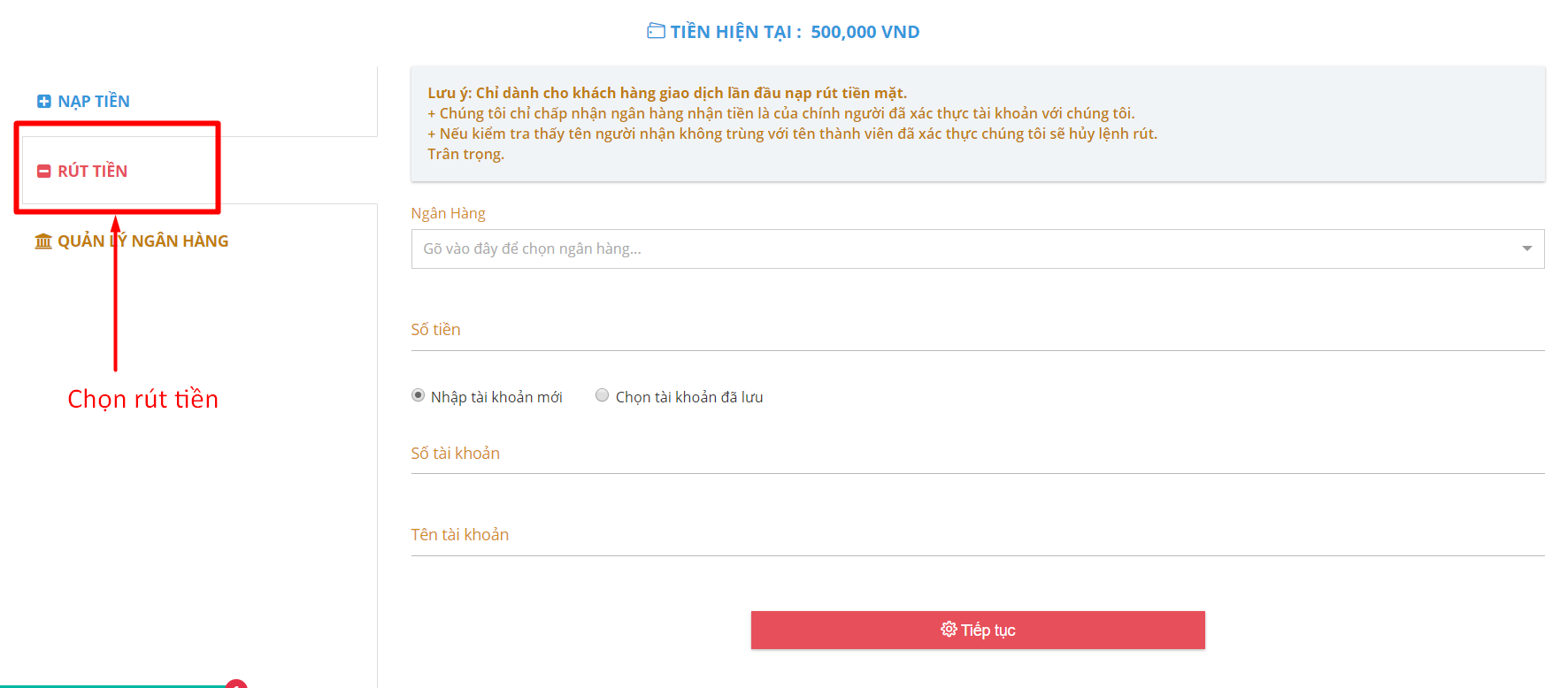 Next, you choose the bank you want to withdraw VND and fill in the information to make a withdrawal order.
Amount: you enter the amount of VND you want to withdraw.
Account number: the number of the bank account you want to withdraw VND to.
Account name: enter the bank account name. Requires to use the owner's bank account to transact, so in this section, the account name must be exactly and exactly the same as the name on the ID card you use KYC.
After filling in all the information, click Continue.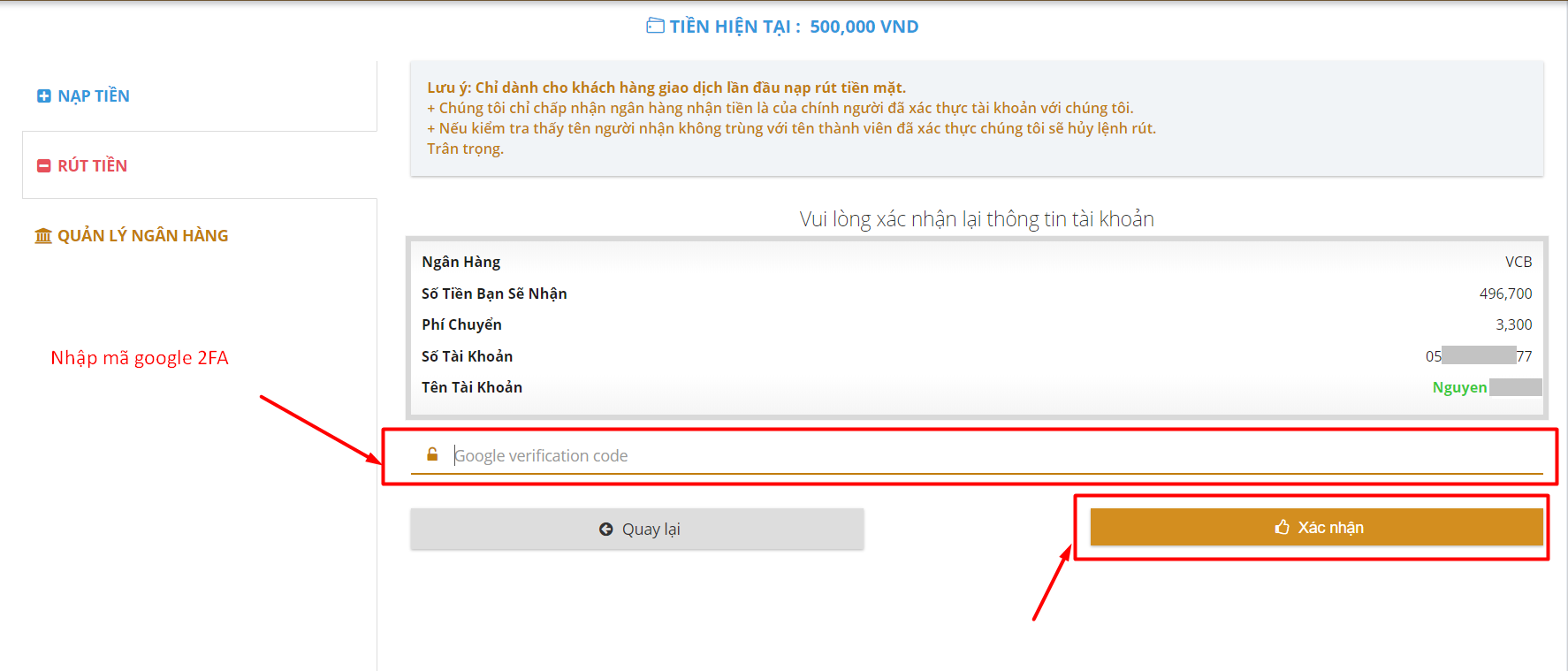 At this step, my account has activated 2FA security, so I need to enter the 2FA code to confirm the withdrawal. After filling in the 2FA code, click confirm to submit a withdrawal request.

At this point, your withdrawal order has been made, but you need one more step to confirm the withdrawal order in your email, then the new Bitmoon exchange system will make an automatic transfer for you. Security is too tight, with 2 layers of withdrawal security like this, you are completely assured of storing VND at the exchange.
Now you need to go to your email inbox to find the confirmation email and click on the confirmation link. Be sure to check the spam folder as well.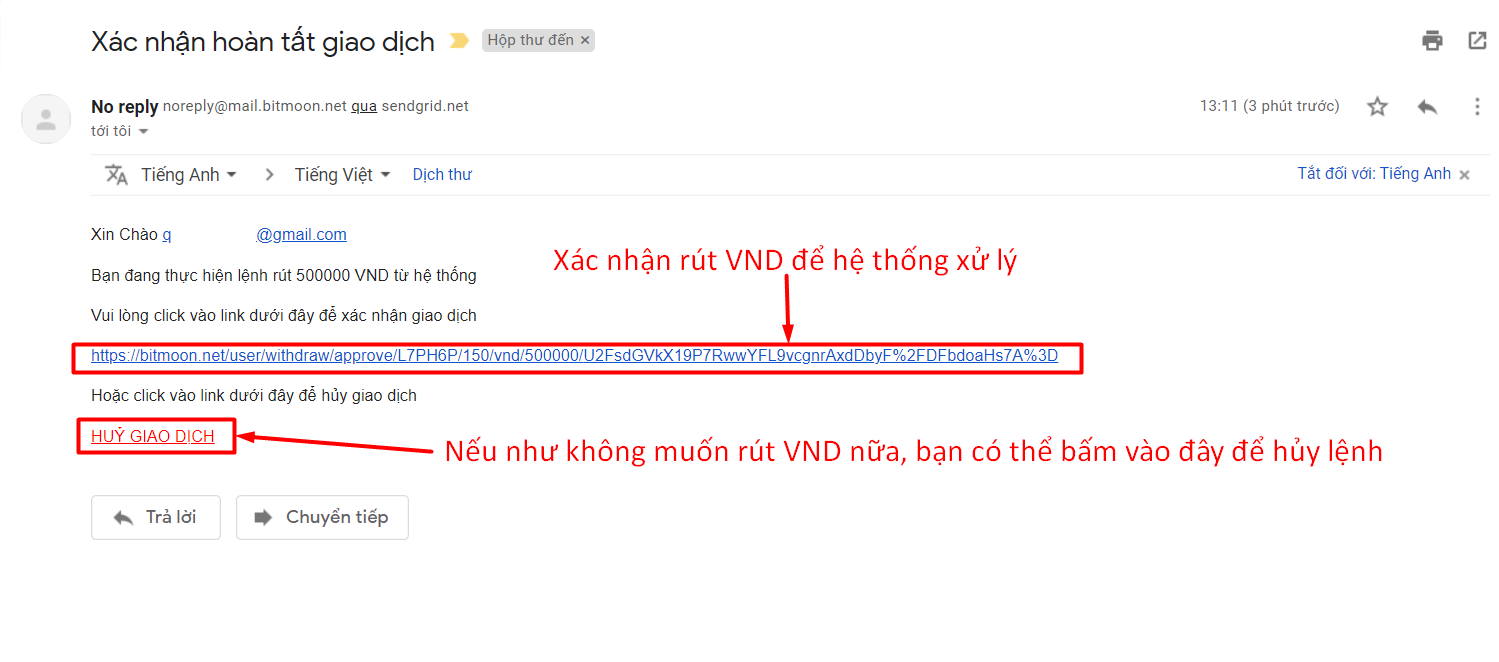 Confirmation of successful withdrawal order.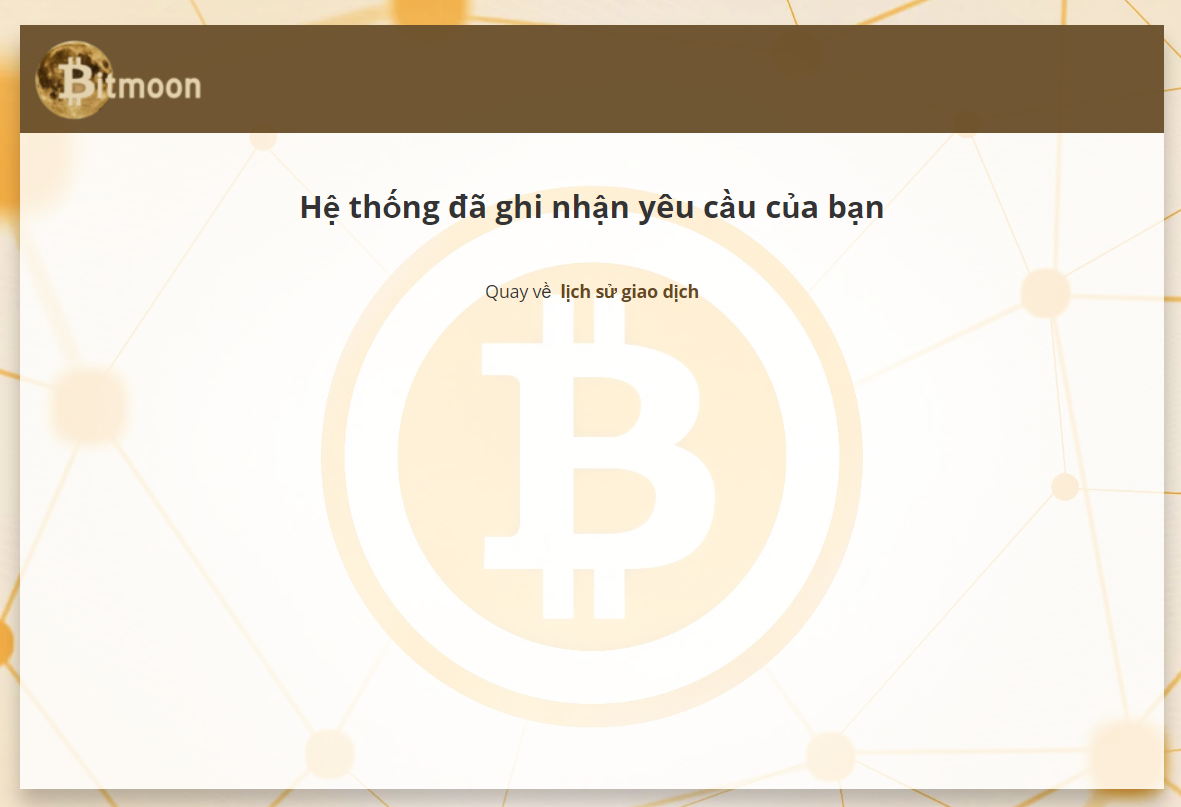 Now you just need to wait for the money to arrive in your bank account. It takes about 2-5 minutes for VND to be transferred to your bank account.
Instructions for buying and selling coins at Bitmoon exchange
Quick guide to buying and selling at Bitmoon
Quick purchase
To buy any coin just go back to the homepage then click on the . button "Purchase" then find the coins you want to buy. Next click on Purchase.
In this article, I will guide the coin model XRP.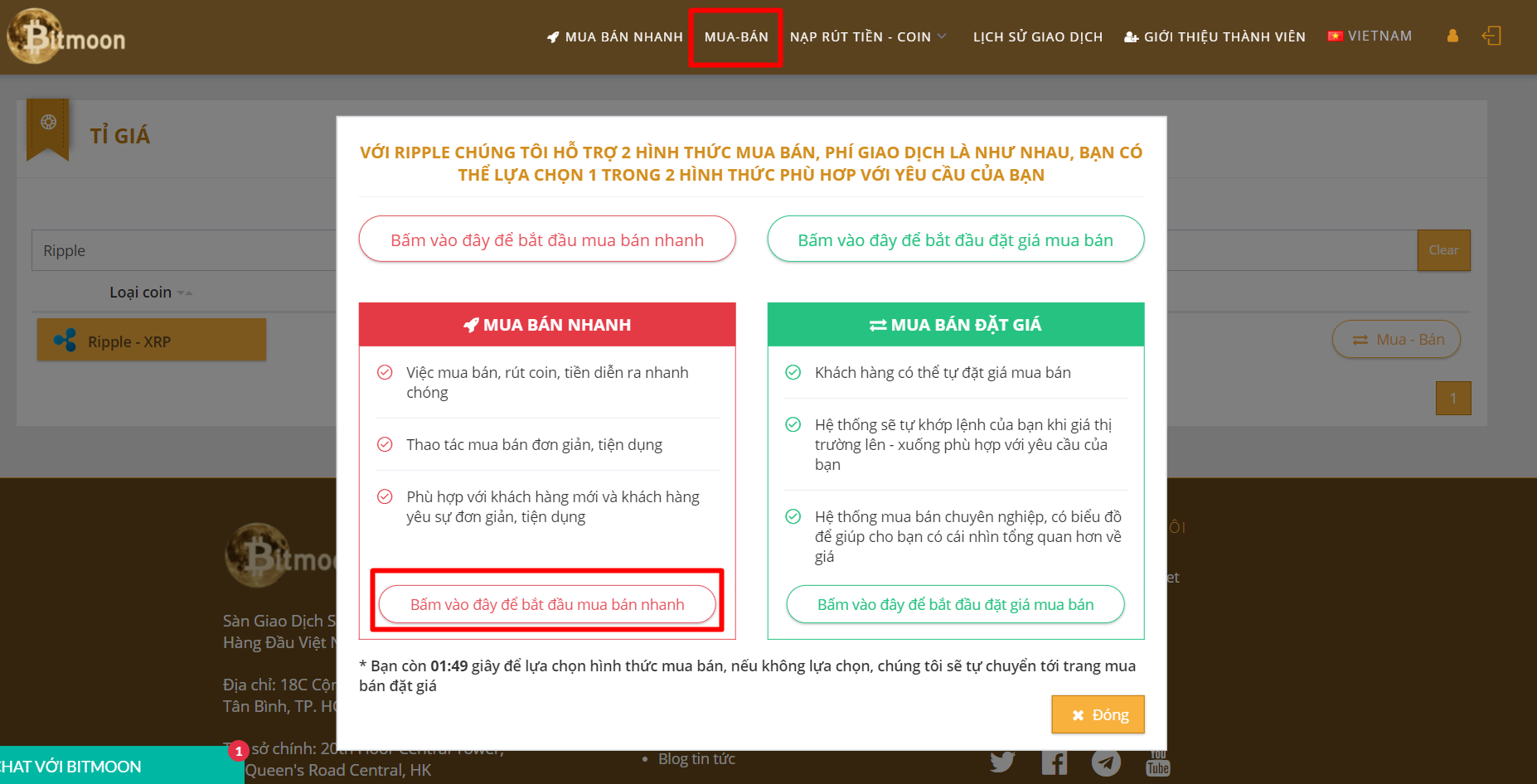 At the quick sale interface, you choose to buy and enter the amount of coins you want to buy, then click Buy XRP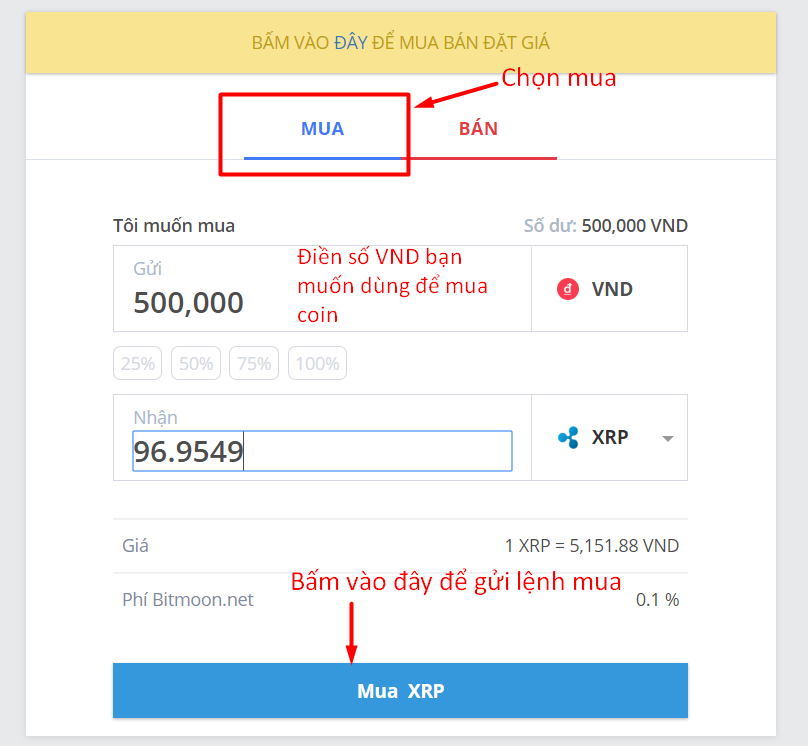 Click Buy XRP Once done, a message will appear asking to confirm the purchase order. You have 10 seconds to press the confirm button, after 10 seconds if you don't click, the buy order will not be created.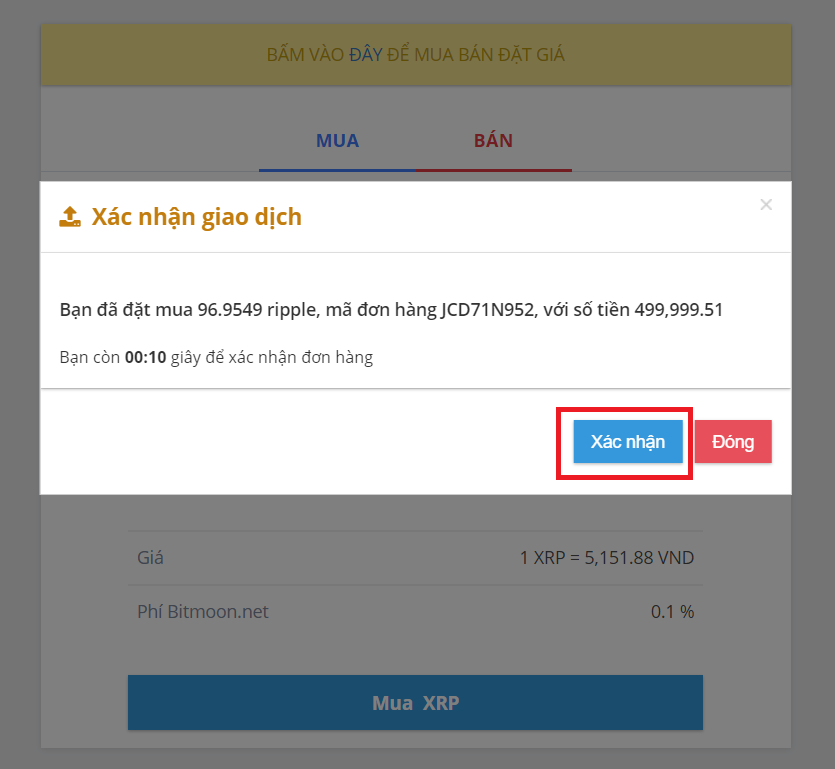 After the confirmation is complete, you just need to wait a few seconds for the buy order to be completed.
To check the order status, go to Transaction history on the menu bar.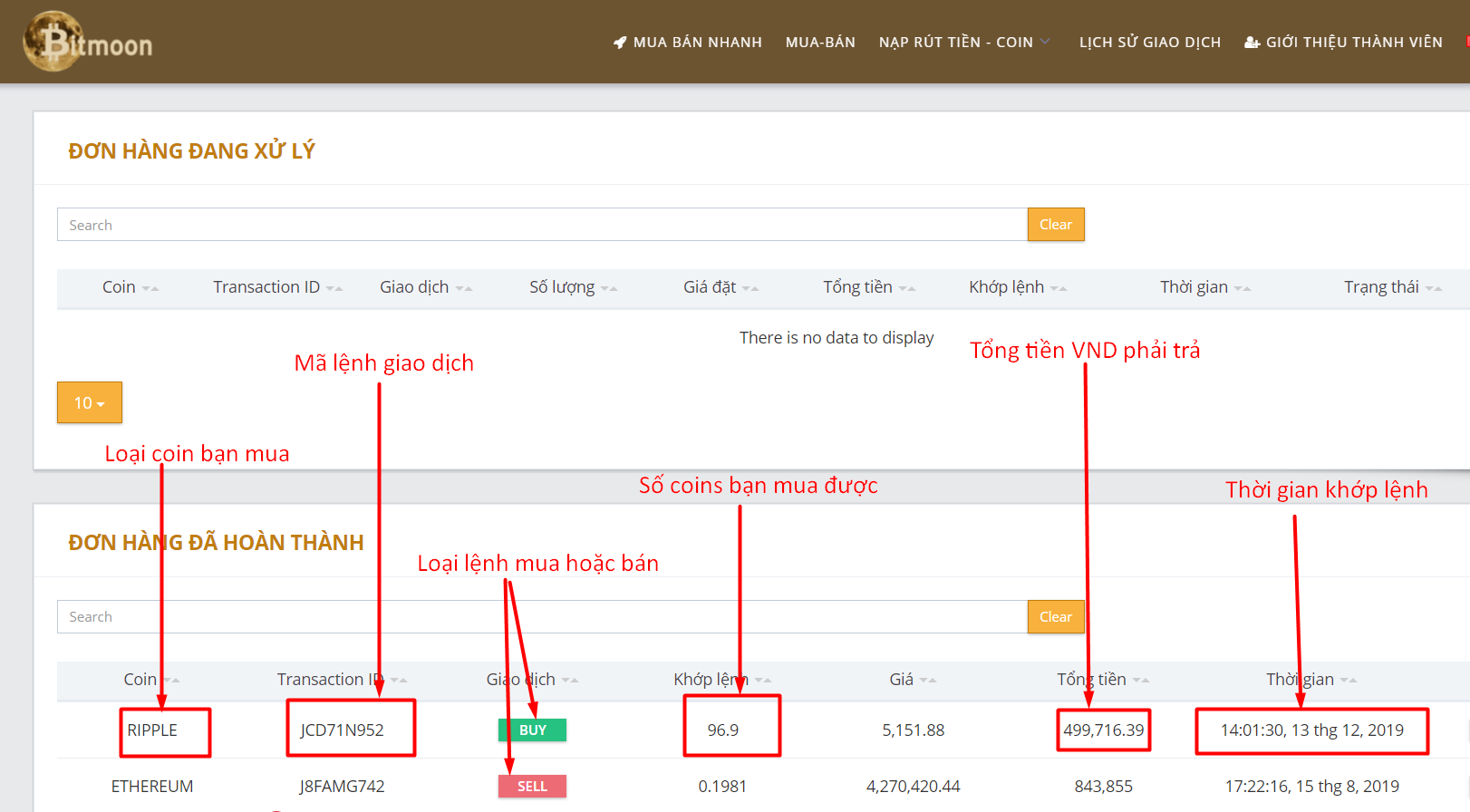 To check the balance of coins you just bought, the balance of coins available at Bitmoon, go to Deposit Withdrawal – Coin choose Withdraw/Deposit Coins. Or you can access the link: https://bitmoon.net/wallet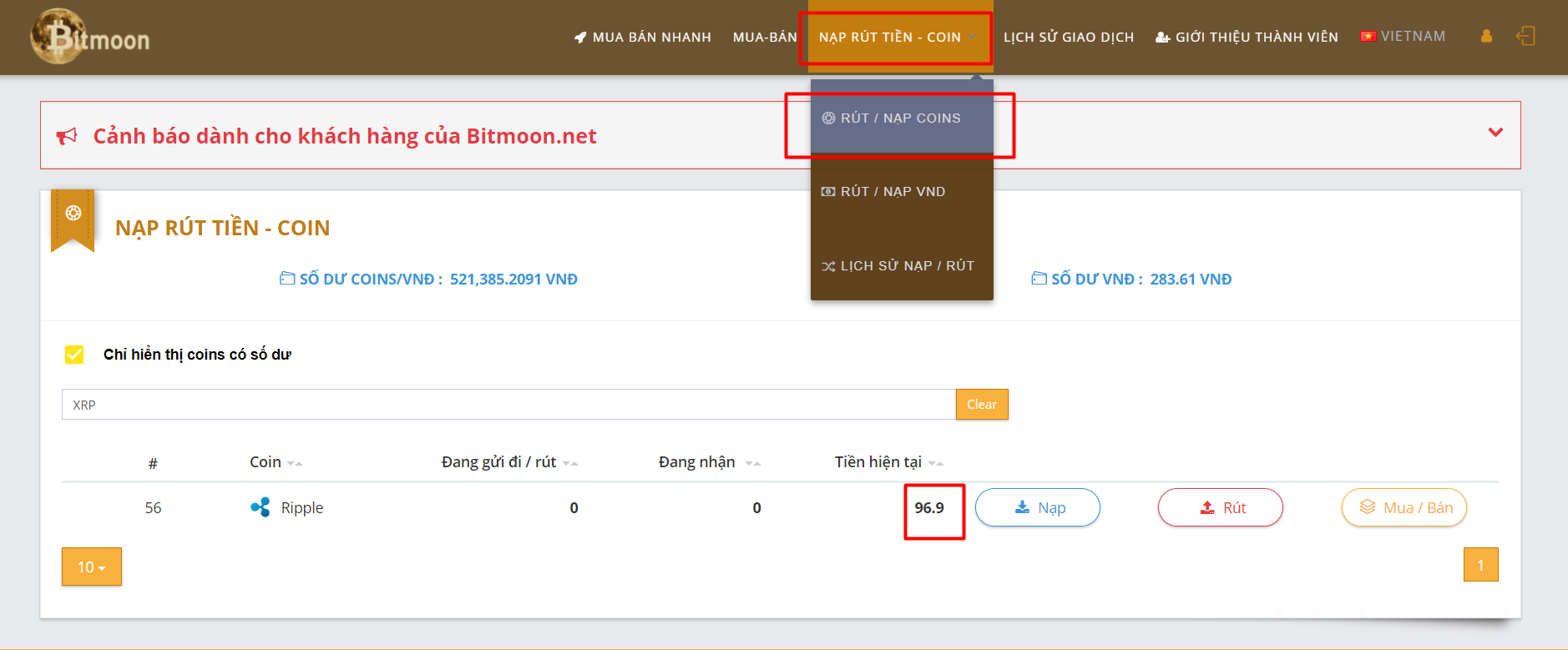 Quick sale
The same, similar Quick purchase, but in the interface buy and sell fast you need to choose Sell (red) to create a sell order.
Next, click confirm to complete creating a sell order.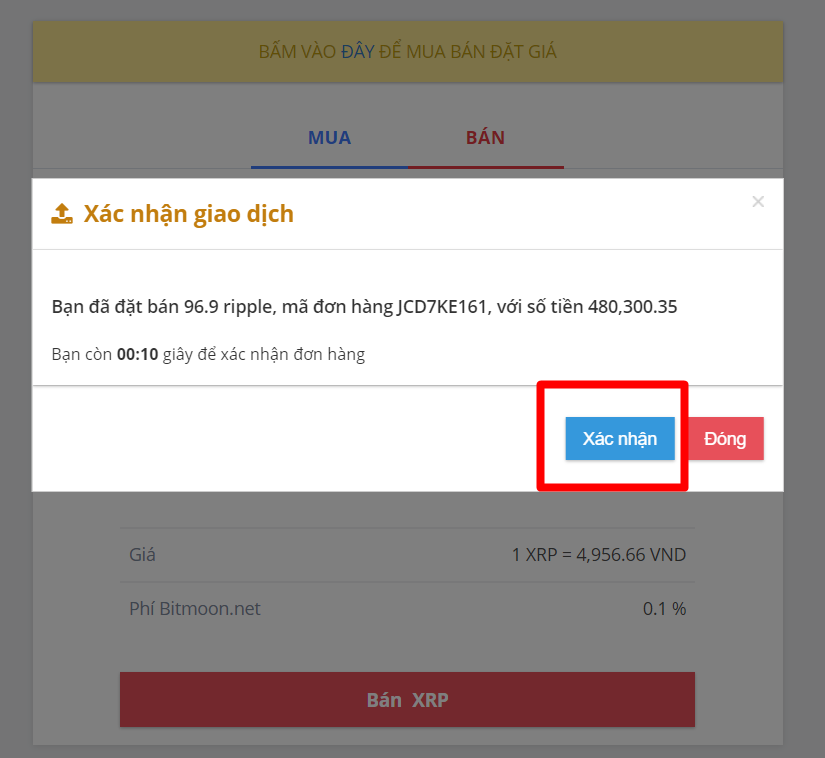 Same command Quick purchase, To check your sell order history, go to Transaction history on the menu bar.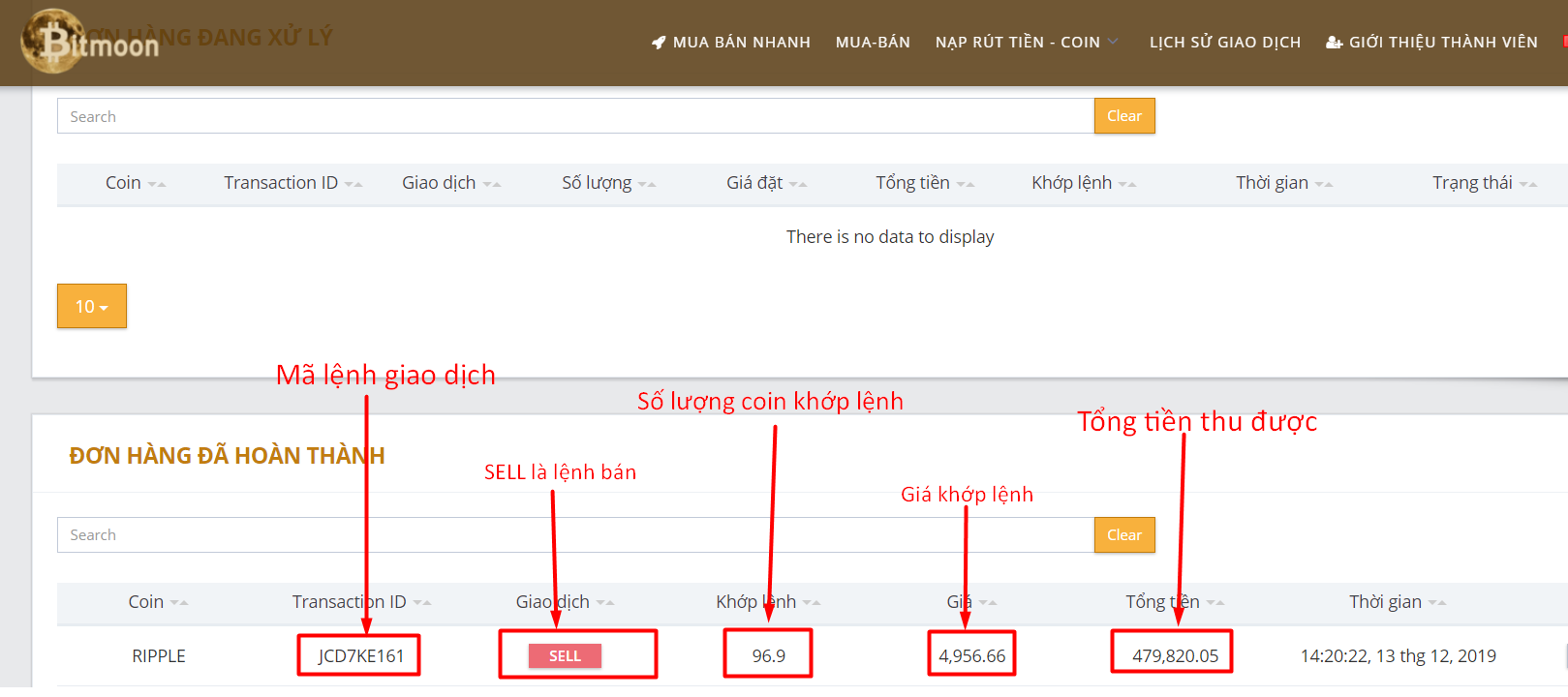 Note when buying and selling fast
Because quick trading will scan all orders on Bitmoon and international exchanges, you need to act quickly to place orders so that you don't miss the price and have to do it again.
If you need any support during the purchase and sale process, you can contact online support right on the homepage.
Instructions for buying and selling at Bitmoon exchange
About how to buy and sell at Bitmoon, you can refer to the detailed video tutorial below:
Conclude
Above are all the detailed operations as well as instructions on how to create an account on Bitmoon, Hope this article will help you know how to trade, buy and sell on Bitmoon.net.
In my opinion, Bitmoon is an exchange worth choosing. With the advantages of low transaction fees, low withdrawal fees will help users preserve profits through maximum trading.
Besides, the quick buy and sell function is very interesting. For example, when you want to buy a large amount or sell a large amount of BTC on other exchanges, there may be no one to buy it all, but with Bitmoon, just use the quick buy and sell function and with just one click. All transactions have been successful.
Virtual Currency Corner