Nowadays, more and more bridges appear oracle to help blockchains real world data can be obtained. Among them are Berry Data is a project that provides solutions oracle give Binance Smart Chain.
What is Berry Data concept?
Berry Data is a project oracle community verified on BSC (Binance Smart Chain). Berry Data provide an alternative solution decentralized and trustless for data off-chain.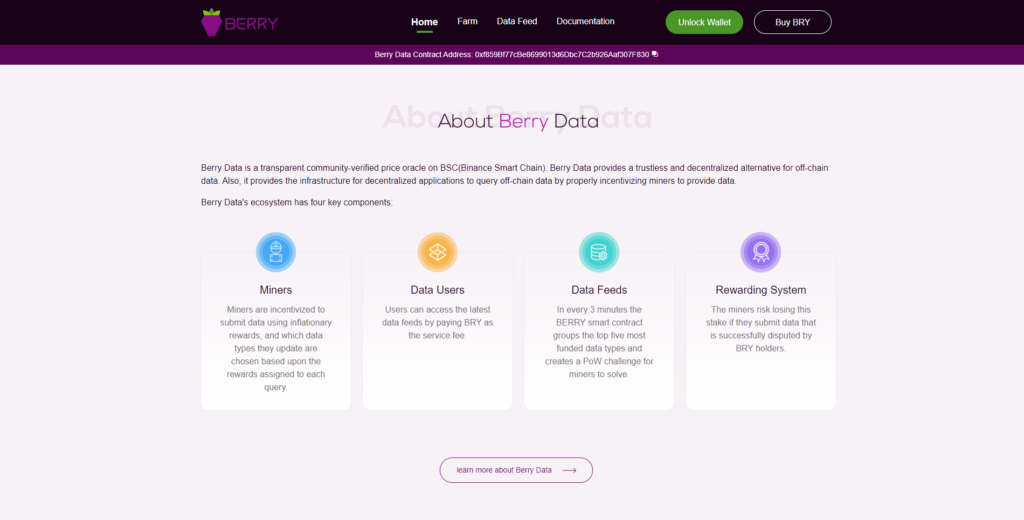 In addition, it provides the infrastructure for decentralized applications (decentralized) to query data off-chain by encouraging the miners provide reasonable data.
Berry Data Functions and Highlights
How Berry Data Works
Berry Data is an oracle system where parties can claim the value of a data point off-chain and miners (miners) compete to add this value to the on-chain data bank, all DApp above Binance Smart Chain are all accessible.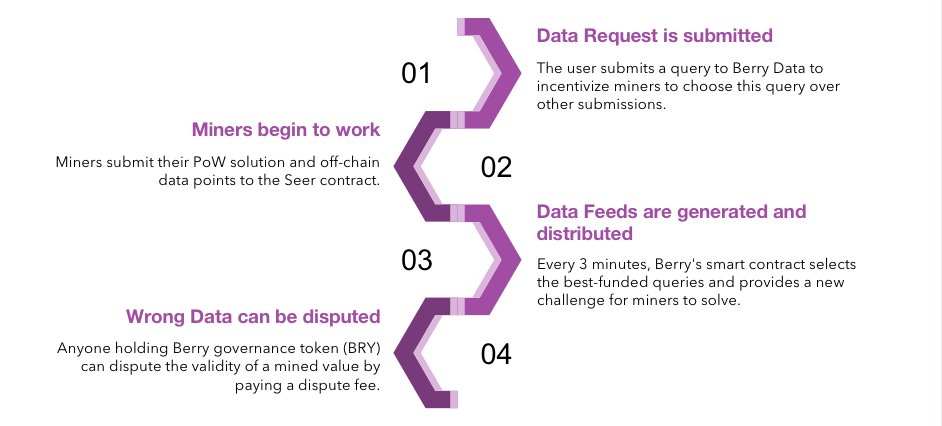 The inputs to this data bank are secured by a stakeholder network of miners.
Berry Data utilizes crypto-economic incentives, rewards miners who submit honest data and punishes the bad guys, through the issuance of governance tokens. Berry Data – BRY and dispute mechanism.
Ingredients in Berry Data
Miners
People are incentivized to submit data using discretionary rewards, and what type of data they update is chosen based on "tips" is specified for each query.
dApps/Data Users
The latest feed can be accessed by paying BRY service fee.
In addition to the existing feed, they can claim additional feeds/prices by providing incentives to their followers. miners.
Data Feeds
Every 3 minutes, smart contract BERRY will group the most funded data types and create a challenge PoW for these miners to solve.
The first five miners provide the solution PoW and data points off-chain be rewarded with new tokens minted + service charges accrue for specific data requests.
Deposit & Rewarding System
In addition to the security provided by the process PoW.
The main security layer of Berry Data also through escrow BRY tokens act as a staking or staking requirement for miners to participate in the process PoW.
NS miners risk losing this stake if they successfully submit data disputed by holders BRY.
Similar projects
Updating
Roadmap
Q3/2020
Project setup: Team creation, whitepaper completion, product design, etc.
Q4/2020
Q1/2021
Launch Berry Data Mainnet.
Berry Data Oracle can provide data feed on-chain every 2.5 minutes as required.
Mining tools (Miner tools) will be released and miners (miners) can win token rewards BRY and tips by providing a feed in Berry oracle.
Feed "plug-in" tools will be released to users dApp on Binance Smart Chain can easily access and request the on-chain price feed easily interacting with Berry oracle.
Combine more strategic partners.
Q2/2021
Berry Data V2 will be launched with an upgrade in Smart Chain and Governance.
Berry Data The updated smart chain considers the reputation and track record of miners (miners) and data source are important components for data selection. Miners (miners) works well and the high quality can get extra bonus.
Dispute Center (Disputes Center) will be launched where every token holder BRY Can track and dispute data errors. Whoever can make a successful challenge will win a great reward from the team.
More partners will join to access the on-chain feed through Berry Data.
Q3/2021
ETH main-net will be launched
Build an Ecosystem Berry Data bigger and stronger and keep polishing oracle products.
Team
Team of Berry Data has 6 members working full time, including 3 developers and 3 operations. Information of the main members of the group is as follows:
John WU – Berry Data CTO
Graduated from Peking University with a master's degree in computer science
Former IRISnet Senior Technical Architecture for 2 years.
ex community code contributor for Cosmos.
ex-senior developer for JD.com.
Mandy NG – Berry Data COO
Worked for IBM as Sales Manager for 3 years.
Graduated from University College London with a master's degree in marketing.
Former director of Kucoin Exchange BD, with experience in coin listing in APAC region, she has close connections with most of the major exchanges and leading blockchain projects.
Dr. Tom HAO – Berry Data Leading Scientist
He received his PhD from Jilin University (China) in Computer Science.
Focus on cryptography and computer security. He will be the leader of the development team Berry Data about product security.
Partners and Investors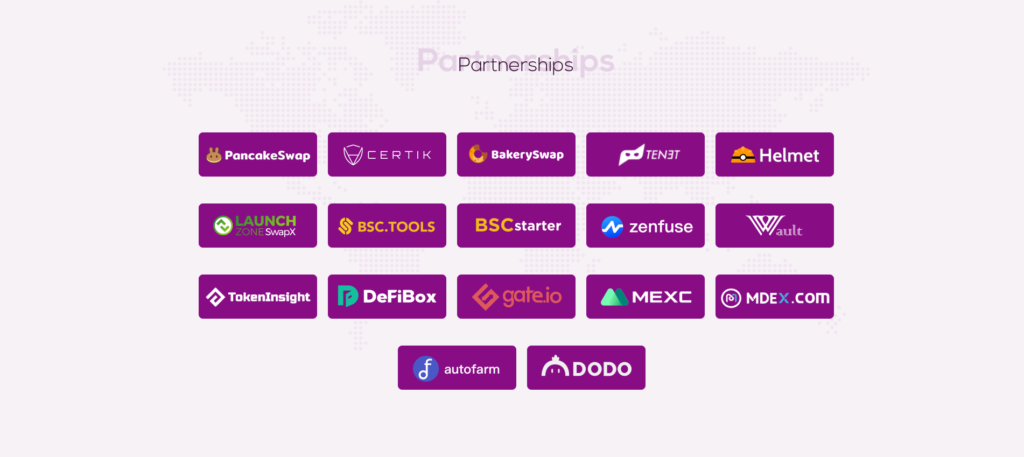 Partner of Berry Data including extremely familiar names of different fields (finance, exchange, …) such as: Gate.io, MXC, PancakeSwap, …
Tokenomics
Token User Case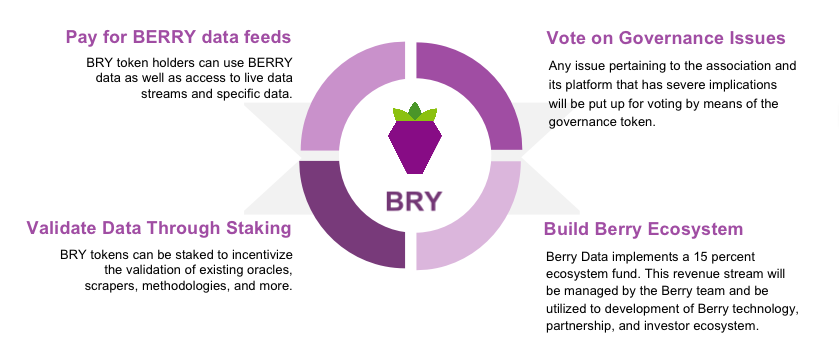 Paid: BRY is used to pay Data feed fees.
Governance: BRY holders have the right to vote for the above activities Berry Data.
Data validation via Staking: BRY needs to be staked to incentivize validators to work.
Build up the Berry system
Token Basics
Token Name: Berry Data.
Ticker: BRY.
Blockchain: Binance Smart Chain.
Token Standard: BEP-20.
Contract: 0xf859bf77cbe8699013d6dbc7c2b926aaf307f830.
Token Type: Utility Token.
Total Supply: 7,978.722
Circulating Supply: 2,875,000
Token Allocation
The total circulation of BRY tokens is 12,500,000. The token distribution is as follows: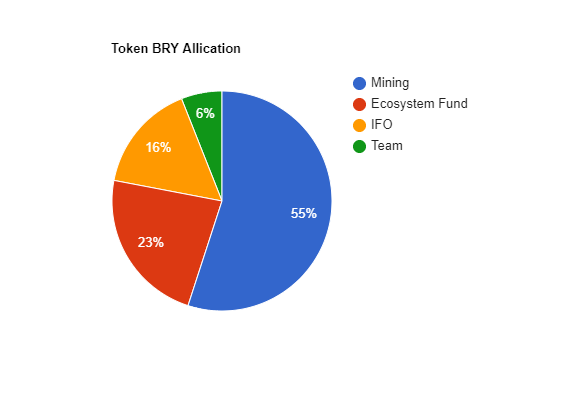 55% – Mining: 40% of BRY will be mined as block rewards for miners in the Berry oracle network; 15% BRY will be made available through liquidity mining – LP
23% – Ecosystem Fund: will be used for partners to build projects Berry Data and its ecosystem as a vault. 7% will be used for initial listing campaign and creating pools; 16% will be locked for 2 years and will be released quarterly
16% – IFO: will be sold on PancakeSwap IFO
6% – Team: will be locked for 2 years and will be released quarterly. Team will start from the second quarter after listing on the exchange
Where do you buy it
To own BRY tokens, you can buy directly from exchanges like PancakeSwap, MXC, Gate…
Link to buy, sell and exchange reputable coins: bitmoon.net
Current BRY Rate
Website: https://berrydata.co/
Twitter: https://twitter.com/berry_data
Medium: https://medium.com/berry-data-official
Telegram: https://t.me/berrydata
Github: https://github.com/berrydata
Conclude
Berry Data will contribute to the ecosystem BSC and it will work with Defi projects on BSC by providing custom oracle tools for a more reasonable fee. Specifically, Berry will provide a free price feed for the first few months to its partners.
Berry believe in the future of BSC, and together we believe Berry will make them the most widely used oracle on BSC.
Here is an overview of the project BERRY that team GTA summarized to give you an overview of the project, not investment advice.