Currently, there are many cryptocurrency trading platforms. Versions appear one after another, making traders bewildered to find out which trading platform to invest in with peace of mind.
Normally, most decentralized financial applications are built on the network Ethereum. However, due to high gas fees and network congestion on Ethereum. Much Dapp found BSC as an alternative. A decentralized financial platform with strong growth is BakerySwap.
What is BakerySwap?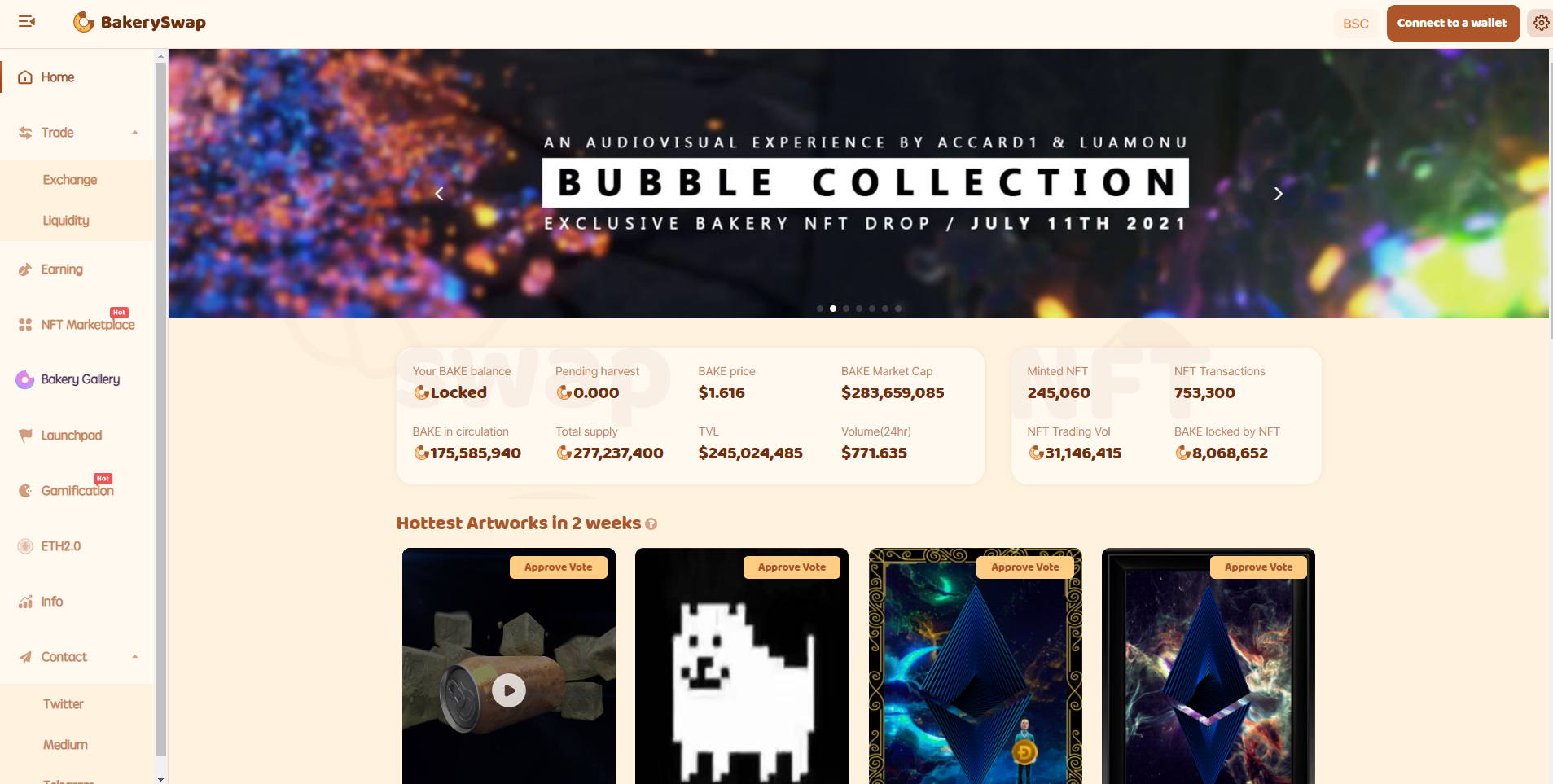 BakerySwap is a decentralized financial platform and NFT.
BAKE is an automated market maker channel – AMM (Automated Market Maker) and is the first regulated NFT marketplace on Binance Smart Chain (BSC), so BakerySwap do not use order books to match buyers with sellers and vice versa. Instead, it allows users to trade with reserves known as liquidity pools (liquidity pool).
Similar models AMM other traditional, liquidity pools BakerySwap there is a transaction fee of 0.30%, of which 0.25% goes to the LP (liquidity provider) and the remaining 0.05% is given to the token holders BAKE.
Present, BakerySwap is in the top #5 in the field AMM DEX (BSC system) with TVL reaching 290 million.
Functions and highlights of BakerySwap
BakerySwap wish the direction is to become one All-in-one Station for both DeFi and NFT, including the following standout features:
Trade: Trade and generate LP tokens to provide liquidity. Exchange trading features and providing Liquidity liquidity similar to Uniswap.
Earning: Provide liquidity for AMM DEX to get the reward back. Monetization feature through the Yield famring form of the platform. The pools allow farming tokens TKO-BNB, TLM-BNB, AUTO-BNB, etc.
NFT Marketplace: is the place to shop for Artist's NFT products.
Bakery Gallery: This feature just launched in April 2021 allows for the sale of 3D NFTs connected with the world's top artists. At the same time, it allows mining of NFT such as images, Gif files, Video, Audio.
Launchpad: Token launch feature similar to Binance's Launchpad: IDO Platform for new projects.
Gamification (Game Boxes): Is an NFT game project combining Alien Worlds, My Neighbor Alice and Battle Pets for SOCCER & POKER holders. Users who burn 0.25 SOCCER or 0.25 POKER tokens will have a chance to get 1 Game Box. Open reward 1500 TLM + 20 ALICE + 20 PET with tokens.
ETH 2.0: ETH Staking Program to promote the launch of ETH 2.0 (PoS). Enabling staking ETH for profit, BakerySwap uses ETH to build validators that convert from ETH to ETH 2.0
Similar projects
BakerySwap is a project that combines the strength of two fields AMM DEX and NFT of the Binance Smart Chain system. Similar projects:
AMM DEX : Pancakeswap, Apeswap,…
NFT: Seascape, Dego Finance,…
Roadmap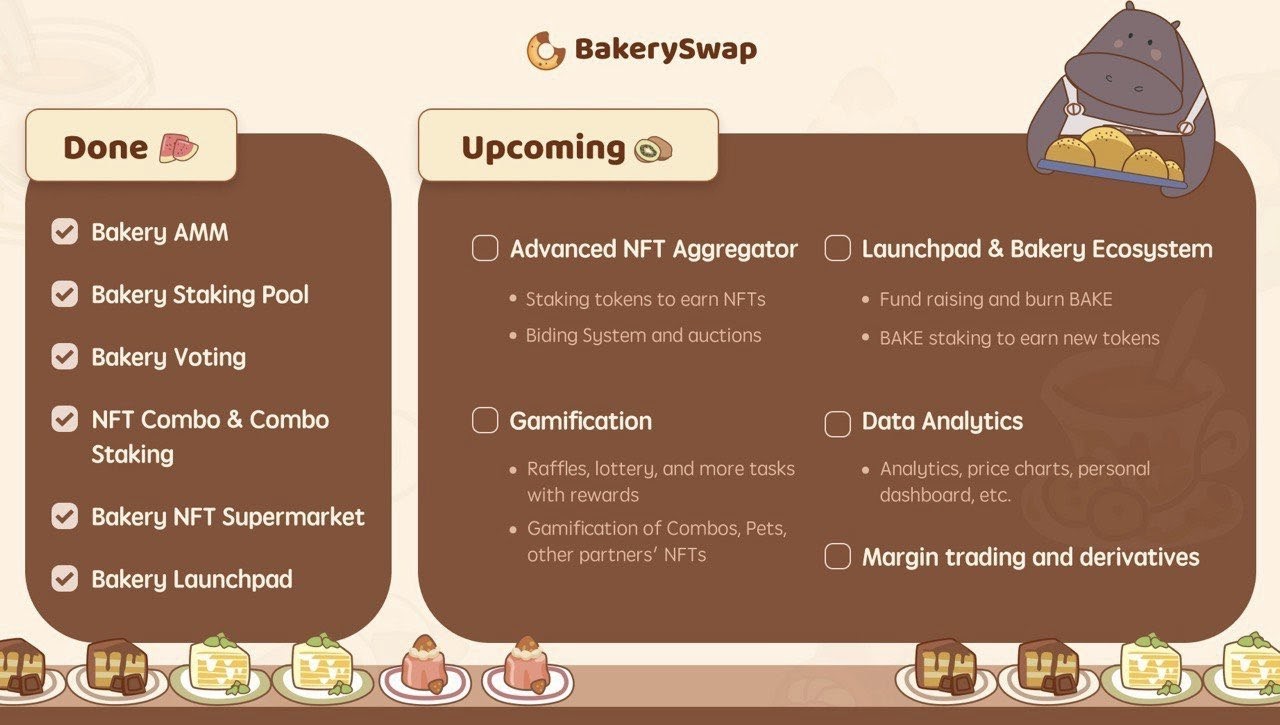 BakerySwap Accomplished:

Bakery AMM (Automated Market Maker), Voting, Staking Pool

NFT Combo & Combo Staking
Bakery NFT Supermarket
Bakery Launchpad
BakerySwap developing:

NFT Aggregator
Launchpad & Bakery Ecosystem
Gamification
Data analysis system
Margin trading and derivatives
Team
Updating
Partners and Investors
BakerySwap is one of the first three projects to receive funding from Binance Smart Chain with a total value of up to 100 million USD, including 10 million USD liquidity support and support. audit smart contract with partner CertiK – the largest audit unit in the crypto market today.
Tokenomics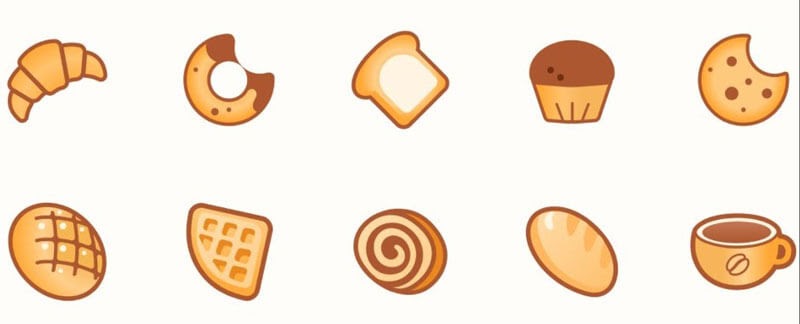 Token User Case
Updating
Token Basics
Token Name: BakerySwap
Ticker: BAKE
Blockchain: Binance Smart Chain
Token Standard: BEP-20
Contract: 0xE02dF9e3e622DeBdD69fb838bB799E3F168902c5
Token Type: Utility
Total Supply: 277,237,400 BAKE (After burning 65% of total supply)
Circulating Supply: 250,146,207 BAKE
Initial Supply: 731,745,000 BAKE
Token Allocation
BakerySwap has 2 types of liquid funds:

With rewards BAKE
No reward BAKE
This is to facilitate the community to create new LPs. Only designated LPs have rewards BAKE and among them, the reward multiplier for each LP will be different, usually based on the value they provide to the holder BAKE.
Total supply of BAKE will be completely distributed to the Pools as below:

BAKE-BNB, 10x BAKE
BUSD-BNB, 3x BAKE
ETH-BNB, 1x BAKE
BTC-BNB, 1x BAKE
DOT-BNB, 1x BAKE
LINK-BNB, 1x BAKE
Where do you buy it
Present BAKE The token has been listed on many major exchanges. Everyone can buy cake at Binance (most liquid), Gate, Pancakeswap…
Current BAKE Rate
Conclude
BakerySwap is a decentralized automated market creation (AMM) protocol on Binance Smart Chain, with outstanding market-making features NFT Marketplace also allows users to create images, GIF, video and Audio files as NFT
This is an ecosystem DeFi comprehensive on Binance Smart Chain with fast, low-cost service and a very creative and cute interface. BakerySwap also creates many options to help earn automatic income for users. BakerySwap is predicted to be a project that will develop more stably and strongly in the future.
GTA Ventures