Pioneered by Compound in DeFi Summer, yield farming above Ethereum has become a popular method for projects to launch their liquidity and acquire new users. However, towards the end, the added costs of this process become more and more severe for most people. In fact, Ethereum has become a whale game because the gas fees are so high!
The result is, Binance Smart Chain (BSC) has experienced an exponential explosion in popularity and in this emerging ecosystem see a gap between the applications offered there compared to other chains like Ethereum. Specifically, one of the biggest missing pieces – is an on-chain leverage protocol!
Therefore, Alpaca Finance was born, seeking to provide value to the community BSC through leverage-based yield farming.
What is Alpaca Finance?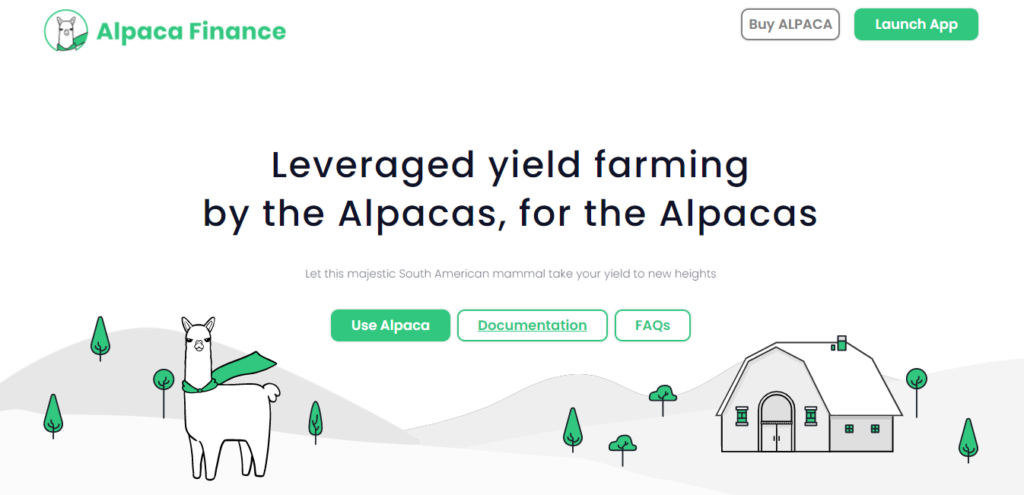 Alpaca Finance is the largest lending protocol on Binance Smart Chain enable enhanced productivity, help lenders earn a safe and stable return, and provide borrowers with leveraged loans, which greatly multiplies their returns.
Functions and Highlights of Alpaca Finance
Alpaca Finance provides users with a leveraged protocol for liquidity mining. Essentially, the provision of liquidity is the fact that users deposit a portion of assets for trading pairs – and most of this asset is not consumed.
As a user, you can participate in Alpaca Finance in the following four ways:
Lender (Lender): Alpaca Finance allows you to use your capital to earn extra income by depositing them in your vault Alpaca Finance. These assets will then be made available to yield farmers to take advantage of their position.
Yield farmer (Farmer): As a farmer, you can earn more yield by opening a leveraged position on Alpaca Finance. Of course, this comes with greater risks: liquidation, loss, etc.
Bounty hunter : Call a contract to claim pending rewards and reinvest them back into the pool, getting part of the reward back.
Liquidator (Liquidator): Those who are responsible for liquidating LP assets when they become risky. When the parameters of strategy farming drop to the risk threshold, the liquidators will have to pay those positions to ensure the Lenders do not lose their capital, and they receive a reward of 5% on the liquidated amount.
Similar projects
In the ecosystem Binance Smart Chain There are quite a few multi-disciplinary projects that you can experience such as: PancakeSwap, BakerySwap, …
Roadmap
Q1/2021
Distribution of ALPACA tokens through Alpaca Finance.
Complete the Audit with Peckshield and CertiK.
Launch the functions of the loan system.
Launch of liquidity pools.
Q2/2021
Provide more liquidity pools
Integrate with more PancakeSwap groups.
Listing CEX exchange.
Featured Leveraged Pools Program – Developing partnerships to provide leverage for BSC projects.
Launch of new single asset deposit vault for borrowing and lending: ALPACA, USDT, BTCB, ETH.
Complete 2 more tests with SlowMist and Inspex.
Expanding into the NFT sector.
Q3/2021
Allows the use of AUSD as collateral to borrow.
Integrate more pools in addition to PancakeSwap.
Deploy a decentralized governance system.
Increase the applicability of the ALPACA token (fee reduction, low interest rate and higher leverage).
Built-in utility for NFT (NFT + DeFi).
Q4/2021
Increase leverage in Alpaca Finance protocol.
Cooperate with partners to expand the application of ibTOKENS and AUSD.
Expansion to other blockchains.
Team
Updating…
Partners and Investors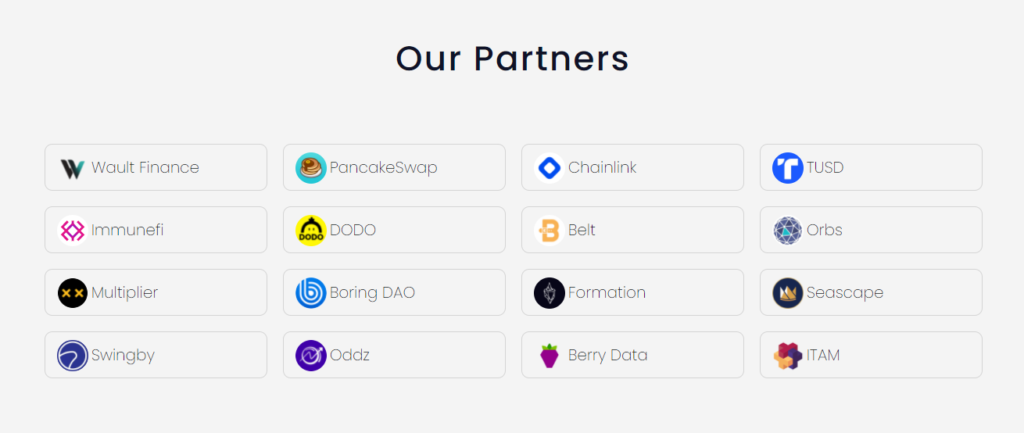 Alpaca Finance was Audited by PeckShield and CertiK, these are the two largest Audit units in the current crypto market when providing security and auditing solutions for many large ecosystems such as Binance Smart Chain, Avalanche, HECO Chain…
Partners of Aplaca Finance are very familiar names such as: PancakeSwap, Chainlink, DoDo, …
Tokenomics
Token User Case
In the example below will show how each participant works together in the ecosystem of Alpaca Finance: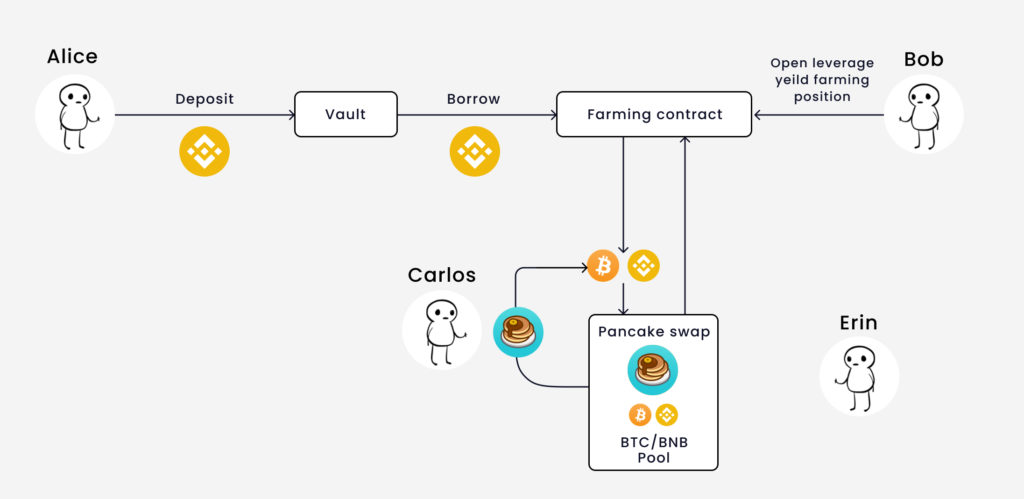 Alice (Lender) deposit your BNB in ​​the deposit of Alpaca Finance; Her fortune can give a yield farmers loan productivity; she earns interest on providing this liquidity.
Bob (yield farmers) want to open a leveraged yield farming position on BTC/BNB pair; he borrows BNB from the vault and enjoys higher yield farming rewards.
Smart contract Alpaca Finance take care of all the behind-the-scenes mechanics – convert assets in the right proportions optimally, provide pool liquidity, LP staking for Pancake Rewards.
Carlos (Bounty Hunter) monitor the amount of rewards accumulated in each pool and help reinvest it back, creating a double profit for all farmers. For this service, he gets 3% of the total reward.
Erin (Liquidator) monitors the health of each leveraged position, and when it exceeds the specified parameters, she helps to liquidate the position, ensuring lenders like Alice don't lose their capital. For this service, she gets a bonus of 5% on the liquidated amount.
Token Basics
Token Name: Alpaca Finance.
Ticker: ALPACA .
Blockchain: Binance Smart Chain.
Token Standard: BEP-20.
Contract: 0x8f0528ce5ef7b51152a59745befdd91d97091d2f.
Token Type: Utility.
Total Supply: 139,289.954
Circulating Supply: 106.060.354
Token Allocation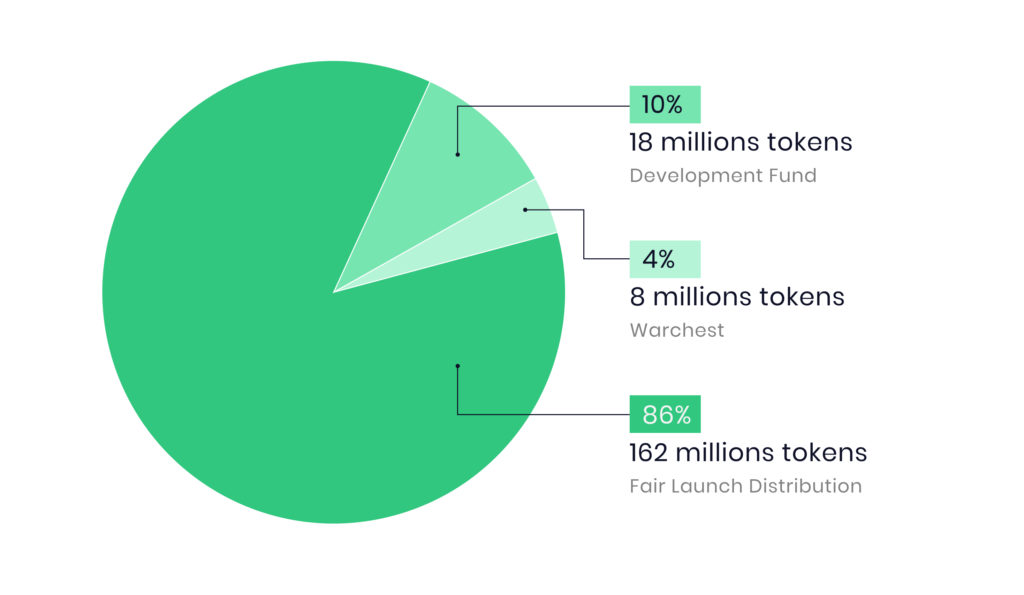 Out of a total of 188,000,000 ALPACA will be distributed as follows:
Fairlaunch: 86% – 162,000,000 ALPACA
Development fund: 10% – 18,000,000 ALPACA
Warchest: 4% – 8,000,000 ALPACA
Alpaca Finance is a fair launch project, so no presale. The only way to earn ALPACA tokens is to stake BNB and BUSD at app.alpacafinance.org
ALPACA will be released within two years with a tapered emission schedule. In total, there will be 188 million ALPACA. To encourage early signups, there will be a bonus period for the first two weeks.
Below is the expected block reward schedule. Based on that, ALPACA's circulating supply can be plotted.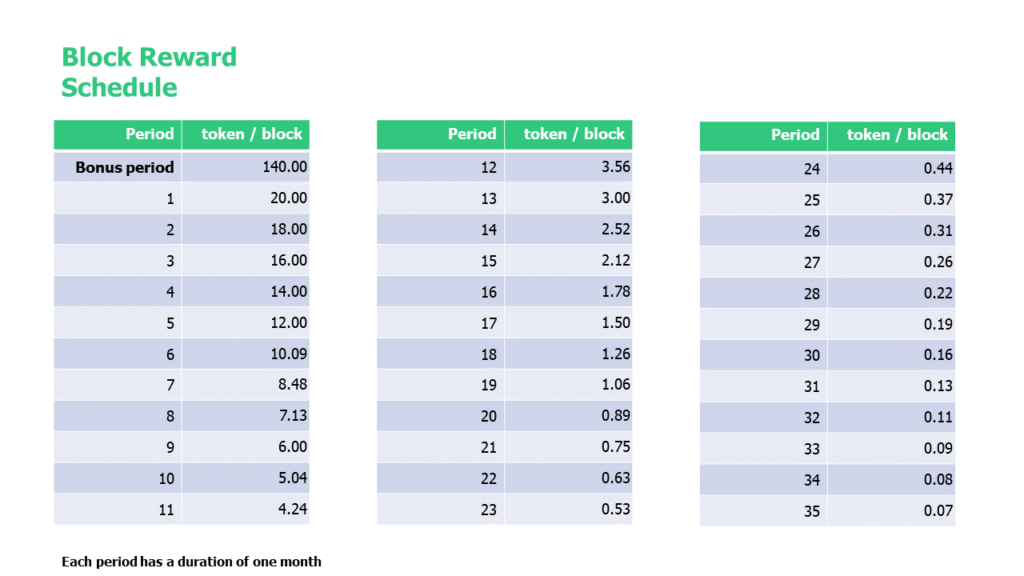 Note that the inflation rate drops significantly after the first time periods. In fact, the inflation rate will fall below 5% after 8 periods.
10% of the tokens distributed will go to funding the development and expansion of the team, and will be subject to the same two years as the tokens from the fair launch distribution.
Where do you buy it
To own ALPACA token, you can join Farming at Alpaca Finance to receive rewards or buy directly from exchanges like PancakeSwap, MXC, Gate…
Current ALPACA rate
Website: https://www.alpacafinance.org
Twitter: https://twitter.com/AlpacaFinance
Medium: https://medium.com/alpaca-finance
Telegram: https://t.me/alpacafinance
Github: https://github.com/alpaca-finance
Discord: https://discord.com/invite/WnUWeRNTwk
Conclude
Binance Smart Chain is an ecosystem of many projects spanning many different fields. In today's post, GTA mentioned Alpaca Finance with various features.
Alpaca Finance is predicted to be a project that will develop more stably and strongly in the future.