Reserve Rights Token (symbol: RSR) known as a project within Coinbase Ventures that was born with the aim of solving the problem of stablecoins and solvency. So…
Reserve Rights Token what? What is RSR token?
Should I invest RSR tokens or not?
Buy RSR tokens Where is the reputation?
RSR token wallet Which should be used?
If you are looking to find out Reserve Rights Token and potential invest RSR tokens, this article is what you need to find.
What are you waiting for, let's start the article!
Maybe you are interested:

What is Bitcoin? Bitcoin investment guide for beginners?
Reserve Rights Token what? What is RSR token?
Reserve Rights Token (RSR) is a cryptocurrency born with the purpose of providing solutions to problems related to Stablecoins. Along with that, it also enhances solvency in countries where inflation devalues ​​that country's fiat currency. Specifically: Venezuela, Argentina now.
The problem posed for Reserve Rights
The majority of current stablecoins have not yet realized their inherent potential when they are often questioned about transparency.
If you are an investor with a little knowledge of the cryptocurrency market, you must know the concept of Stablecoins. Stablecoin is a currency that is encrypted but pegged to the value of a fiat currency (mainly the US dollar – USD). The most prominent in the market is Tether (USDT) which accounts for over 83% (according to Coingecko August 7, 2020). However, Tether was involved in a lot of lawsuits about inflated prices, uncontrolled printing of USDT contributed to pushing the price of BTC to $ 20k in 2017.
In countries where the capacity to manage money is limited, the inflation of fiat money often occurs. It inhibits the development of the economies of these countries (typically Venezuela, Argentina…).
When hyperinflation occurs in countries, people or governments will have a temporary solution that is to use foreign currencies to use or completely replace the local currency as a legal currency. . This condition is known as Dollarization (Dollarization or Currency Substitution). Although this solution has certain benefits, there is a huge limitation. That is, any monetary policy of the issuing country of the foreign currency will directly affect the economy of the country using the dollarization solution.
How to Reserve Rights problem solving
Reserve Rights create Reserve Protocol to solve the problems mentioned above. Through Reserve Protocol, Reserve Rights has created its own network and ecosystem.
Special features of Reserve Protocol is that it can be deployed on the Smart Contract of any platform Blockchain. Along with that, it has a governance mechanism with 3 separate tokens thereby maintaining a stable price for RSR token. Those three tokens are:
Reserve tokens (RSV): value always stays at $1
Reserve Rights token (RSR): used to keep the price of RSV stable at $1.
Collateral Tokens: the fixed assets are tokenized to back the value of RSV, like Gold backs the US USD.
Reserve Rights token (RSR) what?
As noted above, Reserve Rights token (symbol: RSR) is a token in Reserve Protocol. Its role is to keep the RSV token at a stable price of 1 USD.
Present, RSR token is an ERC-20 token operating on the Ethereum blockchain.
Maybe you are interested:

What is ERC20? Learn more about ERC20 tokens and ERC20 wallets
| | |
| --- | --- |
| Token symbol | RSR |
| Blockchain | Ethereum |
| Standard token | ERC20 |
| Total supply of tokens | 999,166,667 RSR |
| Total supply of tokens maximum | 100,000,000,000 RSR |
| Total tokens in circulation | 6,849.999,000 RSR |
Basic parameters RSR token
RSR token distribution rate
RSR tokens are distributed according to the following percentage:
5% distributed to strategic partners (strategic partners).
20% is held by the Team and the advisory group.
16.4% used to raise capital for the project.
58.6% do Foundation holding.
Why invest in RSR token
The problem that Reserve Protocol solves compared to other Stablecoins.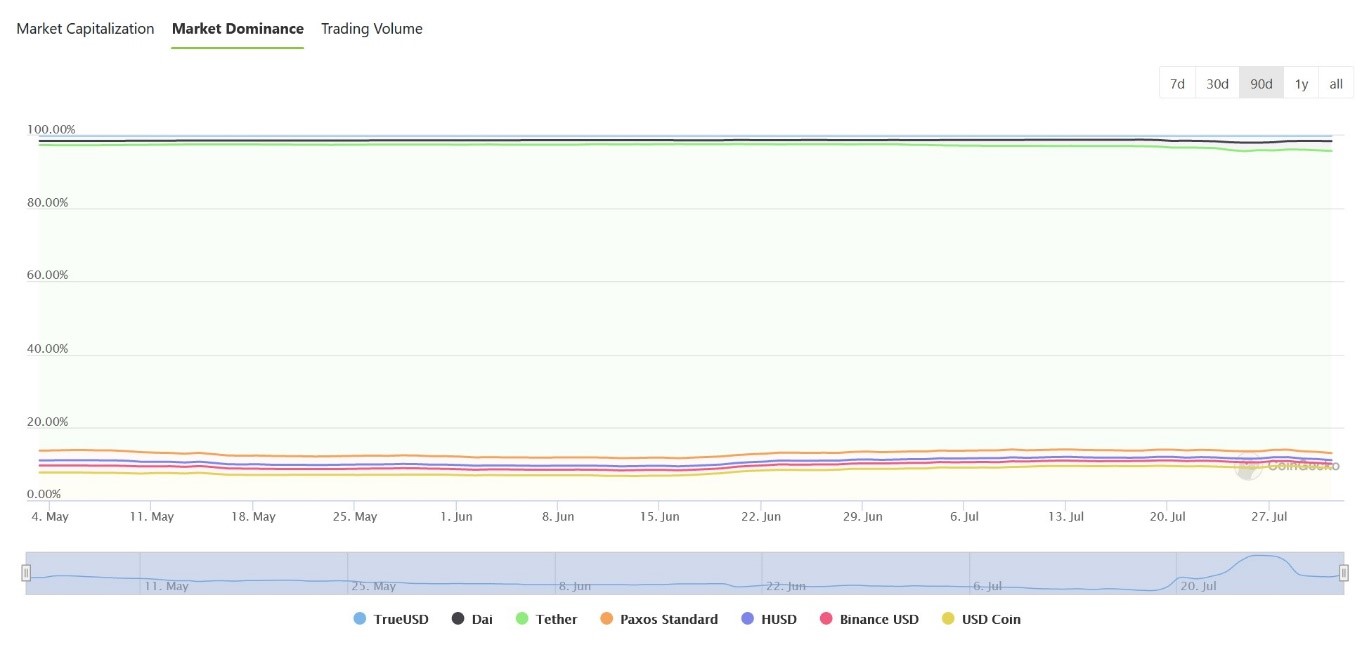 There are currently more than 28 types of Stablecoins according to Coingecko's statistics as of July 31, 2020, and Tether (USDT) accounts for over 82% of the market share, an almost absolute dominance compared to other coins.
All other Stablecoins were born after Tether to solve Tether's lack of transparency about the amount of money they continuously printed in 2017 and until now continue to be unknown. However, most coins like TrueUSD, Paxos Standard, Binance USD, etc. do not make users more confident.
So what's the difference between Reserve?

Rserve towards a decentralized financial system (DeFi – is popular nowadays). That is, all transactions are public, all assets are public and transparent.

RSV is backed by collateral tokens such as: Gold, US USD, Stocks, Bonds, etc., so for every $1 RSV is issued, it will be backed by US USD or other assets. is different from its equivalent value and is locked in the Smart contract.
Why RSR token bring profits to investors?
RSR total supply: 100 billion currently distributed more than 6 billion 8.
The first functional RSR is used to develop the Reserve system, which is sold in batches to collect the initial amount of collateral for the RSV.
You will realize there are up to 100 billion RSR and it is all dedicated to developing a strong Reserve system, which is a big advantage for the team to give them a head start to grow.
Benefits of holding RSR tokens:
When price RSV increase more than $1 for example $1.02, the system will give a large amount RSV in stock sold for $1 to pull price RSV fixed $1.
However, if this inventory is not enough to pull the RSV price back, the system will automatically print a quantity RSV for $1 and Only RSR holders are allowed to purchase this RSV.
After you buy RSV for $1 then you can simply bring it to the exchange for $1.02 to earn 2% difference.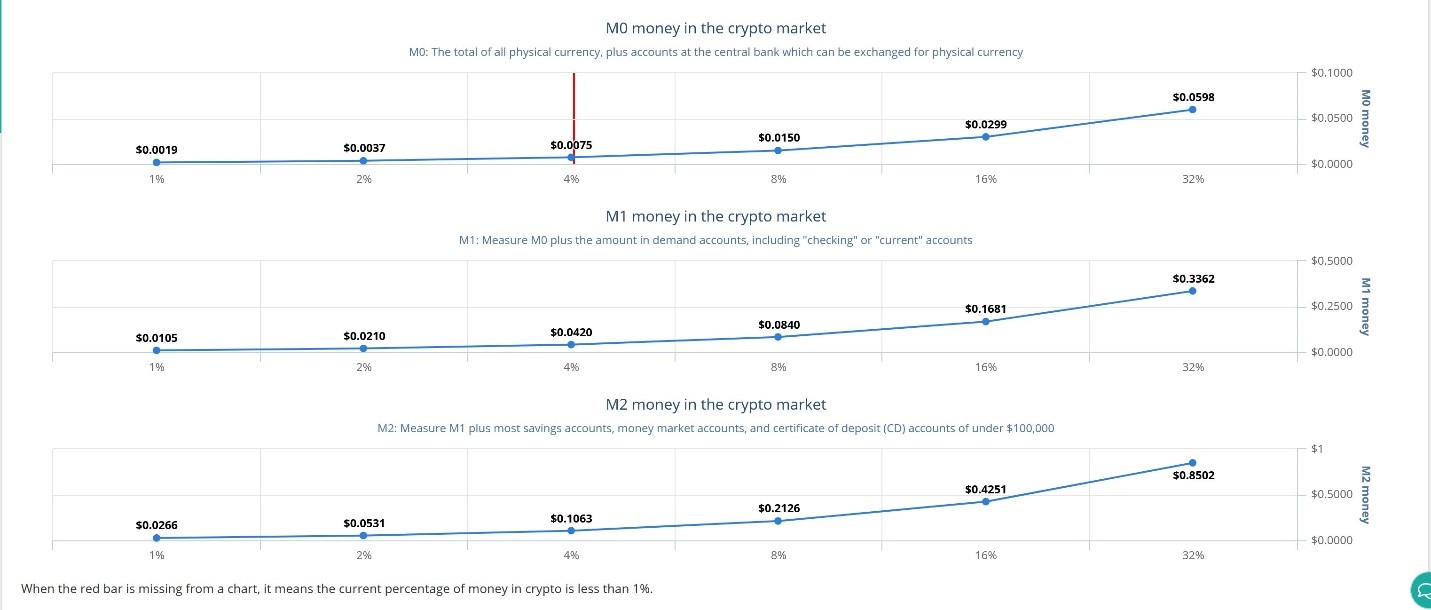 Present
Market Cap (market capitalization) of RSR token is: $70,710,267 USD against Tether: $10,018,273,683 equals 0.71%
Market Cap of RSV $1,008.818 or 0.01% is very small.
So you just need to think simply, if the Market Cap of RSV increases by just 1% (100 times 0.009) of Tether, the volume of RSR will also increase by several tens to hundreds of times. The price of RSR also increases rapidly. follow.
Founders team has enough capacity to develop Reserve Rights or not?
Nevin Freeman (Co-founder & CEO): Strategic management, legal, as well as team coordination at Reserve. Former Founder at 3 companies.
Matt Elder (Co-founder & CTO): Matt designs, analyzes, and oversees The Reserve Protocol and builds the Reserve Protocol system. Previously, he did engineering for Google, Quixey, and the Linux Standard Base (IBM). His graduate study at the University of Wisconsin-Madison was the Analysis program.
Charlie Smith (Business Development): Charlie is developing strategies and partnerships to bring Reserve's protocol into the hands of users. Previously, he worked as a management consultant at ReD Associates. Contributed to Economic Journal and helped teams start bitcoin mining in Texas.
There are also many other talents, see https://reserve.org/our-team
Reserve development team is highly appreciated: CEO COO is rated 10/10

Who are the investors behind Reserve Rights and what support can they provide for the project?
This team has to say that it has absolutely no need to discuss. We just list a few that stand out:
Sam Altman: Director – chairman of the board of OpenAI, angel investor has invested in many world-class projects: Airbnb, Stripe, Reddit, Asana, Pinterest, Zenefits, Instacart, Optimizely, Change.org, …
Coinbase Ventures: an investment platform for potential Coinbase projects. With Coinbase Venture backing, the day RSR token is listed on Coinbase exchange will not be far away.
Peter Thiel: co-founder of Paypal and many companies
Please refer to this link: https://reserve.org/investors.
Roadmap & current progress
According to the schedule, in 2020 they will release the mainnet of the project. Most projects when mainnet are at least x2 x3.
All tokens of investors and founders will be locked until mainnet. Therefore, there will be no pre-discharge to reduce the price.
App already running in Venezuela and Argentina
Purchased Amazon gift cards using RSV.
Top searches on Coinecko
Buy Reserve Rights Token (RSR) where?
At the present time, investing in cryptocurrencies as well as buying and selling cryptocurrencies has become much more popular. It is considered one of the most popular ways to make money online. That's why, the buy RSR, sell RSR tokens has also become much simpler.
In this article, I will introduce to you the 2 most popular and simple ways to buy and sell at the moment.
How to buy and sell RSR tokens in VND
Currently, there are many exchanges that support cryptocurrency trading in VND, but separately buy RSR tokens For prestige, I think the best currently is the Bitmoon exchange.
See more articles:

What is Bitmoon? Bitmoon Exchange Basic Guide for Newbies 2020
The advantage of Bitmoon is low fees, high liquidity, support for many coins and can store coins right on the exchange. Besides, Bitmoon has been operating for a relatively long time and the reputation level is guaranteed.
Bitmoon has high liquidity and reputation, so I believe that for basic trading needs, cash out in VND, Bitmoon is enough to apply.
Reputable international RSR token trading platform
The advantage of all international exchanges is that they support many types of coins, besides also supporting other forms of trading such as Margin, Futures.
For those of you who have traded a lot and have experience, you can use and trade regularly on international markets.
Below is the name of the exchange and a comparison table of transaction fees for your reference.
Mainly trading RSR token Your account on international exchanges all use BTC, USDT … to conduct trading.
Reserve Rights token (RSR) wallet recommended
Depends on usage RSR your wallet that you will choose for yourself the appropriate wallet.
The best choice for this wallet is Trust Wallet, with a friendly and easy-to-use interface.
Maybe you are interested:

What is Trust Wallet? How to create a Trust Wallet and use details
This wallet is suitable for those who regularly trade.
Some Reputable trading platform that you can refer to are: Bitmoon exchange, Binance exchange…
Since RSR is an ERC-20 token, you can completely use current popular supporting web platforms such as: MyEtherWallet nice MetaMask.
Maybe you are interested:

What is MyEtherWallet? Instructions on how to create a MyEtherWallet wallet and how to use it
Conclude
Reserve really is a stablecoin that has the potential to explode compared to previous coins born to solve Tether's transparency problem. Especially in the context of DeFi (decentralized finance) is the trend of the future.
Reserve Rights Token (RSR) benefits investors:
The capitalization is still very small and will increase very quickly when the mainnet as well as when RSV is widely adopted
Only RSR holders can buy the system's low price RSV and then resell it at a high price on the arbitrage floor.
RSV, RSR with a strong support team in finance and technology behind will help the project succeed.
With this article, I hope that it will provide the most basic information about Reserve Rights token for readers. If you find this article interesting and useful, do not hesitate to share it with everyone.
All opinions in this article are personal. All investment decisions are made by you and you are responsible for your assets. Good luck.
Virtual Currency Corner