Waves (WAVES coin), a blockchain platform launched in 2016 focusing on speed, scalability, security, and user experience. So…
What are Waves? What is WAVES coin?
Should I invest WAVES coin?
Where is the reputable place to buy and sell WAVES coin?
Which Waves wallet should I use?
If you are looking to learn the background Waves and potential invest WAVES coin, this article is what you need to find
What are you waiting for, let's start the article!
Maybe you are interested: What is Bitcoin? Bitcoin investment guide for beginners?
What are Waves?
Waves is a public blockchain platform that allows users to create and access dApps. It features on-chain governance, smart contract support. Waves consensus protocol is a variant of Proof-of-Stake (PoS) called Leased PoS.
Maybe you don't know: What is Proof of Stake (POS)? How to mine and mine POS . coins
History of Waves
Project Waves initiated by the Russian physicist, Alexander Ivanov in 2016 after collecting 30,000 BTC through a token sale that took place on Wednesday-Thursday of the same year.
The development team launched the blockchain Waves to address the shortcomings of the existing blockchain platforms at the time. Therefore, Waves focuses on improving speed, scalability, security, and user experience.
Network Waves officially launched in Q3 2016 providing the ability to create and manage private tokens.
In 2017, Waves started cooperation with Microsoft Azure and became an official partner of Deloitte. In the same year Waves released a new consensus protocol, Waves-NG. Waves-Language helps increase transaction traffic up to 100 tps.
In 2018, Waves released a new mobile app that delivers most of Waves' most popular features to smartphone and tablet users.
At now, Waves provides tools designed to facilitate development and running dApps, along with a number of other utilities such as decentralized exchanges (DEX) and stablecoins, encrypted messaging and even the gaming sector.
Waves .'s LPoS (Leased PoS) Protocol
There is a special feature of Waves that it uses the protocol Leased PoS (LPoS) a variation of PoS (Proof-of-Stake) traditional.
With LPoS of the Waves, you can stake your tokens by "renting" them to the nodes running the network. The rental cost is 0.002 WAVES.

To participate in staking you need at least 1,000 WAVES. This number has changed and is much lower than the original request of 10,000 WAVES. However with LPoS, if you don't have enough numbers WAVES coin necessary, you can still participate in staking by giving your WAVES to the public mining pool to rent nodes. You can choose for yourself the appropriate Waves nodes from the list at the link: https://forum.wavesplatform.com/c/pools
Advantages of Waves
Almost the majority of blockchain platforms launched at that time were aimed at providing solutions to the problems related to the speed, scalability, and security of the traditional blockchain. So, Waves must have its own advantages to create a competitive advantage over other blockchains.
Here are some outstanding advantages Waves:
You can take advantage of all the advanced protocol advantages of Waves completely free of charge.
Waves designed to avoid programming errors that can lead to fatal errors so that it can seamlessly and securely interact with blockchain-enabled applications.
Waves gives you instant access to token management tools – including programmable conditional smart assets attached.
You can start with Waves quickly and easily with online courses, seminars, hackathons and support packages for developers.
What is WAVES coin?
WAVES coin is the base currency of the blockchain Waves. It plays a key role in maintaining stability, security, and economic impetus for network participants.
Basic information of WAVES coin
| | |
| --- | --- |
| Token symbol | WAVES |
| Blockchain | Waves |
| Consensus protocol | LPoS |
| Maximum total token supply | Unlimited |
| Total supply of tokens | 102,082,828 WAVES |
| Total tokens in circulation | 102,082,828 WAVES |
Distribution of WAVES coin
The total initial supply of WAVES coin is 100,000,000 WAVES and is distributed according to the following detailed ratio:
85% is allocated to token sales participants.
1% is for early backers.
1% is allocated to the bounties.
4% is allocated to strategic partners.
9% has been allocated to the development team.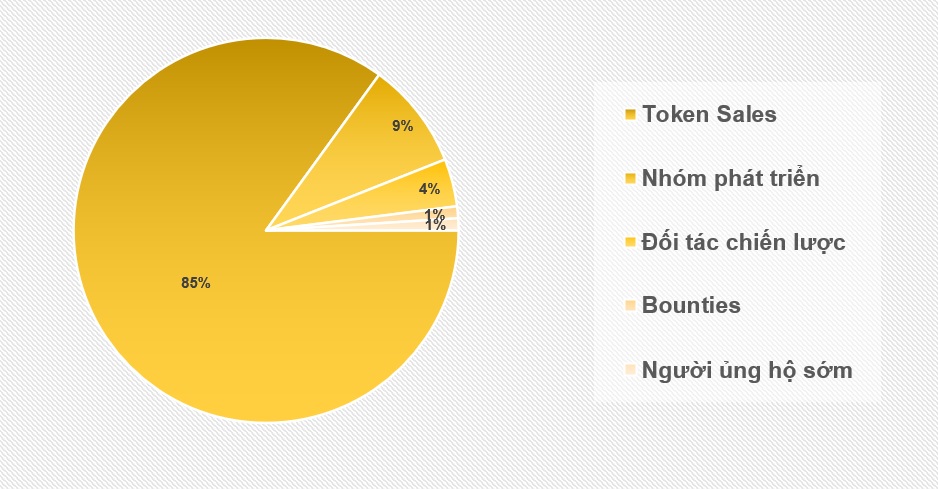 What is WAVES coin used for?
Because WAVES coin is the base currency of Waves platform, it is used frequently in Waves ecosystem (including: Waves DEX, Waves Wallet, Waves Keeper, Waves Labs) such as:
Used to participate in staking full node
The condition for you to participate in staking full node on Waves is that you must own at least 1,000 WAVES.
Used to pay rewards when participating in staking Waves
When you participate in Waves staking, you will be rewarded with WAVES coin or WRT Token.
Used to pay fees on Waves DEX
In Waves' ecosystem, there is also a decentralized exchange, Waves DEX. When you make transactions on this DEX, you have to pay fees in WAVES coin.
Use WAVES to rent full node stakes
The condition for you to participate in Waves staking is to have a minimum of 1,000 WAVES. However, if you do not have enough WAVES balance and still want to participate in staking, you can rent a full node stake on Waves pools. The fee for 1 rental is 0.002 WAVES.
Use WAVES to conduct ICO, IEO fundraising on Waves blockchain
Similar to the Ethereum platform, you can issue your own tokens on the Waves platform and conduct ICOs and IEOs to raise capital through Waves coins. However, at the moment, no ICO or IEO has been released on Waves.
Should I invest WAVES coin or not?
Deciding exactly which coin or token to invest in is very difficult because the cryptocurrency market is very volatile. So, I will outline some key points for you to refer to then learn more and make your own judgment and investment decisions.
Development team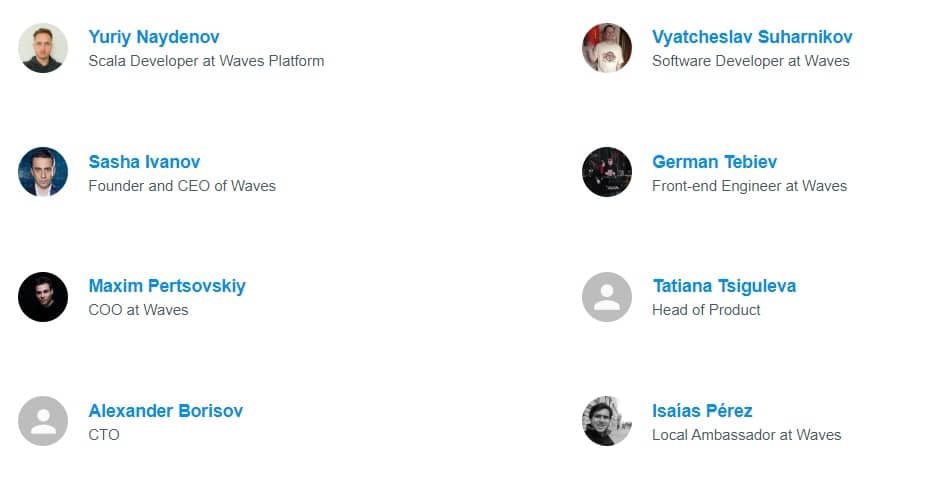 The development team of Waves blockchain is a collection of talented names from many countries and different fields such as finance, blockchain, cryptocurrency, marketing,… here are some outstanding members of the project:
Sasha Ivanov: Founder and CEO of the project Waves. He was originally a physicist and experienced in the development of payment system software. Sasha entered the blockchain space very early and once launched a cryptocurrency exchange called coinomat.com.
Martin Sodymek: Head of the community management board. He used to be an engineer and was fascinated by blockchain technology and cryptography in general. Martin supports Waves with technical and marketing aspects.
Alexey Kiselev: Back End Development. Alexey is a programmer with a diploma from Moscow State Technical University.
If you want to see more details about the members of the Waves development team, you can refer to the link: https://www.linkedin.com/company/waves-platform/.
Price WAVES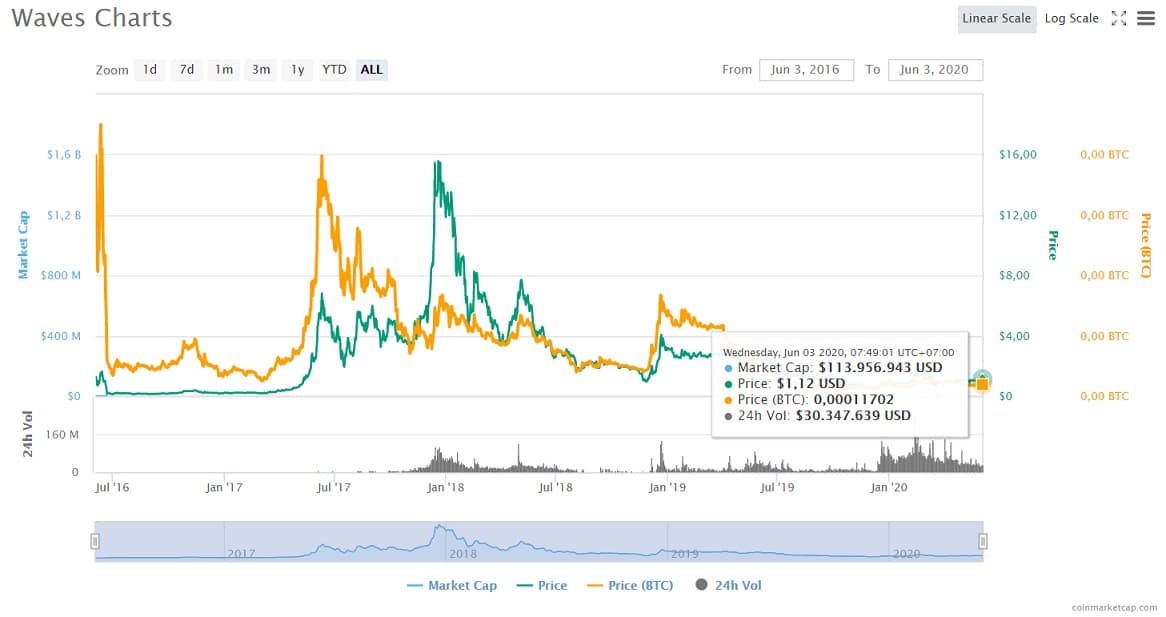 Currently, at the time of writing price WAVES coin is trading at 1.12 USD. Level highest WAVES price so far is set at 18.07 USD (December 2019). That is, compared to the peak price, then WAVES coin price Currently dividing nearly 18 times, a difference that makes you pay attention when you want invest WAVES coin.
Meanwhile, the lowest ever price of WAVES is 0.123 USD, set on 2/8/2016.
Where to buy and sell WAVES coin?
At the present time, investing in cryptocurrencies as well as buying and selling cryptocurrencies has become much more popular. It is considered one of the most popular ways to make money online. That's why, the buy WAVES, sell WAVES has also become much simpler.
In this article, I will introduce to you the 2 most popular and simple ways to buy and sell at the moment.
How to buy and sell WAVES coins in VND
Currently, there are many exchanges that support cryptocurrency trading in VND, but separately buy WAVES For prestige, I think the best currently is the Bitmoon exchange.
See more articles: What is Bitmoon? Bitmoon Exchange Basic Guide for Newbies 2020
The advantage of Bitmoon is low fees, high liquidity, support for many coins and can store coins right on the exchange. Besides, Bitmoon has been operating for a relatively long time and the reputation level is guaranteed.
Bitmoon has high liquidity and reputation, so I believe that for basic trading needs, cash out in VND, Bitmoon is enough to apply.
International reputable WAVES trading platform
The advantage of all international exchanges is that they support many types of coins, besides also supporting other forms of trading such as Margin, Futures.
For those of you who have traded a lot and have experience, you can use and trade regularly on international markets.
Below is the floor name and transaction fee comparison table for your reference.
If you want to learn about which floor, you can click on that floor's name in the table, there will be a detailed article on that floor.
| | |
| --- | --- |
| Exchanges | Transaction fee |
| Houbi | 0.070-0.20% |
| Okex | 0.060 – 0.150% |
| Binance | 0.015-0.100% |
Mainly trading WAVES Your account on international exchanges uses ETH, BTC, etc. to buy and sell.
Waves wallet should use
Depends on usage WAVES coin your wallet that you will choose for yourself the appropriate wallet.
Suitable for those who want to store WAVES coin long term and few transactions.
The advantage of cold wallet is that it is safe and optimal for storage. Cold wallets you can refer to to choose from are: Ledger Nano S, Ledger Nano X.
Maybe you are interested: What is ledger nano S cold wallet? Latest User Guide and Security 2020
The best choice for this wallet is Trust Wallet, with a friendly and easy-to-use interface.
Maybe you are interested: What is Trust Wallet? How to create a Trust Wallet and use details
This wallet is suitable for those who often transact.
Some Reputable trading platform that you can refer to are: Bitmoon exchange, Huobi exchange, Binance exchange…
Conclude
This article has summarized the most basic information you need to know about WAVES platform and WAVES coin. With this article, I hope that readers can grasp some of its investment potential.
Although it will take some time to read the entire article, I hope that your time will not be wasted.
If you find the article interesting and useful, do not hesitate to share it with your friends.
Good luck!
Virtual Currency Corner