The potential of the cryptocurrency market is still too much untapped, according to which the current trend of the cryptocurrency market belongs to the NFT game projects Play to Earn or the virtual reality development platforms Metaverse. Otherwise, in this article, you and I will learn about the project together Mini Royale: Nations A Blockchain game of the first person shooter genre.
What is Mini Royale: Nations?
Mini Royale: Nations (MRN) is a player-owned skill-based shooter game with game modes PvP and PvE different for every kind of player's favorite mode. Shooting games Mini Royale: Nations Set on an ever-evolving, control-oriented social strategy game with a deep emphasis on clans, alliances, and social mechanics.
Game Mini Royale: Nations is the first game developed by Faraway, a Blockchain Game Development Studio currently has more than 1.6 million Faraway Players with around 55k Battles daily.
Core game modes
Fun is the biggest driver of lasting value in games Mini Royale and the fun starts with having a fun core gameplay that keeps players coming back.
Mini Royale: Nations There will be many alternate and permanent game modes so that you and the project's players can play solo or in teams. In the first time, Faraway team will continuously add more modes, maps and content to the game. Over time, as the community and number of contributors grow, this process will help the game become more decentralized and managed by that user.
PvP Shooting Mode
There will be many modes PvP with different types of play goals. Players will earn XP (experience), Battle Pass points and progress towards milestones or seasonal Daily/Weekly mission objectives, playing these modes.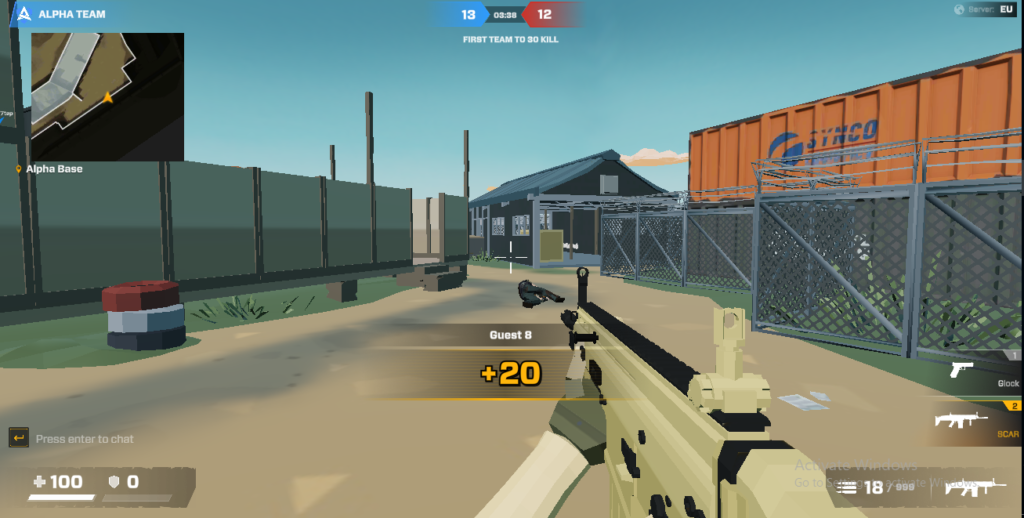 Survival mode
Survival mode is a mode like the PUBG, FreeFire game you know. Survival mode in the game Mini Royale: Nations the same way, the player will win as the last survivor, currently the survival mode on Mini Royale There is no Team Battle category yet. Some key points of this mode include:
Classic Battle Royale
Pick Up & Dispose
Battle Royale Blitz
High value betting matches
Arena mode
Arena mode is a mode that will limit the time or score of killing enemies, the number of flags captured, etc. Some of the main points of this mode include:
Team Deathdmatch
Free-for-All Deathmatch
Occupy the flag
Search & cancel
Confirm the enemy has been killed
Payload Escort
There are also other modes including: Sniper mode (sniper gun), Pistols mode (pistol), Shotgun mode, Ranked battle mode, ranked not ranked mode…
PvE . Shooting Mode
As a skill-based shooter title, the game will put more emphasis on PvP gameplay. However, more attractive PvE modes will be added in the near future. These modes will bring a lot of depth and variety into the game and will give players a reason to upgrade their weapons and armor and earn new items through Clan events or Alliance (Clan). Similar to PvP shooting mode, PvE mode offers players several battle modes and other features including: Boss fight, PvE missions, PvE defense, PvE sniper/hunting mode , PvE Heist (stealth combat),…
Highlights of Mini Royale: Nations
Player accounts and ranks
One of Mini Royale's goals is to allow anyone to participate in in-game duels, regardless of whether they have a Web3 connection or not. Player ranks include:
Level 1 – Guest: These are players who may have clicked on a link a friend shared with them. The person who clicks on that link wants to immediately start experiencing the fun without having to sign up for an account first. These players can experience the fun of the game, but cannot participate in any part of the game's weapon crafting or main item trades.
Level 2 – Registered Account (Username Signup): These are players who have created an account and username, but have not connected their Web3 wallet. They can partially participate in the parts related to generating profits from the game, but they do not have access to the Marketplace to buy and sell P2P items or to trade tokens. They can build an inventory of Orbs, weapons, armor, and other items, but their use of all items and features is limited since they don't have a Web3 wallet tied to their account. There will be a set of common guns and initial gameplay for users who do not use other tokens.
Tier 3 – Registered Account (Cryptocurrency): These are players who both create accounts and usernames, and connect their Web3 wallets. These players have full in-game access to Mini Royale to all features, marketplace and token trading.
Using the land to receive great benefits
Land in the game Mini Royale is a socioeconomic layer of the game. Unlike other games that treat land as a passive investment that can reach its full potential without the need for social (community) involvement in the game, MRN requires Landowners to be active and participate in activities to fully maximize the profits on their land plots and receive great benefits in return.
Land sale: Plots corresponding to real-world Cities will be sold in batches. The larger the population of a real-world city, the larger the plot of land in the respective game will be.
City layout: Plots with fixed locations for construction types vary from city to city.
Owning buildings: Economic buildings (it can be said that this is a mining workshop and warehouse for creating or storing items), military buildings (providing defenses or other military value), equipment buildings decoration (statues, souvenir supplies, rarity, ..)
Owning the following types of land: Private land (It offers better mining rewards and more mining and refining speed than public land), public land (It is always Public and has an infinite supply; also acts as a utility public utility that can handle any amount of player needs)
Clans (Clans)
Clans are the lifeblood of the game MRN! Socializing and joining Clans is the best way for players to win rare prizes. The main way to win $CHEDDAR is to participate in clan events and win prizes in the clan event leaderboard.
Clans members will receive Clan XP through participating in Clan Events (Clan wars, Group Stage Tournaments, etc.) and Clan Quests/Missions.
nation
Each Land Lot in Mini Royale: Nations (MRN) is part of a Country (e.g. London is part of the United Kingdom, New York City is part of the United States, etc.). Each Country has a set of bonuses that are available to activate for a period of time and are awarded to Clans Rule that Country through Clan wars.
When was Mini Royale: Nations (MRN) developed
The game has been developed since December 9, 2018 but it will officially develop strongly and apply blockchain technology until 2021.
The project's Twitter was established in September 2021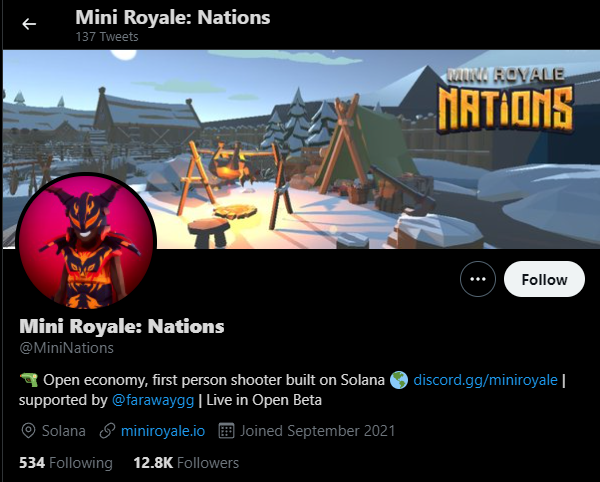 Roadmap – Project Roadmap
Stage 1 | Q4-2021
Release of white paper
Launch a website for the community
Launch of Origin series NFT drops
Officially launching the game publicly, promoting further marketing
Costume and gun RNG
Daily quests
Anti-Cheat V1
Improvements to the game's server
Phase 2 | Q1-2022
Audit Contracts
Token Pre-Sale (Token Sale)
Land Pre-Sale (Selling land plots in the game)
DEX Listing
Official public launch of in-game currency
Marketplace & P2P trading
Clan Wars
Premium Gachas
Anti-Cheat V2
Stage 3 | Q2-2022
CEX Listing
NFT discount added to NFT drops series
The first nations were founded
New PvP & PvE Modes
Mining
Bracket Tournaments (Group Stage Tournament)
Premium Bullets
Formation of nations
Great war between nations
Investors & Partners
Lightspeed Venture
FTX
Solana Ventures
Sequoia
Andreessen Horowitz
Pantera Capital
Jump Capital
Blockchain Ventures
Night Ventures
6th Man Ventures
Mantis VC
Tokenomics
There are 2 main types of tokens in Mini Royale: Nations to be: ROYALE & CHEDDAR
Token Allocation
ROYALE (DAO Token)
Rewards/Emissions: Updating…
Ecosystem Fund: Updating…
Listing/Liquidity Pools: Updating…
Public Token Sale: Updating…
Early Backers: Updating…
Early Contributors: Updating…
CHEDDAR (Gaming Token)
Rewards & Emissions: 94%
Listings & Liquidity Pools: 4%
Public Token Sales & Pre-Sales: 2%
The CHEDDAR token has an infinite supply, however this token will be limited by Gaming to minimize the rate of inflation.
Token Use Case
There are 2 types of tokens in the game:
ROYALES (Government Token): Used for making premium in-game purchases, staking and receiving attractive rewards, being able to vote on recommendations and influence decisions about the game's features, economy, and future content releases and awards.
CHEDDAR (In-game Token): Used to buy iteam weapons, armor, .. some other features and items that are not of premium quality.
Where to buy and sell SIDUS project tokens?

Currently, both tokens are not open for sale on exchanges, but you can participate in the sale Public Sales will take place in the near future.
Team – Project team
Members in MNR is in the group Faraway, by the studio itself Faraway developed the game project MNR so the moderators all belong to the group Faraway. This is an extremely experienced team and has built major games and consumer technology products at well known companies including: Amazon, Mail.ru, Scopely, Glu Mobile, Moon Active, Yandex, Playgendary,…etc..
Currently, the project team has more than 40 people working.
Executive team:
Alex Paley: Co-Founder (Co-Founder of Halo Kitchens, Head of Studio of Glumobile, Co-Founder of Dairy Free Games,..)
Dennis Zdonov: Co-Founder (Co-Founder of Halo Kitchens, Head of Studio of Glumobile, Co-Founder of Dairy Free Games,..)
Duc Nguyen: CTO (Technical Director of Glumobile, Senior Software Engineer II of Akamai,…)
Community
Website: https://gm.miniroyale.io/
Twitter: https://twitter.com/minions
Discord: https://discord.gg/miniroyale
News Report: https://news.miniroyale.io/
Conclude
Currently, the trend of Blockchain P2E games is more and more popular, but most projects have not yet released games publicly for players, Mini Royale: Nations is a Blockchain game in my opinion that almost perfectly meets the criteria of the current P2E Blockchain projects that are lacking and not available, and especially P2E game projects in the PvP & PvE shooting genre, for example. such as graphics, maps, game features, equipment items, etc Mini Royale: Nations is a game project that has met the above criteria for me, I think this may be a fairly potential project in the near future, you guys should try to find out and create a dedicated account for yourself to experience. Experience the entertainment with dramatic matches and look forward to the day the game is released to the wider community.
Here is all the information GTA Research team researched the project Mini Royale: Nations and is not investment advice. Hope this article will help you get the necessary information and give your personal opinion about the project.