Radio Caca is one of the pioneering projects for the virtual reality technology revolution in the gaming field, applying blockchain technology to give players authentic experiences as if we were in another world and in the future. realistic interactions with in-game objects. Join me to find out all the information about the item that has been x100 times in the last few months – Radio Raca.
What is Radio Caca (RACA)?
Radio Caca is a decentralized NFT Marketplace platform developed on Binance Smart Chain (BSC). At the same time, this is also an intermediary that allows you to own mysterious NFTs boxes – MPB of Maye Musk (Mother of Elon Musk).
In addition, the project is also considered as a means of supporting DeFi and GameFi decentralized finance to serve the core project of the virtual reality universe – The USM Metaverse.
Projects on Radio Caca
Metamon
Metamon is a Play to Earn game on the Binance Smart Chain (BSC) platform, GameFi developed by the virtual reality universe project – The USM Metaverse. The game allows users to both play the game and make a profit. At the same time, players will also be able to mint or trade NFTs in the form of Metamon Eggs. And RACA will be used mainly in the upcoming Metamon game.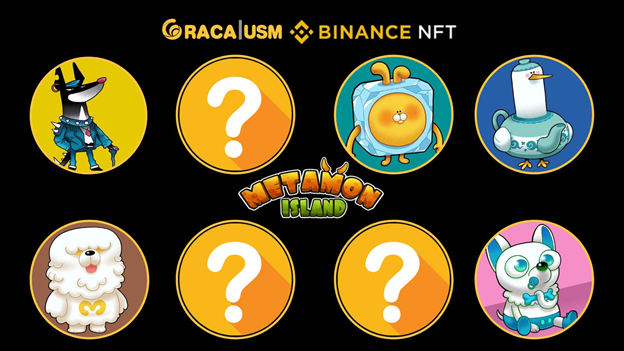 Simply put, after receiving rewards from fighting, RACA will be used to level up, own more features and strength, thereby, increase the winning rate to be able to earn more RACA. I think the Play to Earn and Earn to Play loop will be a way to attract and retain a large number of players like the GameFi project.
The USM Metaverse
USM Metaverse is a virtual reality universe using blockchain technology built Binance Smart Chain. In more detail, this is a project about a 3D MMO (multiplayer live role-playing game in 3D space) game, designed to allow the expansion of a large number of players.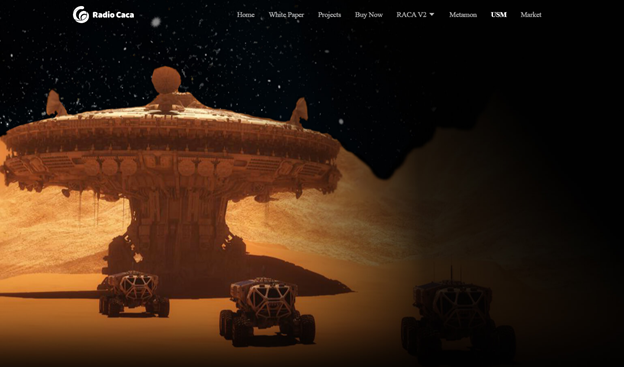 The virtual reality world in the game will allow players to create or participate in the experience that best suits their preferences. USM will aggregate NFTs issued by Radio Caca, such as Maye Musk (MPB) and many other types of NFTs.
The United States of Mars
Belonging to USM's Metaverse, where you can freely experience, be yourself in a space similar to Mars. The experience of choice and governing power will also be brought to players.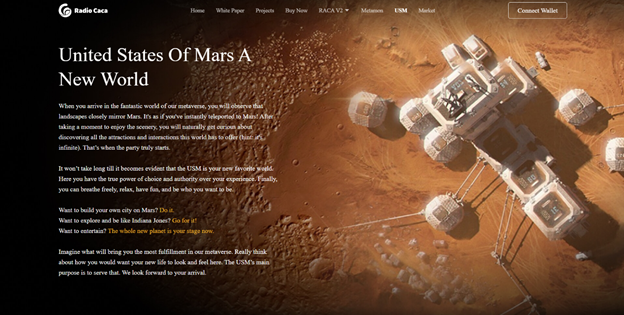 Maye Musk Mystery Box (MPB)
MPBs are the first and only mysterious NFTs boxes belonging to the "MUSK" boxes – in the top 4 of the top NFT brands. The number of MPBs is currently limited with only 6,000 boxes included in both chains, Ethereum and BSC. Each MPB box will have a unique number from 0-5999 (this code will be used to select the lucky owner of a Tesla CyberTruck).
In addition, these boxes will be used to unlock lands and own powers on the virtual reality game "The United States of Mars" Metaverse – the partner of the project.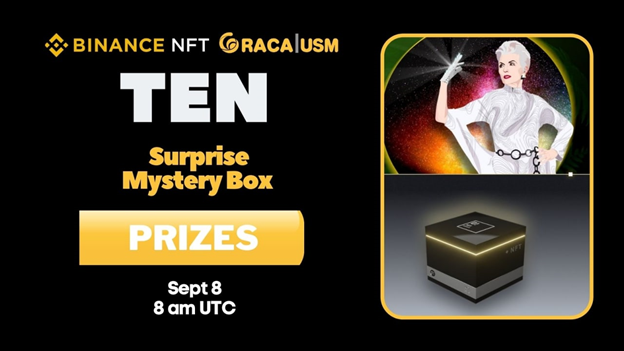 Tesla Cyber ​​Truck Airdrop
And most especially, it is impossible not to mention that Elon Musk collaborated with Radio Caca to airdrop for RACA NFT holders and trust the project.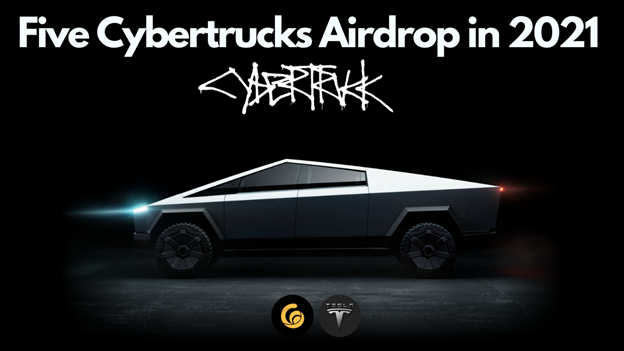 MPB NFT holders will have the opportunity to receive 100 real-life CyberTruck cars released by Tesla company exclusively in cooperation with the Radio Caca NFT project.
Note: In 2021, only 5 cars will be airdropped and one will be given to the lucky person. That means there will now be 99 Tesla CyberTrucks that will be airdropped – a very different marketing strategy of Elon Musk
Similar projects
Updating..
Roadmap – The project's development roadmap
May 2021
Launch Radio Caca Protocol.
Launching Website 1.0.
Offering NFT on BakerySwap with RACA Token.
June 2021
Listed on Bimart exchange.
Launch Crypto Lucky Charm function.
July 2021
Introducing some more features.
August 2021
Launching Website 2.0.
List RACA with more exchanges.
Team – The project's development team
The project team in the USM Metaverse segment are all engineers with 2 years of experience developing games for the world's top hit projects such as: Roblox or Tencent Games at Tecent – The 5th largest corporation in the world after Apple, Microsoft, …
Investor – investors
Updating…
Partner – partners
Metaverse: Partners of Radio Caca's USM (virtual reality universe) will include Stanford AI – the artificial intelligence center of Stanford University in the US and Google's artificial intelligence unit. – Google AI.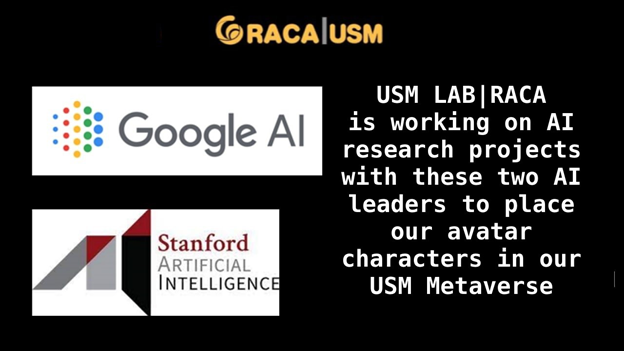 NFT: Radio Caca's NFT partner is Binance NFT – an NFTs marketplace that connects top art creators with a wide range of products and features that support NFTs' favorite users such as collectors, games craftsman, artist, etc…
Social Media: The fact that the project is owned by partners, KOLS – famous social media people like Elon Musk – Founder of Tesla + Space X, Maye Musk, CZ – Founder of Binance can see their influence on the project and with how big the community is.
Token
Token Use Cases
Each Radio Caca (RACA) transaction order will have a 10% fee (Currently, the Tax part has been removed) divided into 3 parts as follows:
• 5% is redistributed to RACA holders.
• 2.5% is automatically converted to BNB.
• 2.5% is converted into LP RACA/BNB and added to BakerySwap pool.
Radio Caca (RACA) is a token used to pay for products and services in the fields of music, digital art and fashion worldwide. RACA is a token developed according to the BEP-20 standard on the Binance Smart Chain (BSC) network.
In addition, RACA is also used to mine land, property, and other NFTs in the USM Metaverse. Users can use RACA as a governance token in USM Metaverse. Here are some specific functions of the RACA token:
Metamoon Utility: Use RACA to increase power, own, buy and sell items in the game.
USM Metaverse Governance & Utility: RACA will be used for governance (governance token) in the USM Metaverse. In addition, staking RACA tokens to build and own more rare pieces of land and items in the virtual reality world.
Exclusive way to get MPB: RACA will be the only vehicle to own the Maye Musk Mystery Box.
Basic information about Raca token
Token Name: Radio Caca V2.
Ticker: RACA
Blockchain: Binance Smart Chain.
Token Standard: BEP-20.
Contract: 0x12BB890508c125661E03b09EC06E404bc9289040
Token Type: Utility, Governance.
Total Supply: 500,000,000,000 RACA.
Circulating Supply: Updating…
Token Allocation – How to allocate tokens RACA
A total of 500,000,000 RACA will be distributed as follows:
Initial Liquidity Bootstrapping: 64%
Burn :10%
ECO partners: 4%
Future Investors: 8%
Marketing & operations: 6%.
Team & development: 6%.
Farm: 2%.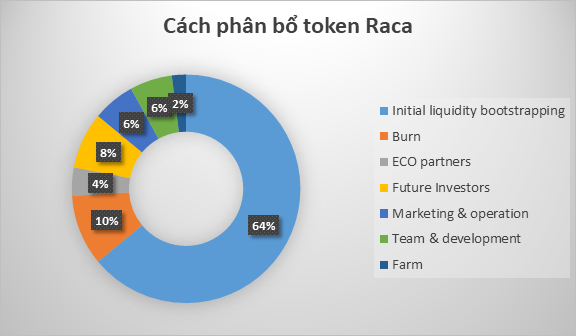 Token Release Schedule – Token Payment Schedule
The schedule for paying RACA tokens will be as follows:
ECO partners (4%)- 20 B RACA: The vesting schedule will be announced later.
Future Investors (8%) – 40 B RACA: Vesting within 3 years.
Marketing & operations (6%) – 30 B RACA: Vesting within 3 years.
Team & development: (6%) – 30 B RACA: Vesting within 3 years.
Farm (2%) – 10 B RACA: Pays linearly over 1 year.
Current Raca token rate
Where to buy and sell Radio Caca?
You can buy and sell RACA on exchanges like: Pancakeswap, Uniswap, MEXC, GATE.io…
Conclude
Radio Caca has just released V2 version with the participation of Billionaire Elon Muskand there are many new changes in the development roadmap.RACA has increased sharply in the past time, but the attraction of RACA has not stopped when many positive information is given by Elon Musk.
Above is all the information that GTA Research team has researched about the project Radio Caca Network and is not investment advice. Hope this article will help you get the necessary information and give your personal opinion about the project.
Buy and sell reputable and safe cryptocurrencies in VND here. This is one of the most prestigious exchanges in Vietnam today.
Join the discussion with GTA team at:
Website | Facebook | Twitter | Trading | Research | Youtube