AcceleRaytor is a Raydium initiative to spearhead the growth of the Solana ecosystem. It serves as a launchpad for the latest projects to raise capital and increase initial liquidity in a decentralized and interactive way, while allowing everyone to participate in the offering. tokens under careful inspection and management from Raydium.
Rules for participating in IDO
Initially there will be 2 pools available for each project launch: Community Pools and RAY Pools.
Community Pools: For a community where people who don't own RAY can also join. Eligibility for participation depends on the requirements of the project.
RAY Pools: This is a pool dedicated to the community, who stake RAY on the Raydium platform. Specifically, the minimum requirement of this Pool is that you must staking 20 RAY in the RAY Staking Pool. However this may change in the future. Similar to Community Pool, participation and eligibility may depend on project requirements.
You can see details on how to Stake RAY on Raydium at this article:
Participating structure
The allocation of tokens to eligible participants will be adjusted on a project-by-project basis. However, AcceleRaytor aims to attribution to as many participants as possible. Methods can vary from project to project, but the two main attribution models are:
Guaranteed rate model : All participants who contribute during the pool opening period will receive an allocation proportional to their contributed amount as a percentage of the total amount contributed. In case the total amount exceeds the maximum limit of pools, the remaining amount will be returned.
Model first come first serve: All participants can contribute until the group reaches the maximum total fund limit. It will be similar to you waiting for your turn to buy.
Launch IDO and LP rewards
In addition to allowing projects to raise funds through AcceleRaytor, Raydium will work alongside project teams to launch IDOs through Raydium liquidity pools. Projects can provide LP rewards as soon as they have IDO tokens on Raydium.
Imagine participating in an early stage project with a presale price, then being able to trade or stake your tokens for even more rewards and almost instantly!
Steps to join IDO
Launched AcceleRaytor includes Pools where users can invest coins to get project token allocation. Each project and Pools will have different participation requirements, so please complete before IDO takes place.
1. Go to the AcceleRaytor page on Raydium. Here you can view the Pools and the status of each Pools.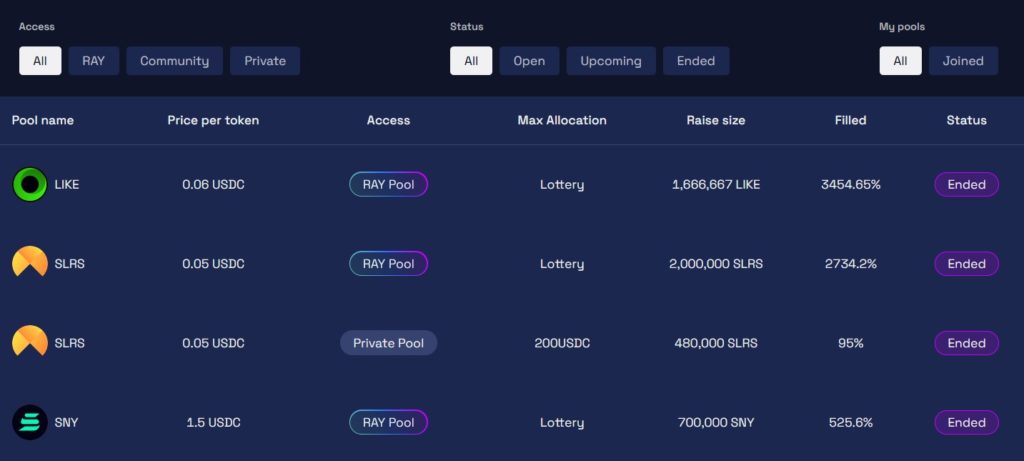 2. You can click on any Pools to see detailed information. Remember the requirements to join Pools to ensure you won't miss out.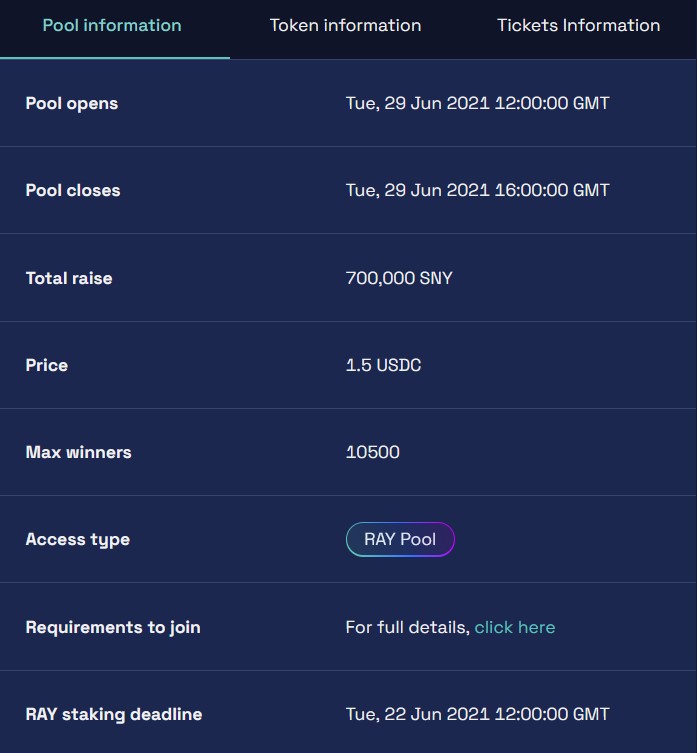 3. When Pools is open to participate, first make sure you have fulfilled the requirements to join, check Raydium's official announcement on news channels for full details.
For the AcceleRaytor lottery model, you will see the number of eligible tickets you have on the UI when the Pools open. You can then enter the number of tickets you want to participate in. For each ticket you participate, you need to deposit an amount of USDC to deposit, otherwise the ticket will not be counted.
Note: With each participating ticket you can only deposit USDC once. You can claim your USDC back if the ticket is not winning after the IDO ends.
4. To claim your tokens for any winning lottery tickets, return to Pools at the designated time. Then just click "Claim" and the token will be transferred to your wallet.
Epilogue
Above is an article on how to join IDO on the Raydium AcceleRaytor platform. Currently, Raydium is one of the leading Launch token platforms on the Solana blockchain. With the strong growth of Solana in the past time, I believe that the projects built on this foundation will thrive and have a strong foothold in the market.
Virtual currency corner
Join the discussion with GTA team at:
Website | Facebook | Twitter | Trading | Research | Youtube