What is IoTex (IOTX)?
IoTeX (IOTX) is a "blockchain-in-a-blockchain" built for the development of the Internet of Things (IoT).
IoTeX's mission is to create a borderless ecosystem where humans and machines can interact with guaranteed trust, free will, and privacy. The project envisions a future where users, not organizations, have full control over their devices and data. No intrusive ads or surveillance, just privacy and peace of mind. IoTeX calls this vision the Internet of Trusted Things.
Metamask is a cryptocurrency wallet software, originally used to interact with the Ethereum blockchain. Currently, Metamask wallet can integrate many different blockchains. Includes a mobile app wallet version and an application extension on Chrome, also known as an Extension.
Currently, the Metamask wallet can be considered the standard, most popular wallet today. Mainly used to interact with most blockchains, and also used for testing networks under testnet.
For network integration IoTex To go to Metamask, you first need to install and create a Metamask wallet, if you don't know how to install and use the wallet, you can refer to this article:
After completing the installation and creating a wallet, you need to follow the steps below:
Step 1: User need to add custom RPC. To do this, first click on the item at the top of the MetaMask application (Figure 1).
Step 2: Click Custom RPC, you can find "Custom RPC" at the bottom (Figure 2).
Step 3: When Metamask wallet displays a new interface, please add data as shown below (Figure 3).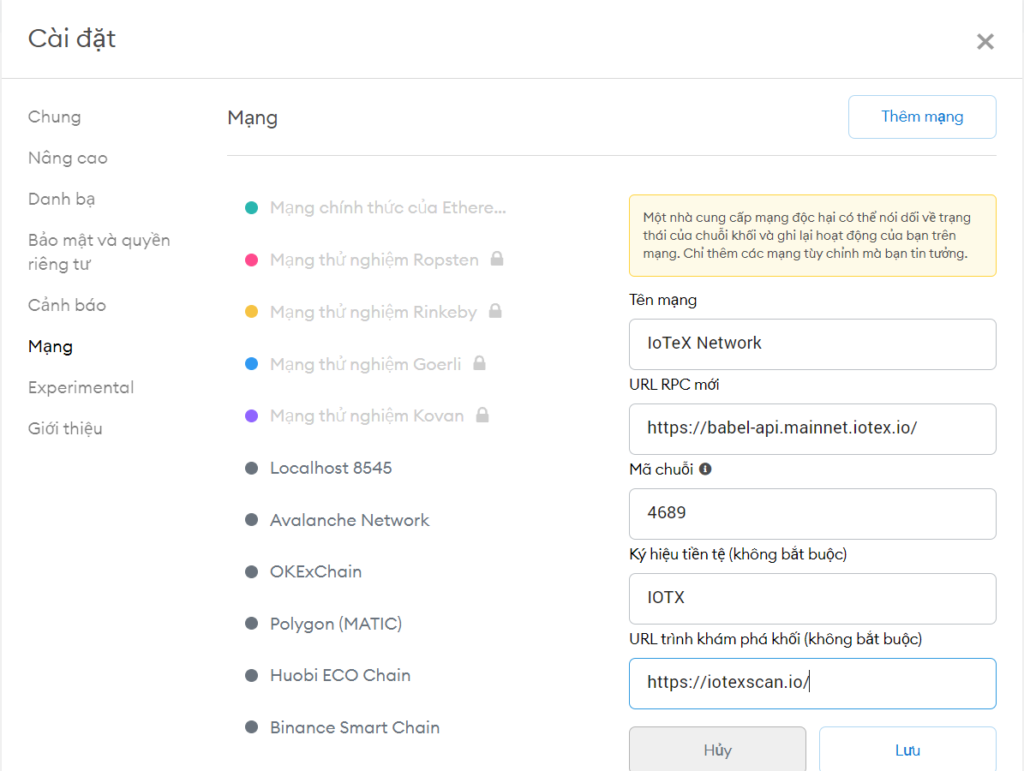 Network name: IoTex Network
New RPC URLs: https://babel-api.mainnet.iotex.io/
Chain ID: 4689
Currency Symbol: IOTX
Block Explorer URLs: https://iotexscan.io/
After entering all the information as above, click Save to save the data. At this point, the network will be transferred to IoTex Network. You can now interact with dApps on the IoTex ecosystem.
To make transactions on the IoTex network you need a token IOTX in the wallet, because this token is used as a gas fee (like Ethereum's ETH). Present, IOTX has been listed on many exchanges, to buy this token you can trade at Binance, Gate, Kucoin, …
Epilogue
Here is a detailed tutorial how to integrate IoTex network into Metamask wallet, hope this tutorial will help you. During the implementation process, if you encounter errors or have any questions, please comment and I will support you.
Good luck!
Virtual currency corner
Join the discussion with GTA team at:
Website | Facebook | Twitter | Trading | Research | Youtube