What is Coin98 Finance?
Coin98 Finance developing a DeFi (decentralized finance) ecosystem with the aim of helping users access DeFi easily. Coin98 Finance includes protocols: Coin98 Exchange (decentralized exchange), Coin98 Wallet (wallet that supports trading), Coin98 Portfolio (portfolio management tracking), Coin98 Ventures, Coin98 Charity, Coin98 TV, etc.
There are also products that are being completed: Lending, Farming, Futures,…
When completed, Coin98 Finance will be a comprehensive support product for its customers. This is also the reason why Coin98 can be said to be reaching out to become the unicorn of Southeast Asia in the field of Blockchain.
Coin98 Finance events in July
C98 token is open for sale on Binance Launchpad
After Coin98 successfully completed funding rounds of more than 11 million USD, led by Hashed and Spartan Group. This is a joy not only for the project but also for all Crypto Vietnam brothers. Day 16/07 Coin98 (C98) token was launched, open for sale on Binance Launchpad! The total number of BNB participating in this round is 5,432,983 BNB ($1.65 billion) and 73,231 registered user.

The biggest 10,000 USD Airdrop event in July launched by Coin98
Coin98 has just become the 20th IEO project on Binance LaunchPad, marking an important turning point for Coin98 in its journey to the big sea.
Day 17/07 – 31/07 Coin98 launches big event with total prizes up to 10,000$ token C98, where everyone can create content about Coin98 in their own way and become one of the excellent recipients of the award.
Online talk show organized by VnExpress newspaper
Nguyen The Vinh – Co-Founder/Co-CEO Coin98 There was an online seminar organized by VnExpress at 10 am on July 30 with the topic: "Investing in cryptocurrencies and NFT – opportunities and risks", along with 3 other famous guests including Mr. Hung – Chairman of Investment Fund VIC Partners; Mr. Nguyen Thanh Trung – Founder of Axie Infinity; Mr. Pham Toan Thang – Founder of Heaven Gate project.
Through this online talk show, Coin98 and 3 other guests make a significant contribution to investors, who are learning about cryptocurrencies and the NFT market, they will have a concept and overview. more important in the future, for their investment plans.
PancakeSwap launches Syrup Pool exclusively for C98 tokens
20h on 23/07/2021, PancakeSwap releasing already Syrup Pool exclusive to C98 with total rewards up to $3,000,000 C98.
To start staking, users can immediately access Syrup Pool $C98 here
C98 is officially listed on Binance & FTX
After $C98 ended the sale on Binance Launchpad, on July 23 and July 27, Binance & FTX officially listed C98 and users can buy and sell C98 on this exchange platform.
In addition, Vietnamese users can also directly buy and sell C98 Token in VND at Bitmoon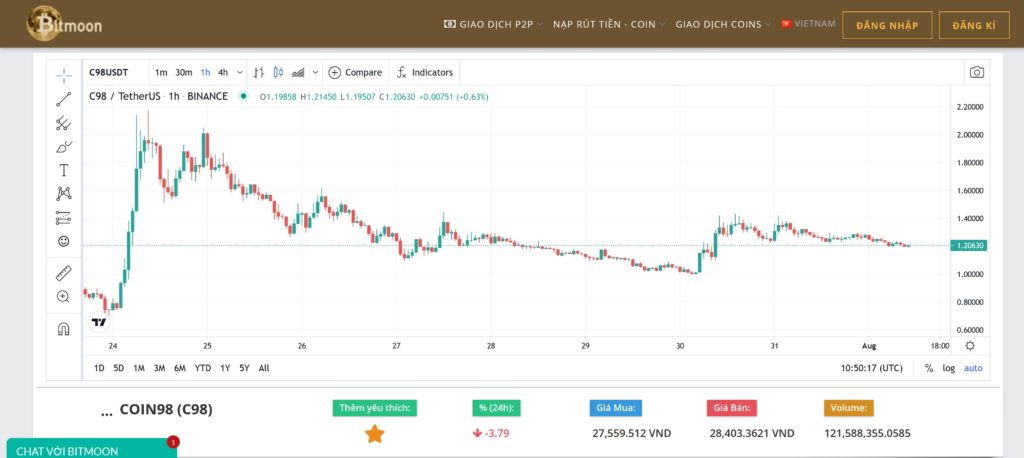 Link to buy and sell: https://bitmoon.net/mua-ban/coin98
Update on Coin98 Wallet
Coin98 Wallet launched Version X and users after updating to the new version can Swap tokens to more diverse DEX exchanges such as UniSwap, PancakeSwap, Mdex,,….
For Coin98 Wallet Version X users can already use the Private Key of Sollet wallet (Solana) to import into Coin98 Wallet and can use their Sollet wallet through Coin98 Wallet.
Coin98 Wallet User Guide
The Web version of Wallet and Exchange has launched its Open Beta here. Various features such as Crosschain Bridge, create portfolio (Portfolio), NS Dapps Uniswap, PancakeSwap,…
Summary
Coin98 Finance is a great project with many famous investors like Alameda Research, Hashed, Spartan Group… has partly proved the quality of this product.
With a methodical investment and an elite leadership team, the upcoming Coin98 will complete the missing pieces to bring a more complete product.
Make the right decisions with your investments. We will continue to update important project information next month. Read on at Goctienao.com.