What is Julswap?
JulSwap is a DEX exchange similar to Uniswap, SushiSwap but built on Binance Smart Chain (BSC) thereby providing a much faster and cheaper transaction experience than Ethereum-based DEXs that are having problems with high gas fees.
It is developed by JustLiquidity, one of 15 projects backed by Binance's $100 million Accelerator Fund.
Currently, there are many DEX exchanges on Binance Smart Chain but Julswap is always the first choice for traders because it possesses an eye-catching and easy-to-use interface.
You can read more information about the Julswap exchange here.
What to prepare to use JulSwap
To use JulSwap you need to have your own wallet aka non-custodial wallet. With this wallet you will own and preserve it yourself private-keys of wallet. To understand more about this wallet type, you can refer to the article: Custodial vs non-Custodial wallet comparison. Suggest some good wallets you can choose from such as: MetaMask, TrustWallet, Coin98, all 3 of these wallets have user manuals, if you want to learn more details about any wallet, just click on the wallet name. Please.
After I have created a wallet non-custodial you need to configure the Binance Smart Chain network for the wallet. Posts Instructions to connect Metamask wallet with Binance Smart Chain. Note, you have to transfer some BNB to your wallet as a fee when making transactions on JulSwap. Around 0.1 BNB is comfortable enough for you to make a fee.
Once you have configured the Binance Smart Chain network for your wallet, you can already use JulSwap! Let's go to the next step together!
Connect wallet with JulSwap
The first step to using JulSwap is to connect your wallet to JulSwap.
You access JulSwap via this link: https://info.julswap.com/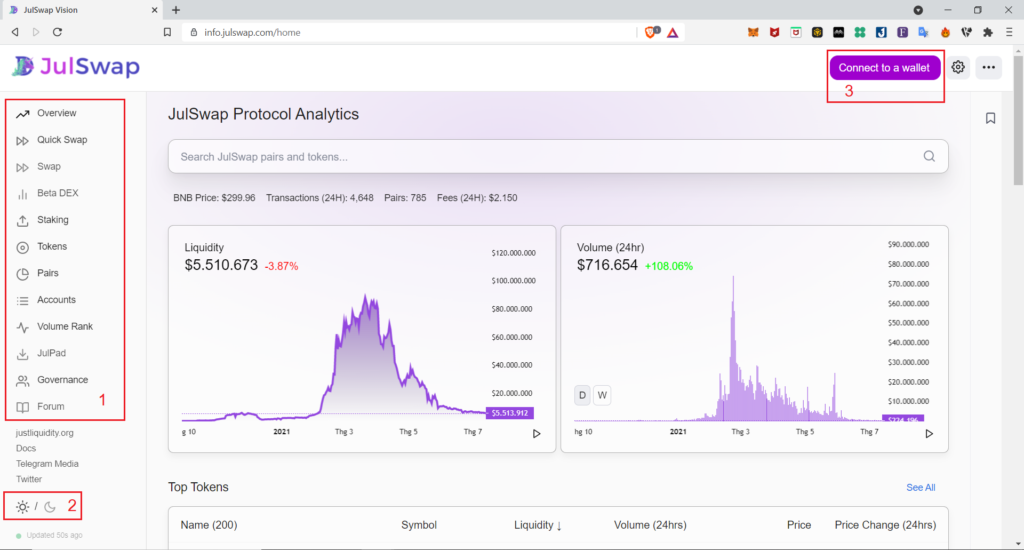 Note:
Menu features on JulSwap
You can change the light and dark interface on Julswap
Connect JulSwap to your wallet
If you can connect to your wallet, click on Connect to a wallet equivalent to item number 3 above Figure 1.1
Then the screen will display as shown below: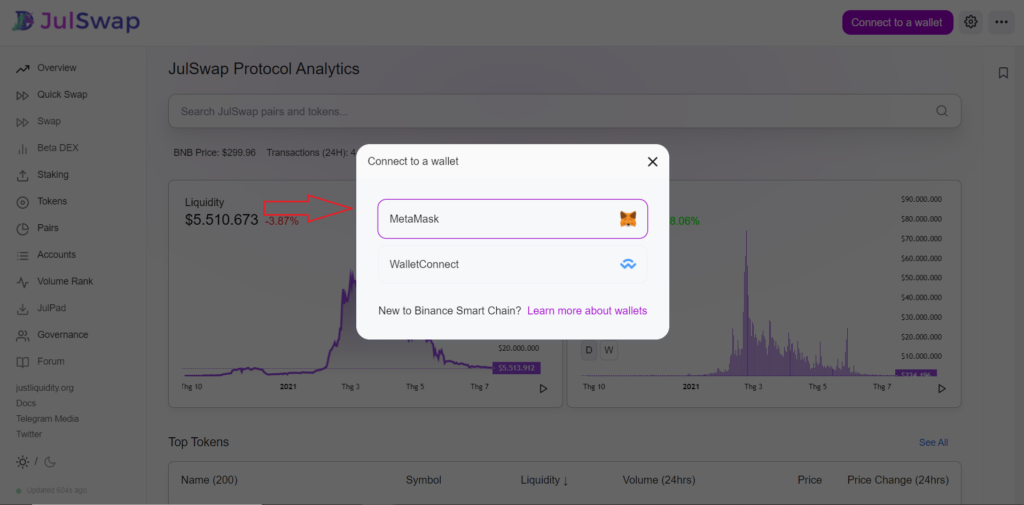 Now you choose the wallet you want to connect to JulSwap, here I will choose MetaMask.
A window pops up asking if you want to connect to JulSwap with MetaMask, select the wallet address you want to connect to, then click Next and choose Connection Please (Figure 1.3).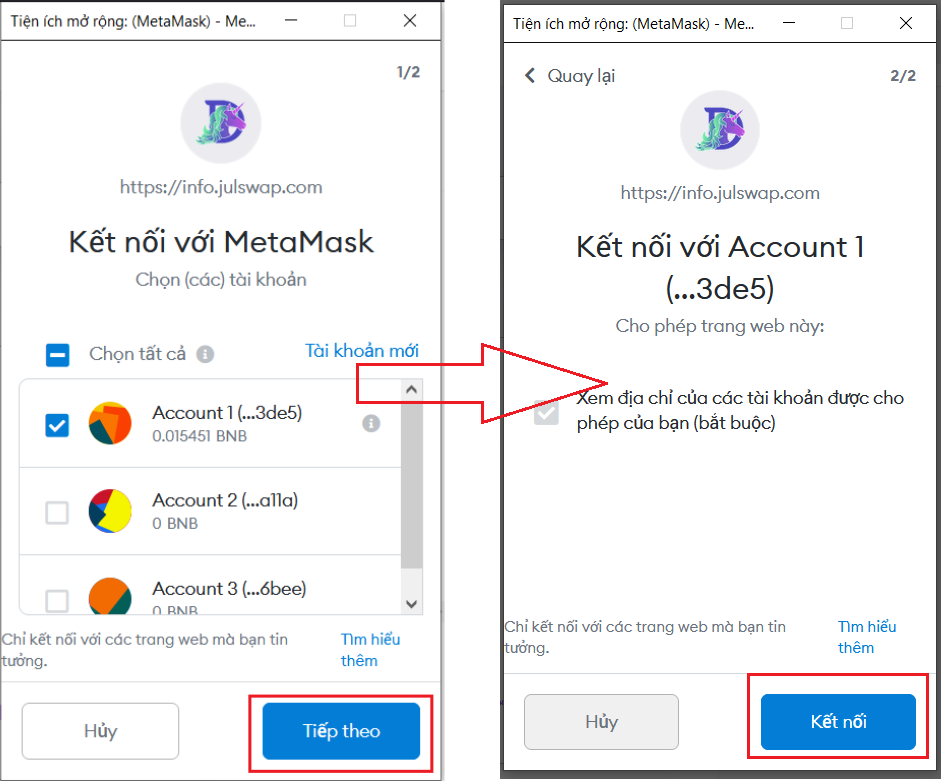 When you see your wallet address displayed on the interface of JulSwap as Figure 1.4 You have successfully connected.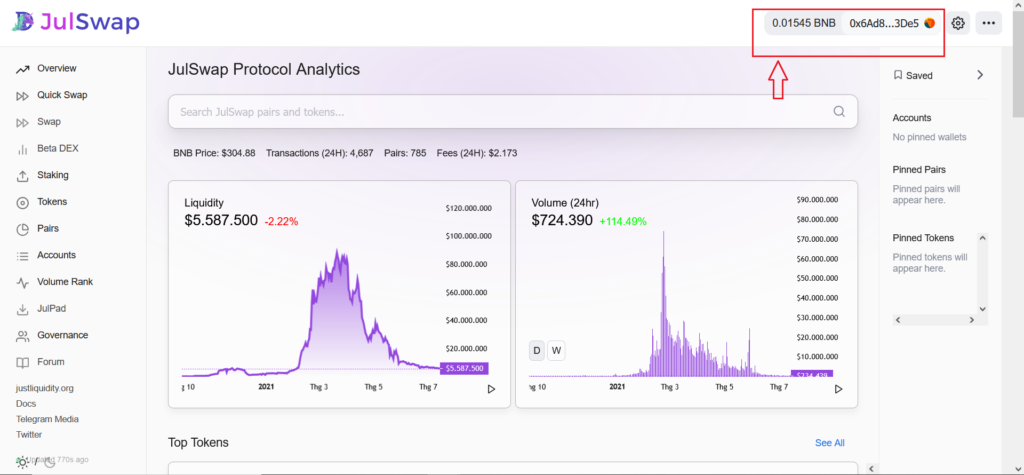 After successfully connecting the wallet with JulSwap, you can use the features on JulSwap.
JulSwap User Manual
Instructions for swapping on JulSwap
To swap on JulSwap, at the homepage interface you need to click on Quick Swap or Swap (Figure 2.1).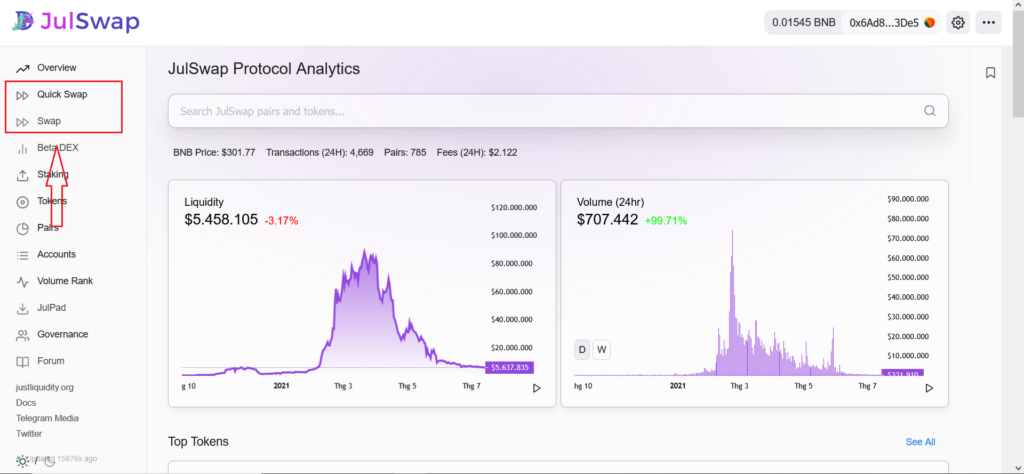 In this post, I will guide you Quick Swap, part Swap Please do the same because the swap interface is the same.
Note:
The number of tokens/coins you want to swap (in the picture is 10 USDT).
The amount of tokens/coins you will receive after the swap.
The conversion rate between the token you want to swap and the token you receive (in the picture is 0.0179549 USDT for 1 JulD).
Select to proceed with swap
The minimum amount of JulD you get after swap.
The difference between the market price and the estimated price
Fees you pay to the Liquidity Provider who provide liquidity to the swap pool.
After entering the number of coins you want to swap, click on Swap. The next step (Figure 2.3) check the transaction details 1 more time and then select Confirm Swap.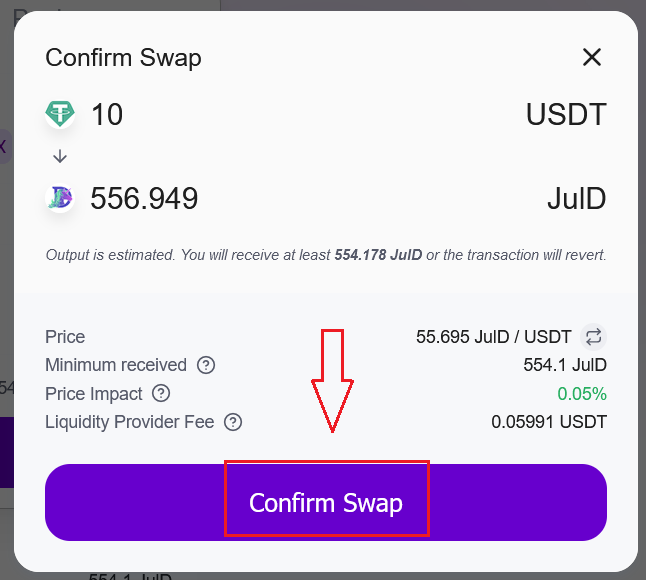 Confirm swap on wallet (Figure 2.4) select Confirm.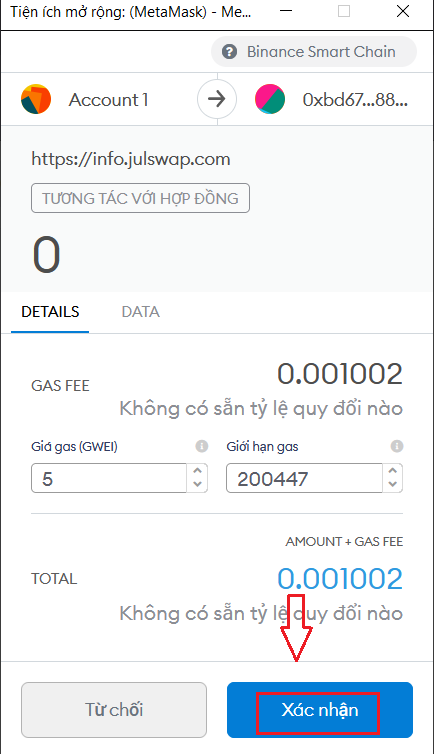 When the screen displays as shown in Figure 2.5, it means that you have completed the swap. You can check the token you just received in the wallet.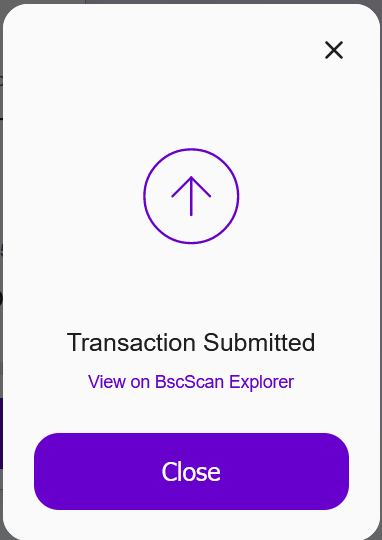 Instructions for providing liquidity (Add Liquidity) on JulSwap
To stakingfarming on JulSwap you must first provide liquidity to the pools you want to stakingfarming. Following are the steps to provide liquidity.
Access the liquidity page by following the link: https://julswap.com/#/pool or you can do as shown in Figure 3.1 below.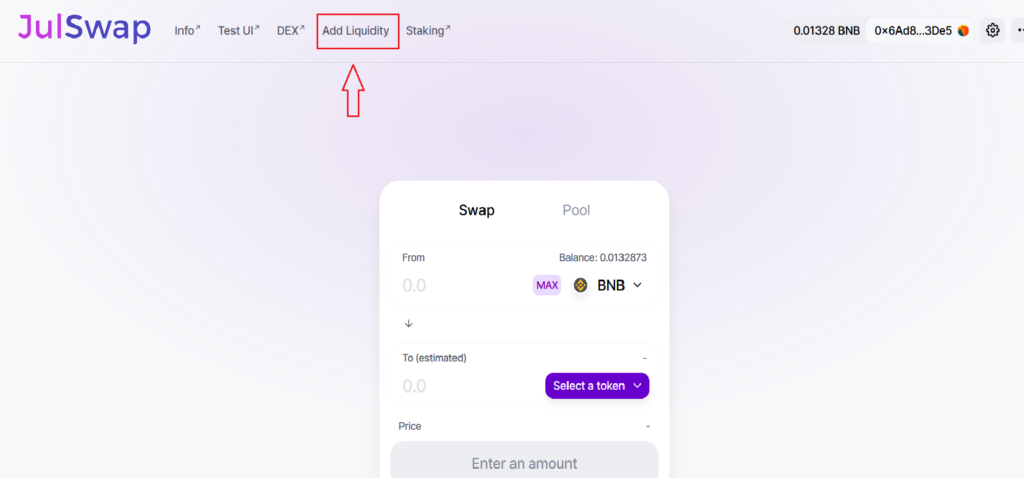 Choose Add liquidity (Figure 3.2).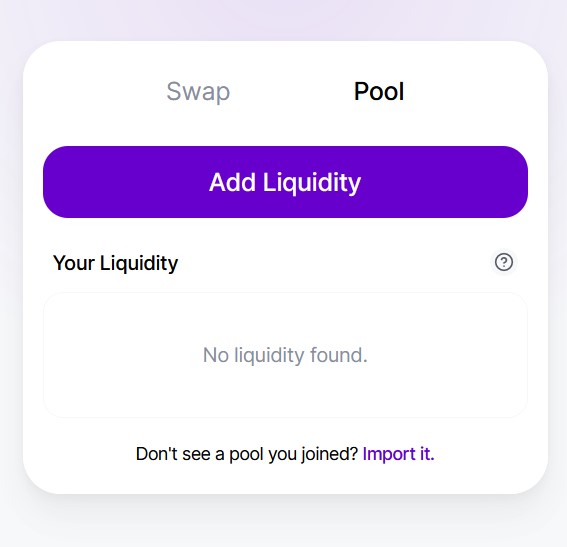 Select the token pair you want to create Liquidity then select Supply (Figure 3.3). This Liquidity pair will depend on which pool you want to stake/farm in. For example, you want to stake/farm in pool JULD-BUSD then you have to create liquidity pair JULD-BUSD.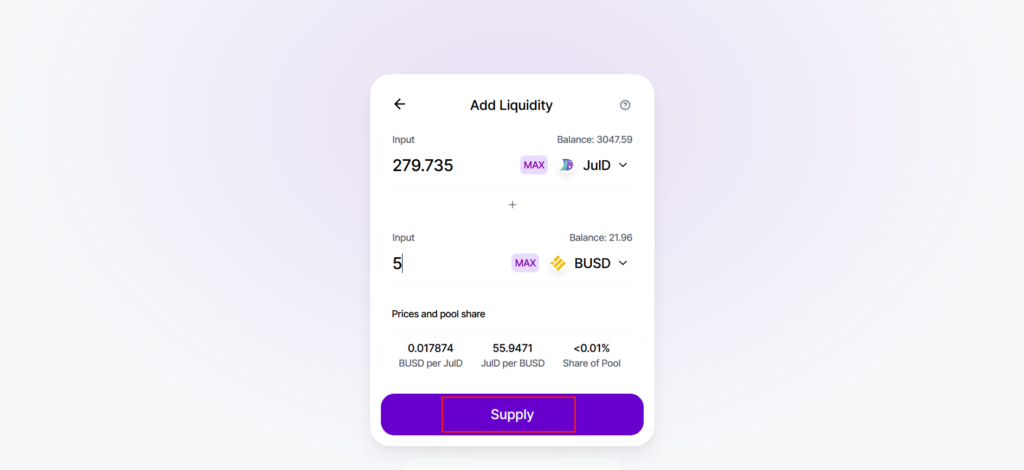 Confirm the creation of liquidity (Figure 3.4).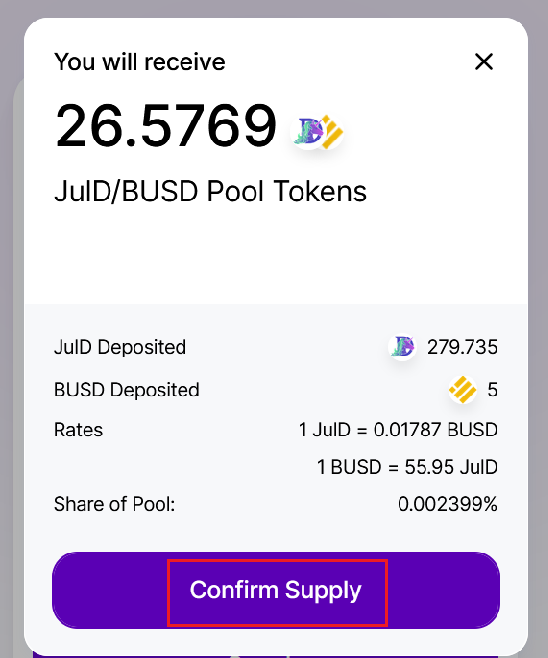 Then confirm on the wallet (Figure 3.5)
When you complete the transaction confirmation, you have finished creating Liquidity on JulSwap. Now you can see the LP token pair you created like figure 3.6 Here are the pairs JULD/BUSD.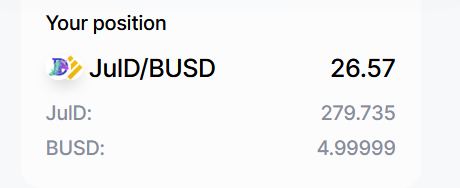 Staking/Farming Guide on JulSwap
After completing the steps to create Liquidity as above, you can now perform Staking/Farming on JulSwap.
First you need to access this link: https://info.julswap.com/staking or do something like Figure 4.1 down here.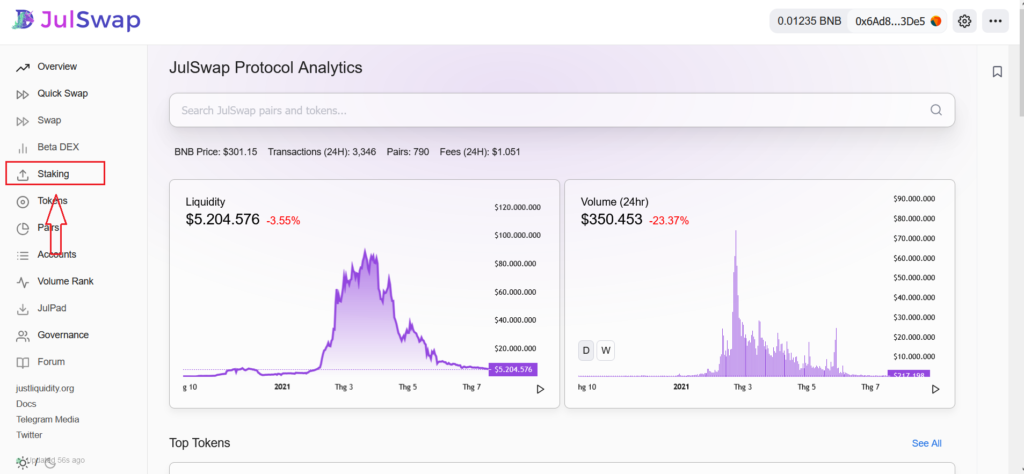 Select the pool where you created the LP token, and click on Approve Staking (Figure 4.2)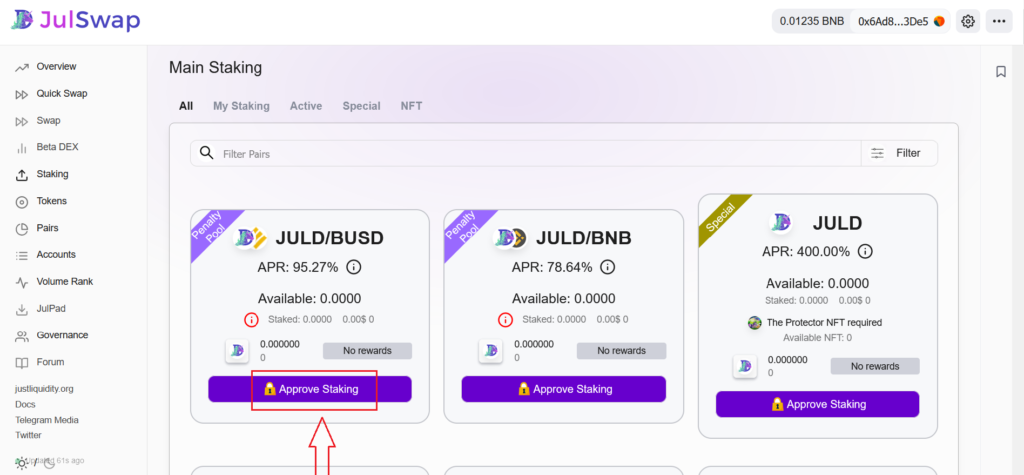 Confirmation on wallet (Figure 4.3).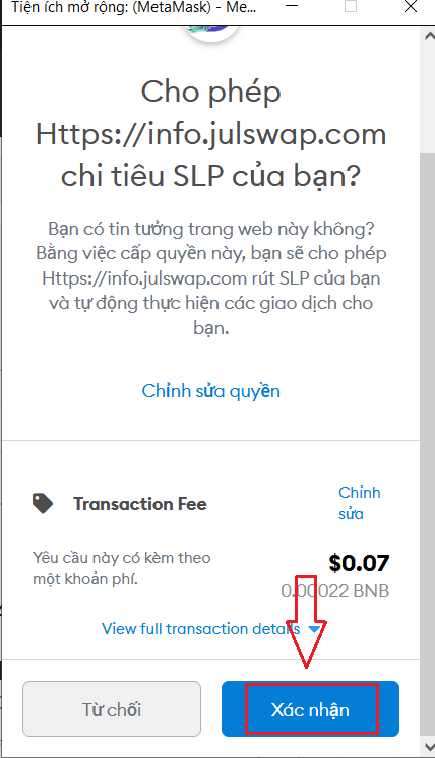 Next choose Stake (Figure 4.4).

Enter the number of LP tokens you want to stake/farm. If you want to use the entire LP token, you can choose Max, then click Confirm (Figure 4.5).
Confirmation on wallet (Figure 4.6).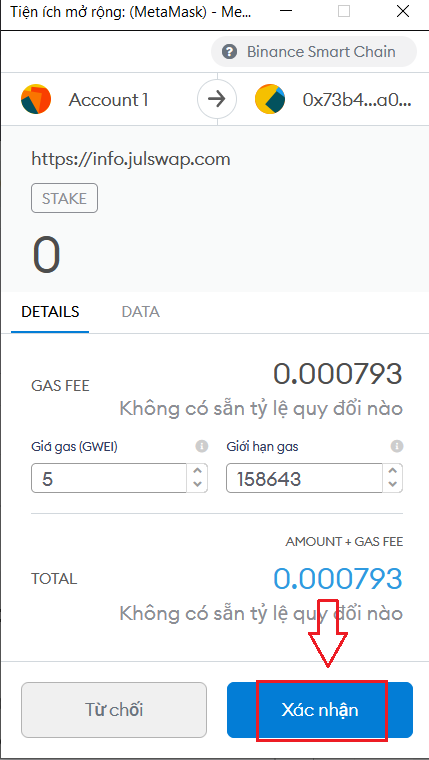 After confirming that you have completed the JULD stake/farm on JulSwap, here are the information you need to pay attention to after completing.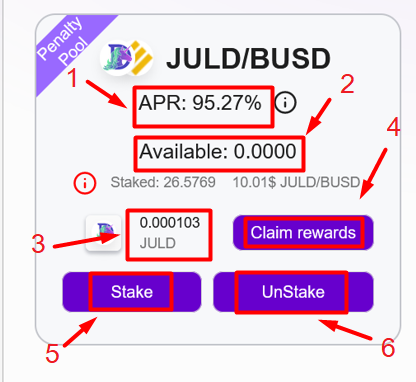 Note:
The APR of the pool you are farming/staking.
Amount of LP tokens available to continue staking/farm.
The amount of JulD that you stake/farm.
Choose Claim rewards to withdraw the staked/farm JulD to your wallet.
Choose Stake to add LP tokens to the pool.
Choose UnStake to stop staking/farm withdraw all LP tokens.
Instructions to remove liquidity on JulSwap
To remove liquidity on JulSwap you need to visit here: https://julswap.com/#/pool. Here you will see the LP token pair you have, select the liquidity pair you want to remove then click on Remove (Figure 5.1).
Next you choose the LP rate you want to remove. After choosing the ratio, click on Approve (Figure 5.2).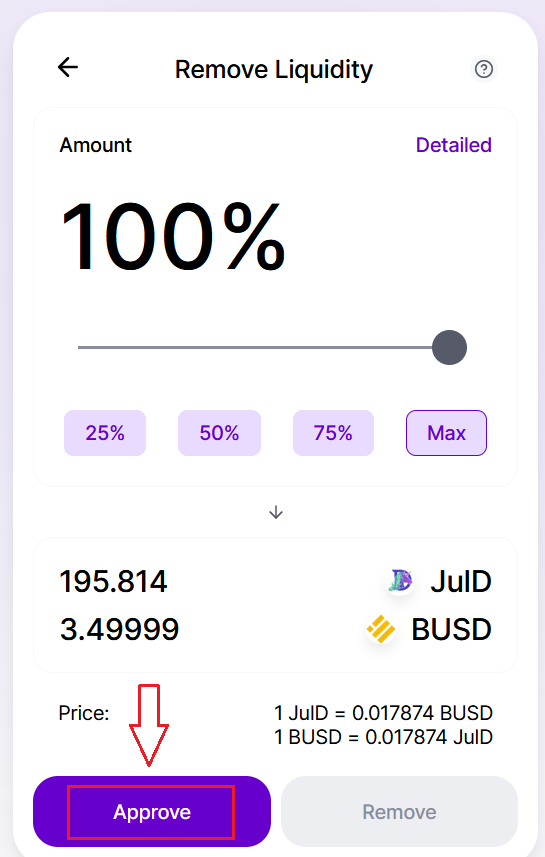 Sign the confirmation on the wallet(Figure 5.3).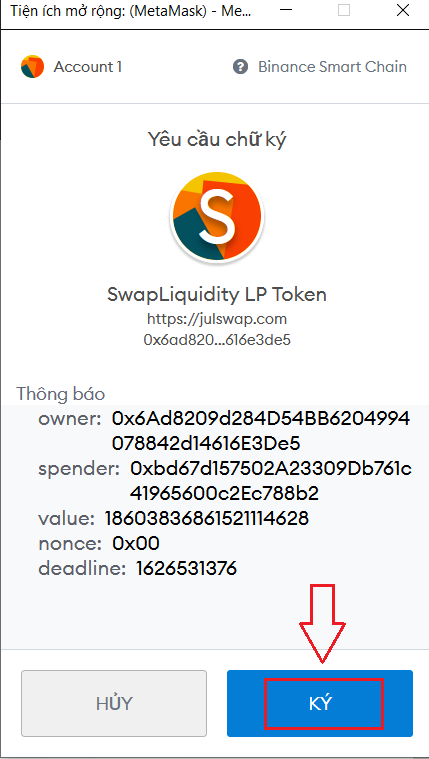 Then choose Remove (Figure 5.4)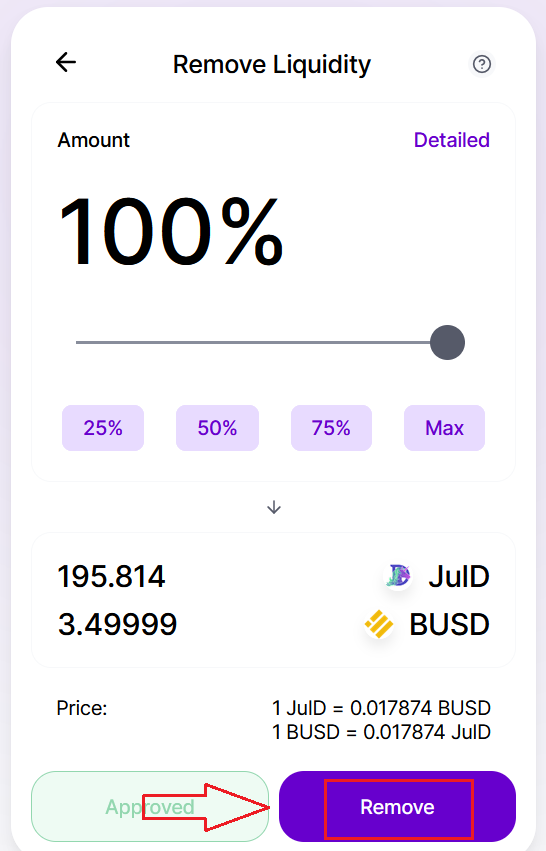 Next click on Confirm to confirm is done (Figure 5.5).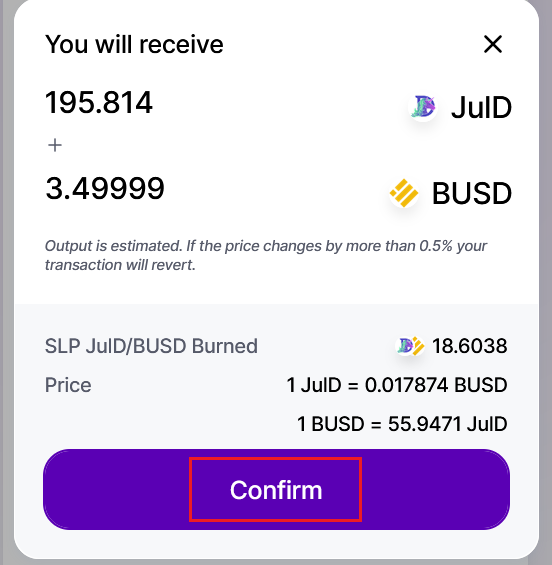 Epilogue
Above is a tutorial on how to use some basic features of JulSwap that everyone should know when participating in the cryptocurrency market. JulSwap is a feature-packed DEX, built on Binance Smart Chain (BSC) so transaction fees are very low. Hope this article will help you to use JulSwap more proficiently, and find better opportunities.
GTA Ventures